The CIDSE collective initiative "Change for the Planet- Care for the People" was launched in 2015 shortly after the release of the Encyclical Laudato Si' by Pope Francis.
2015 was a landmark year for the Catholic climate movement. In the lead-up to COP 21 in Paris, Pope Francis released his Encyclical Laudato Si' on care for our common home and convinced politicians and ordinary citizens that we have to change our politics and our lifestyles to stop destroying planet Earth while causing much pain to the most vulnerable of its inhabitants. The CIDSE network answered the Pope's call by launching the initiative "Change for the Planet- Care for the People" to encourage  two crucial paths of action: personal lifestyle changes and political demands for climate justice. 
In the past five years we brought people together-especially youth-to learn and inspire each other on living more sustainably. We have been at climate change conferences and people's marches to demand climate justice. We published documentaries and interviews on ecological conversion, sustainable energy and food choices. We organised online and offline debates on living more sustainably for politicians, students, journalists. We have built alliances with similar groups to make our voices heard as widely as possible. We won't attempt at going through all the steps of the campaign in one article, but we will bring back some of the greatest memories thanks to the words of few people that have lived it with us.
The first international event that brought us together was the climate change conference COP 21 in Paris in December 2015, shortly after the terroristic attacks that shocked the city.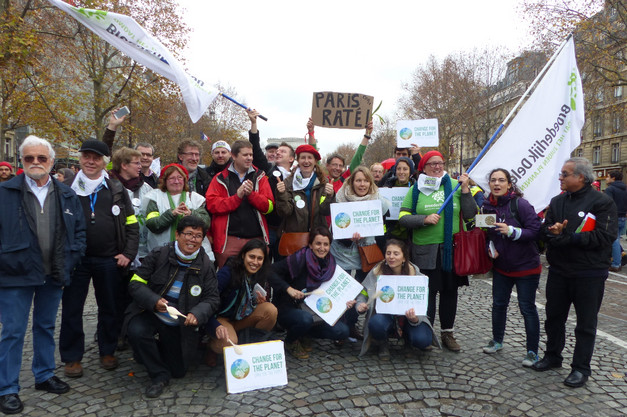 Hannah Angerbauer from KOO (CIDSE's member in Austria) said:
"My favorite memory is, being-against all odds because of security issues-at the huge climate justice demonstration in the middle of Paris, having so much hope and belief for a better future for everyone in my heart and feeling connected and united in the struggle against climate justice."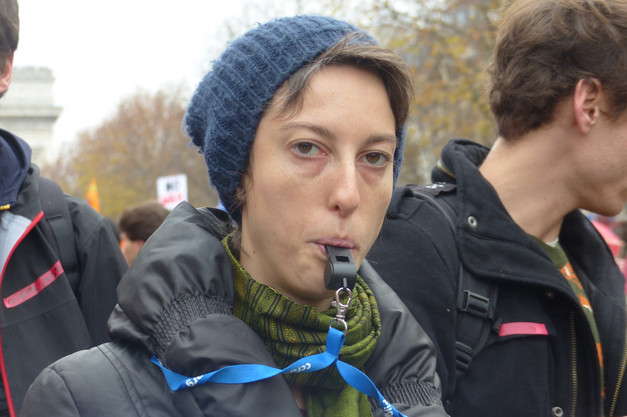 Hope indeed prevailed in the group. Lucia Buj, volunteer from Manos Unidas (CIDSE's member in Spain), said:
"I had the opportunity to hear live testimonies from people who suffered from climate change […] In front of me I had a young woman who had lost her family in floods associated with climate change. The abstract becomes concrete. We experienced many emotions in those days but hope prevailed. There was much to be done but we were not alone".

Change for the Planet-Care for the People was present in other climate change conferences and particularly at COP 24 in Katowice, Poland in 2018 with a very intense programme including the premiere of the documentary "Energy to Change".
Pedro Franco from FEC (CIDSE's member in Portugal) said:
"Understanding UNFCCC negotiations and being part of a demonstration at COP24 have been highlights in our ecological conversion, showing us we can all be part of the climate movement. We have not stopped joining civil movements in Lisbon ever since."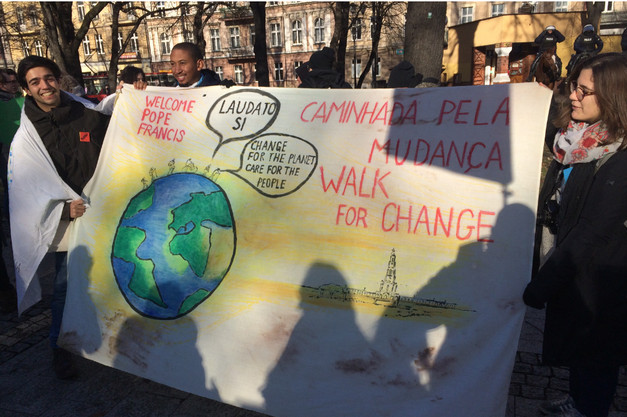 Laura Menéndez from Manos Unidas represented "Change for the Planet-Care for the People" at the International Conference "Saving our Common Home and the future of life on earth" on the third anniversary of the encyclical Laudato Si' (2018). For Laura, being part of the initiative has been a period of deep learning and she has been inspired by other people to "make changes" in her own lifestyle.
"The most moving moment was the audience with Pope Francis, his message of denunciation and commitment to our common home and the poorest".
Throughout the years, many volunteers camps were organised within the initiative in Portugal, Belgium, Spain and the United Kingdom. They brought together volunteers-mostly youth-from different countries to exchange on ecological conversion, activism, learn more about sustainability and become champions of change. In 2016 international volunteers gathered in Casa Velha in Portugal for a week of spirituality, community life and a 17km pilgrimage to Fatima.

Libby Abbot from CAFOD (CIDSE's member in the UK) has been involved in the initiative since 2015 and has been one of the organisers of "Our Common Home" residential (2019) in Alton Castle, UK.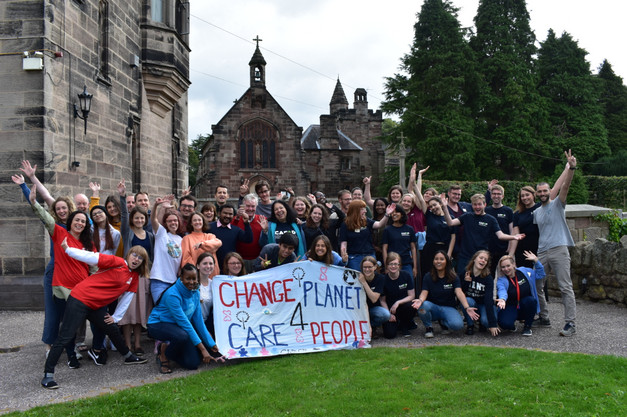 "What I have learned in my time working with Change for the Planet-Care for the People is that there are so many out there wanting to do their own part for a better world- and we can make it happen if we work together. [..] I use what I've learned to advocate change in communities, encouraging others to change and influencing decision-makers to make the right choices for the people and the planet".

Margot Depraetere from Broederlijk Delen (CIDSE's member in Flemish Belgium) was involved in the organisation of a volunteers' camp in Belgium.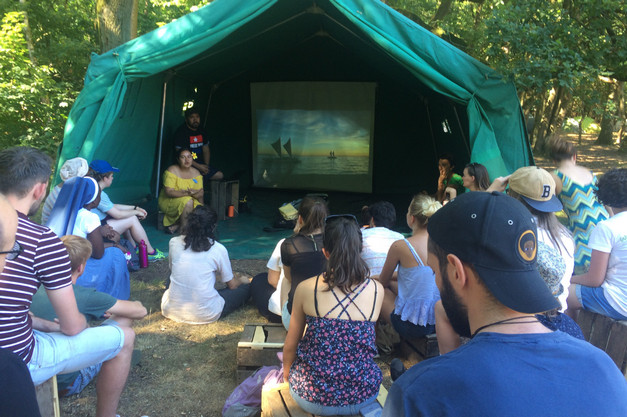 "It was nice to give some of our young volunteers the opportunity to connect and interact with other young people all over the world. I gained a lot of energy seeing all these motivated young people together".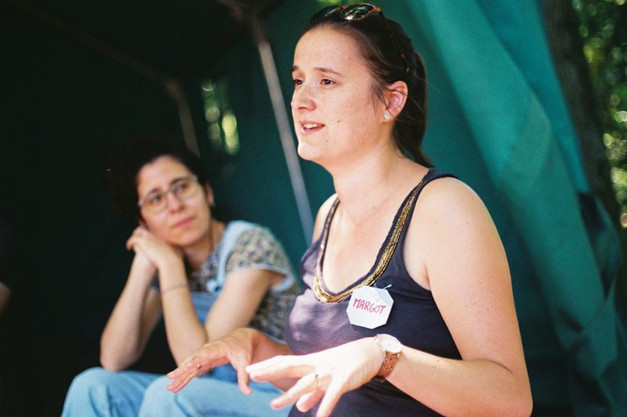 Change for the Planet-Care for the People is made by many more people who have all contributed to make this an awakening and powerful initiative, working towards making this a better world for all. The experiences created by this initiated have touched the hearts of those who participated, and we believe that a single moment of awakening is enough to spark significant positive change.
The initiative's activities are made possible since 2017 by the KR foundation.