A Child Rights approach to the LBI Draft Treaty on Business and Human Rights
ONLINE EVENT VIA ZOOM – REGISTER HERE
Language: English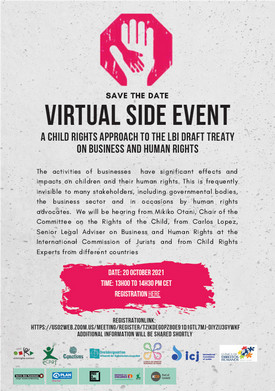 Description
The activities of businesses have significant effects and impacts on children and their human rights. This is frequently invisible to many stakeholders, including governmental bodies, the business sector and in occasions by human rights advocates.
Speakers
Mikiko Otani, Chair of the Committee on the Rights of the Child
Carlos Lopez, Senior Legal Adviser on Business and Human Rights, International Commission of Jurists
Child Rights Experts from different countries (tba)
More information about this event to follow soon.