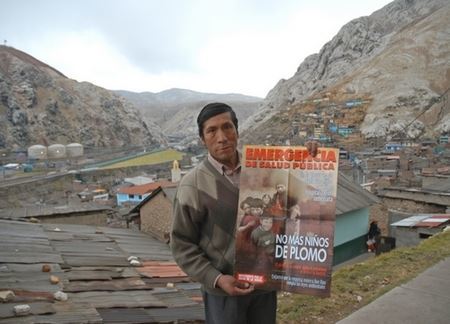 On the 22nd March European parliamentarians hosted a debate on natural resources and forthcoming trade agreements with Colombia, Peru and Central America, which might have negative consequences for human rights, the environment, social conflict and poverty eradication.

Catherine Bearder MEP opened the debate, co-sponsored by CIDSE, commenting that this was a timely and necessary discussion given that the European parliament will soon be asked to give its consent on the Free Trade Agreement (FTA) with Colombia and Peru. So far, debates have focused on Colombia's human rights record, but people often forget the link between the right to natural resources and people's human rights such as access to water, making a living from land and getting a fair share of profits. Jurgen Klute MEP added that European parliamentarians have been receiving a good deal of communication urging them not to support the FTA with Colombia and Peru.
The meeting heard inputs from three civil society representatives from Latin America. Tatiana Rodriguez from Colombia spoke on mining and EU FTAs; Carlos Zepeda addressed the potential impacts of the EU FTAs on the right to water and Alberto Alonso from Guatemala talked about the expansion of biofuels and EU FTAs. All three are concerned that these agreements will have very serious impacts on communities in Latin America; they will have a negative effect on the environment, on the right to water and land and will contribute to increasing social conflict. Tatiana Rodriguez emphasised that the EU should be leaders in bringing about positive changes and that it was shameful that the EU was not taking more of a leadership role in addressing these concerns.
Patrick Ravillard from the European Commission's DG Environment responded that protection for and sustainable use of natural resources is a fundamental principal of all EU actions, including trade policy. He emphasised that the trade sustainable impact assessments (TSIAs) – independent studies carried out for both the Colombia/Peru and Central America agreements – inform negotiators of potential impacts, and had involved different stakeholders, including civil society organisations. He also emphasised that the monitoring of the agreement's implementation would include civil society.
Responses from the floor argued that it was not clear how civil society input had been incorporated into the TSIAs, that these agreements do not ensure the same level of human rights protection as the current mechanism, as well as the fact that the extent to which civil society will be any better armed with the FTAs remains unclear. A general point was also made that it would be useful to work on mechanisms to ensure that products imported to the EU are not contaminated with human rights violations.
Civil society organisations, trade unions and social movements in this meeting and elsewhere have expressed serious concerns that these agreements contribute to a shift of priorities in EU development cooperation, away from issues like democracy, human rights and poverty reduction, towards an increased focus on growth, trade and investment, without ensuring that this will make a genuine contribution to poverty eradication. Rather than contribute to sustainable development, they risk doing the opposite.
Several organisations have therefore joined together to invite citizens to sign an online petition calling for the FTAs not to be ratified. It is of the utmost importance that both the European Parliament and national Parliaments of member states take the concerns raised into account when deciding whether or not to ratify the agreements.