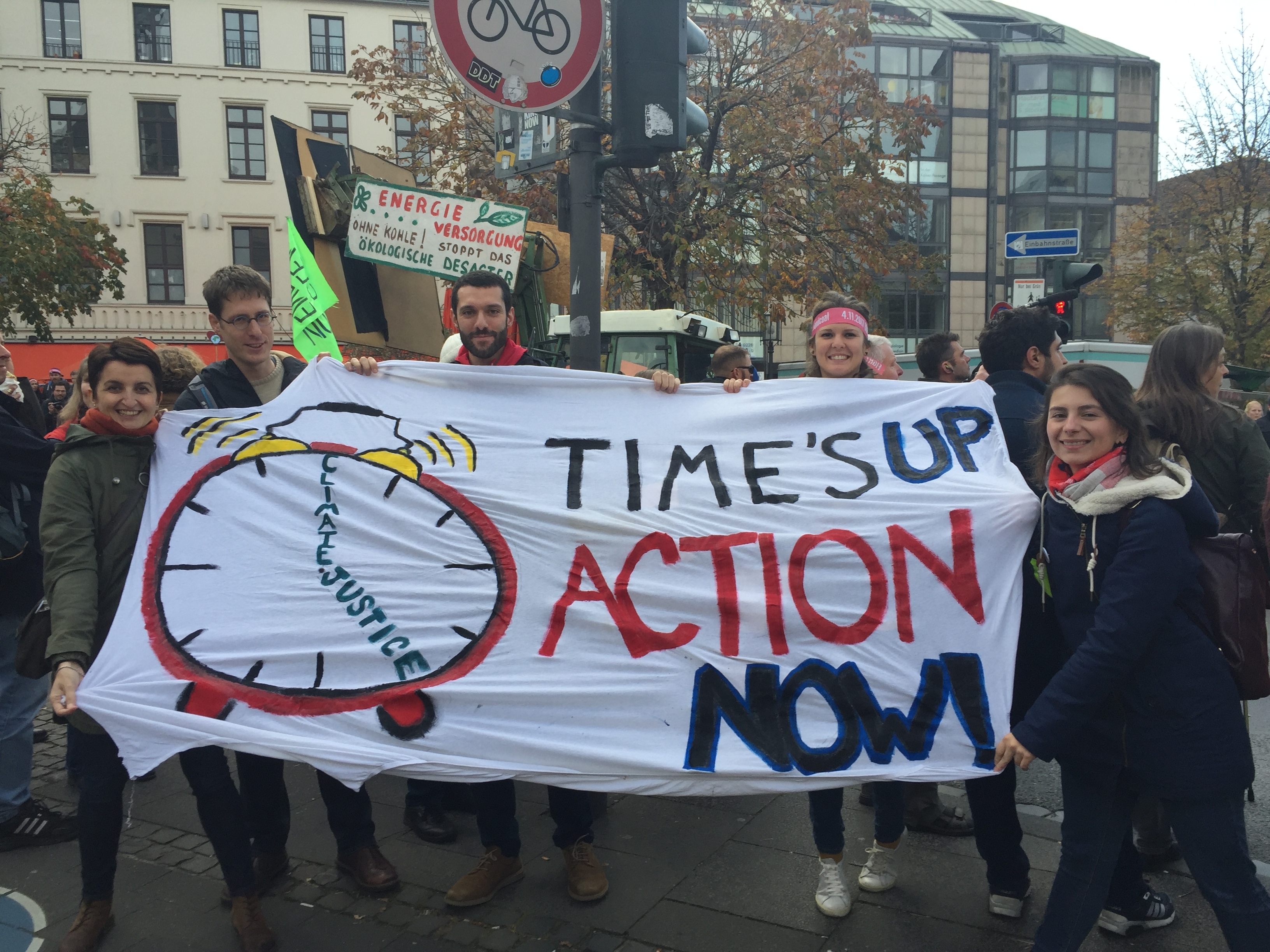 As COP23 starts in Bonn, here are some expectations for the negotiations and some highlights from the People's Climate Summit (3-7 November), rallying the power of the climate justice movements from around the world.
Like every year, a full range of actors – governments, civil society, businesses and movements – have gathered to discuss how to collectively tackle climate change. This time they are guided by the framework that the Paris Agreement has set, two years after it was sealed and exactly one year after its official entry into force. In the spirit of dialogue or "Talanoa"- as they would say in the Pacific-, transparency and inclusiveness, this year's COP23 should further define elements of the Agreement's implementation and spark political will to increase ambitions and efforts to enhance Nationally Determined Contributions (NDCs) in order to meet, in particular, the goal to keep temperatures under the 1.5 degrees threshold and swiftly put societies on the path to a low-carbon economy.
"We are all in the same canoe"
Despite the cold winterish weather in Bonn, the Fijian Presidency has brought the colour and warmth of the Pacific Islands – one that could fade away if nothing is done to halt sea-level rise. In his opening statement, Prime Minister Frank Bainimarama highlighted the interdependency of our actions and the consequences of what is to come if we neglect our responsibilities. "We are all in the same canoe" when it comes to climate change, he reminded, calling out for urgent action from all countries, as the Pacific Islands grapple with a more uncertain future, being at the frontlines of climate change.
To foster such decided action and enhance national commitments, this year's COP should set the ground for the Facilitative Dialogue process or "Talanoa Dialogue", to take place throughout 2018, to assess collective progress in reaching the goals of the agreement and in making sure that COP24 is a successful one. A comprehensive progress must be made to ensure that countries can continue to raise their ambitions.
Greater efforts are also needed this year to address more difficult issues such as adaptation and loss and damage. Indeed, COP23 should serve to advance discussions on the actions required to ensure that the Adaptation Fund will serve the Paris Agreement and recognize the need of Loss and Damage finance.
In this spirit, a broad coalition of civil society organizations launched a review seeking to reaffirm that pre-2020 emissions reductions and finance pledges of countries are ambitious enough and fair. The CSO Equity Review reminds that countries must do their part in meeting the goals set by the agreement, taking to heart the principle of "common but differentiated responsibilities and respected capabilities". To be fair, climate action should always consider that, historically, there have been greater emitters/polluters, and they have therefore a responsibility that goes beyond the details of the negotiations. Nonetheless given the current climate crisis all countries must do everything they can to ensure global temperature don't exceed 1.5-degrees. It is a question of justice for all people to live and thrive in dignity! COP23 should therefore not fall short of these demands and hold the promises made two years ago in Paris.
Climate Justice Now!
Ahead of the negotiations, citizens and movements gathered outside the negotiation spaces is a unanimous cry for climate justice during the People's Climate Summit, where national and global movements, local and international organizations and networks, citizens from all over the world converged over 4 days to debate and share environmental and social issues, while reimagining sustainable and fairer futures for all.
A first cry came from the crowds during the Climate March on Saturday 4 November, with over 20.000 participants, one of the largest in German history. A festive atmosphere disrupted the usually calm streets of Bonn, where activists and citizens – young and old – urged prompt and clear global solutions from policy makers, calling for a just transition – one that considers the well-being of people and the conservation and respect of our planet.
Diversity was a key element at the people's summit, as people from different backgrounds and faiths gathered around the table, in workshops and panel discussions, in corridors and informal moments. At the interfaith dialogue, divestment from fossil fuels and how faith communities can support a shift to a better, safer and renewable-based system was a key discussion. Urgency of action was highlighted, as representatives from communities, indigenous peoples, peasant farmers, youth and activists shared their testimonies of the direct impacts of climate change and the many policies and industrial models offered as "solutions", which often deepen inequalities and plunder natural resources.
In the different spaces, citizens discussed and questioned: What does a just transition mean and look like? What are the principles that should guide such a transition? Voices and stories converged in pointing out that a deep transformation must take place – at the political, social and cultural levels – a system's change, rather than quick, techno-fixes or false solutions that miss the root causes of the challenges faced. Transitioning to an economy powered by renewable energy and fairer and more sustainable ways of producing food, should not replicate the mistakes of current market-based, industrial models, that threaten and violate people's dignity for profit, but rather give participation and power to people and communities in organizing and deciding over their future, valuing their own knowledge and livelihoods, fostering solidarity and exchange amongst peoples.
While negotiations continue, hoping policymakers will be true to their promises and responsibilities, we continue to mobilize, support and call out for a just transition to a more sustainable, livable future. We believe in the power of people organizing for change, we believe in the creativity and the solidarity that is fostered by working and brainstorming together to imagine and build the foundations of a world where people and planet can thrive.