"CIDSE will continue to support civil society and community initiatives that promote hope and human dignity in Palestine and in Israel, which have a critically important role, particularly in times of hardship and uncertainty."
His Beatitude Patriarch Emeritus Michel Sabbah delivered a message of humanity: "Whatever will be the political solution, two states or one state, it should be based on the human reality: All inhabitants in the land called Israel and Palestine, are equal human beings, brothers and sisters in humanity, hence equal in human dignity and in political rights and duties". He called for an efficient engagement of the international community to adopt "a new vision for a just and lasting peace in the Middle East based on the common good of all who live in this land without distinction, and to start a courageous new phase of action which puts an end to our struggle in the Holy Land".
H.B. Michel Sabbah was one of the persons the CIDSE Working Group on Israel and the occupied Palestinian territory met during its mission to the region in June 2019. The mission focused on listening to voices on the ground in Gaza and the West Bank and on how civil society is responding in the oPt and Israel.
The Working Group was exposed to the extreme hardship endured by the inhabitants of Gaza created by successive armed confrontations and violence, the 12-year blockade and lack of freedom of movement. For Gazans, the situation is becoming increasingly desperate. According to the latest available figures[1], in 2018, 52 percent of those in the labour force were unemployed. Unemployment amongst Gaza's youth exceeded 67 percent. 46 percent of the population in Gaza were living under de poverty rate and 80 percent were aid dependent. Thousands of Palestinians continue to attend the "Great March of Return" weekly demonstrations along the fence separating Gaza from Israel and call for the right of Palestinian refugees to return to their homes lost in 1948. The many casualties of the repeated wars and during the "Great March of Return" have resulted in deep trauma impacting almost every family in Gaza. In this context, an increasing number of young educated Gazans have decided to leave Gaza, via Egypt, at a sometimes very high human and financial cost.
Palestinians in the West Bank are confronted with multiple consequences of the ongoing occupation, such as the expanding settlement enterprise, home demolitions and evictions, movement restrictions and settler violence. The Working Group witnessed the increasing feeling of hopelessness of the Palestinian population, in particular, youth and women.
In Israel, discriminatory laws, such as the Nation-State law (for Palestinians in Israel and in the West Bank) and related legislative acts, are aimed at disregarding the rights of Palestinians and other minorities in Israel.[2] We stand with those in support of their call to protect the country's pluralism.
Palestinians nevertheless continue to show remarkable resilience, courage and creativity in coping with the harsh daily reality and lack of hope. The hardship does not prevent some young people from dreaming that they can turn Gaza, which has a large young educated population, into a thriving area. One such project is Gaza Sky Geeks, a programme of Mercy Corps. Today, Gaza Sky Geeks is the leading co-working space, start-up accelerator, and technology education hub nurturing innovation and entrepreneurship in the Gaza Strip.[3] It brings together young women and men as online freelancers, outsourcers, and start-up founders to share ideas, learn, innovate and code. As Mr. Iyad Altahrawi, Incubation & Acceleration Program Manager said: "While life remains extremely difficult, there are many who are determinedly using technology to work their way around the problems. By looking at the future, Gaza Sky Geeks offers this hope, which is desperately needed in Gaza".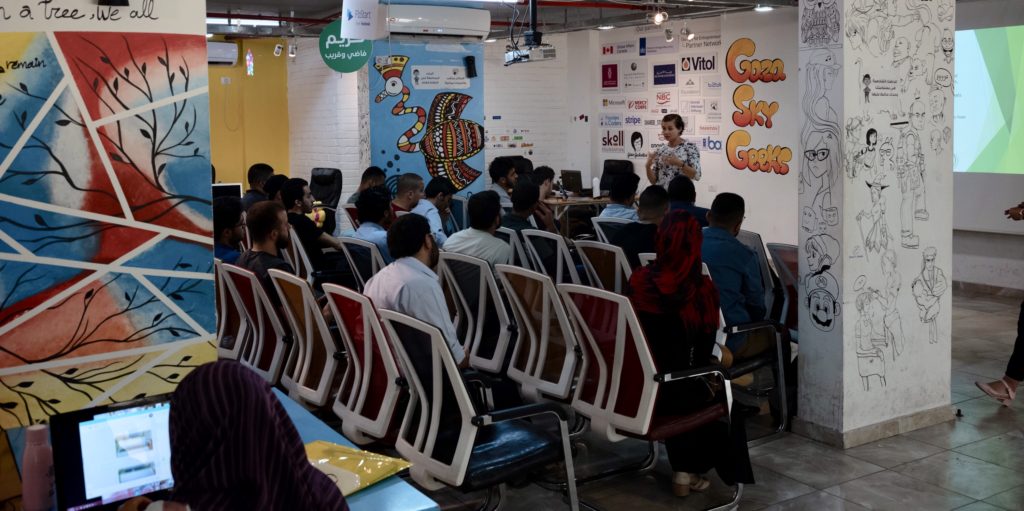 "We are not Numbers" is a project which was initiated in Gaza after the 2014 war in reaction to media reports only covering numbers and casualties.[4] The project was established to shed light on the tragic reality but also on the daily personal stories of people, by adding the human perspective. At one point, some 200 young writers contributed to the project. Almed Ahnaouq, the project manager said: "Through this platform, authors share and celebrate their stories, with experienced authors mentoring the youth. In times of crisis, it allows writers from various backgrounds to raise awareness and portray a different image of Gaza and its people".
CIDSE has always underlined the importance of the work of civil society, both in Palestine and in Israel. In a situation of political deadlock, the role of civil society and positive initiatives, such as Gaza Sky Geeks and "We are not Numbers", are even more crucial. CIDSE will continue to support these important positive projects.
Many civil society interlocutors expressed concern about recurring attacks on their work or staff by different governments and, in some cases, affiliated lobby-groups. The Working Group calls for safeguarding the critical space for civil society in both Israel and the occupied Palestinian territory and firmly rejects efforts to suppress criticism or quash free speech by either the Israeli or Palestinian authorities. Civil society plays a crucial role in reaching a sustainable peace.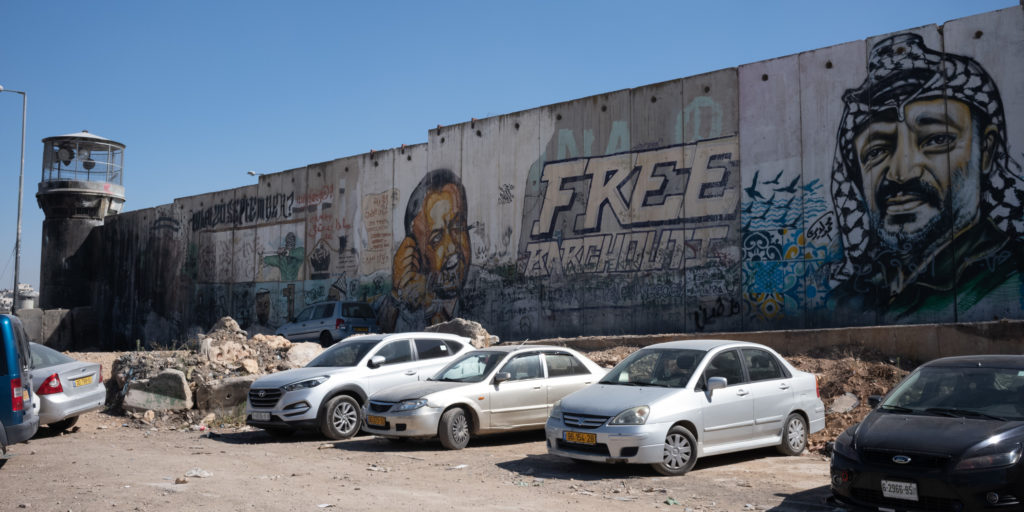 The Working Group will continue to work closely with partners in Palestine and in Israel to support democracy, fundamental human rights and the further development of pluralistic societies, based on mutual respect and dignity. As Palestinians and Israelis have waited far too long for peace processes to deliver, the Working Group, echoing the words of H.B. Michel Sabbah, calls for a genuine international collective effort to support parties in achieving a negotiated just solution to the conflict grounded in international law and in universal norms and values. It is not only peace and stability in the region that is at stake. It is the entire international legal order, designed over the past 70 years, which is threatened. The international community cannot afford to stand by and must act to give hope for a genuine and just peace.

---
[1] Source: World Bank – Palestine's Economic Update of April 2019 (https://www.worldbank.org/en/country/westbankandgaza/publication/economic-update-april-2019)
[2] According to Adalah's 18 November 2018 briefing paper on the Jewish Nation-State Law: "The law identifies Eretz Israel, or the 'Land of Israel', as the area to which it applies. Eretz Israel includes all of the West Bank, including East Jerusalem." The Law is currently being challenged in courts. (See: https://www.adalah.org/uploads/uploads/Final_2_pager_on_the_JNSL_27.11.2018%20.pdf)
[3] For further information, see https://gazaskygeeks.com/
[4] For further information, see: https://wearenotnumbers.org/