Read our latest newsletter for an overview of CIDSE activities from November to December and find out what's coming next!

In particular, look at our three highlights: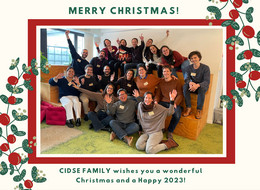 Seasons' greetings
We wish you a happy Christmas and renewed hope and joy for 2023. May the warm, steady light of Christmas guide you and keep you safe, may we meet again and keep fighting for greater justice together in 2023.
---
COP15 on biodiversity
Josianne Gauthier, CIDSE Secretary General, shares her reflections about her participation in the recent UN conference on biodiversity. As a member of the multi-faith delegation, she was there to see, listen, and learn from this process.
---
COP27 outcomes
Despite a decision on Loss and Damage, negotiating parties failed to deliver on the phasing out of fossil fuels and made very little progress on the Paris Agreement implementation at the UN climate conference in Egypt. Read our final press release. d our analysis.
Upcoming: Moving back to CIDSE headquarters: 30 January 2023
After one year of renovation work, CIDSE staff will relocate to its brand new office, Rue Stévin 16, 1000 Brussels. January will also see the official launch of the new CIDSE strategic plan 2023-2028. Stay tuned!