Last February, CIDSE staff, Nicky Broeckhoven and Vincent Dauby, travelled to Uganda to meet with several partner/ally organisations. During their stay, they had the chance to get to know CIDSE partners' work better and to explore opportunities for further collaboration. Below, they share with us their experiences and impressions.
Stronger together: Partners' voices at the centre of our advocacy
On Monday, February 20th, in the morning, we left the Belgian cold to arrive, about 10 hours later, in the pleasant warmth of Entebbe, the former capital of Uganda. After a short night rest, we were welcomed by AFSA (Alliance for Food Sovereignty in Africa) staff and joined their meeting to debrief on the Sharm el-Sheikh climate change conference (UNFCCC COP27) and to prepare together for COP28. Participants in the meeting included CSO representatives, representatives of the Ugandan government and African negotiators involved in the UNFCCC negotiations.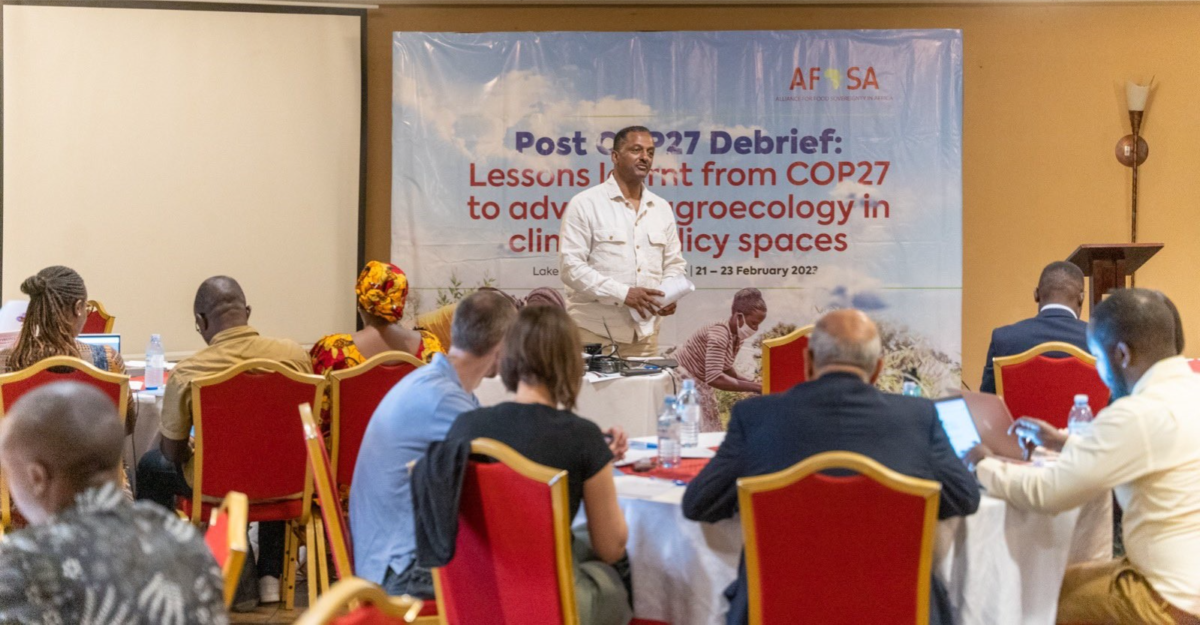 During the meeting, AFSA and its allies reiterated their commitment to advocate for agroecology and for food sovereignty. This commitment can only be carried out by CSOs if we build relations and trust with policymakers and negotiators. As a network, also CIDSE aims to strengthen its collaboration with partners and allies to develop agroecology from the ground so that it can demonstrate its benefits. In parallel, we know that COP conferences are also a battle of narratives and ideas. We should strengthen our capacity to challenge those. We left the AFSA meeting with positive energy and commitment.
The next day, we arrived in the busy city of Kampala after one hour of travel by car to meet with ACSA, the Advocacy Coalition for Sustainable Agriculture, a key partner of CIDSE in Eastern Africa. ACSA is a network of civil society organisations that work with smallholder farmers and promote sustainable agriculture, agricultural market development, research and advocacy. Their work is aimed at increasing farmers' understanding of policy issues affecting smallholder farmers in Uganda. They welcomed us during one of their training sessions on advocacy for farmers, supported by Misereor, CIDSE's German member organisation. It was really stimulating to directly listen to the reality of Ugandan farmers and learn how they can advocate for their needs to support agroecology through local seed bank development and women farmers' economic justice, among others.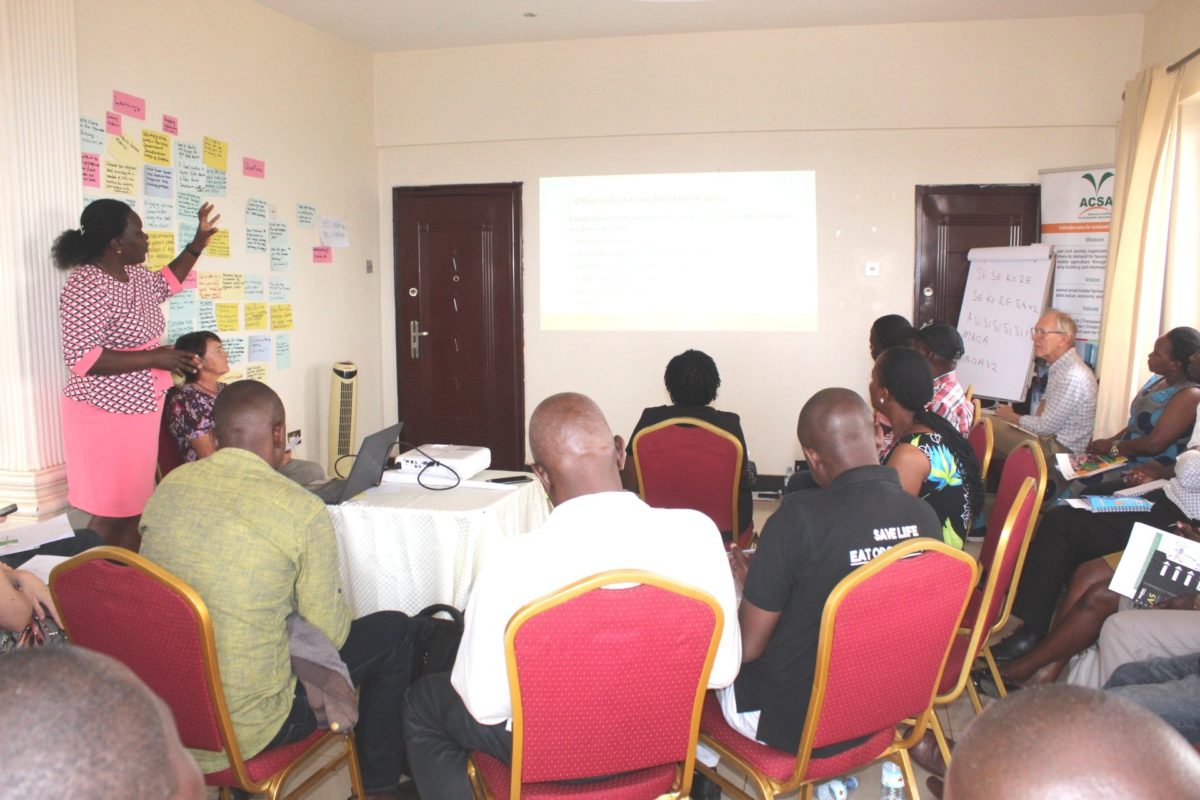 In the afternoon, we were invited to attend a regional workshop organised by the Association of Member Episcopal Conferences in Eastern Africa (AMECEA) on the implementation of Laudato Si' Guidelines in the region. It gave us a chance to gain insights into the work done by various national Catholic Justice and Peace Commissions.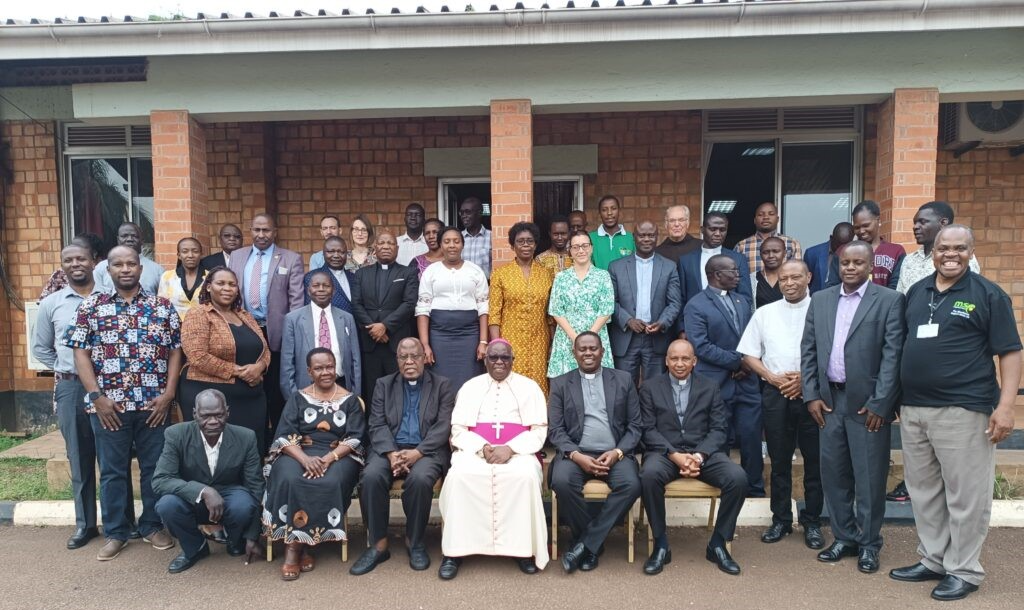 We spent the following day with some staff members from ESAFF, the Eastern and Southern African small-scale Farmers Forum, which is a network of grassroots small-scale farmers' organisations working in 16 Eastern and Southern African countries. Their work aims to enable smallholder farmers to speak with one united voice so that their issues, concerns and recommendations become an integral part of policies and practices at grassroots, national as well as at regional and global levels. In the morning, had a chance to get to know each other, to learn about each other's work and explore possible synergies in advocacy and finance, in particular, at global level.
In the afternoon, we left Kampala to visit an agroecological farm and see the work of ESAFF in practice. We were welcomed by Paul, a small-scale farmer with more than 20 years of experience, and other members of the farm community, who have been progressively developing an agroecological farm, relying on the soil and on the ecological interactions between plants and animals to produce food and other useful materials. ESAFF helps them to develop their activities such as the development of seed banks, market support, exchange with other farmers, and by raising their political awareness of smallholder farmers' rights. During our exchange, the farmers' group asked us about our work at global level to support agroecology. We explained that it was a difficult political battle but that we have been observing a positive evolution over the last years: agroecology is more and more discussed in international fora and embraced by various civil society organisations. The political battle is fierce, but we expressed our commitment to continue fighting for agricultural laborer' rights and for a sustainable future for all.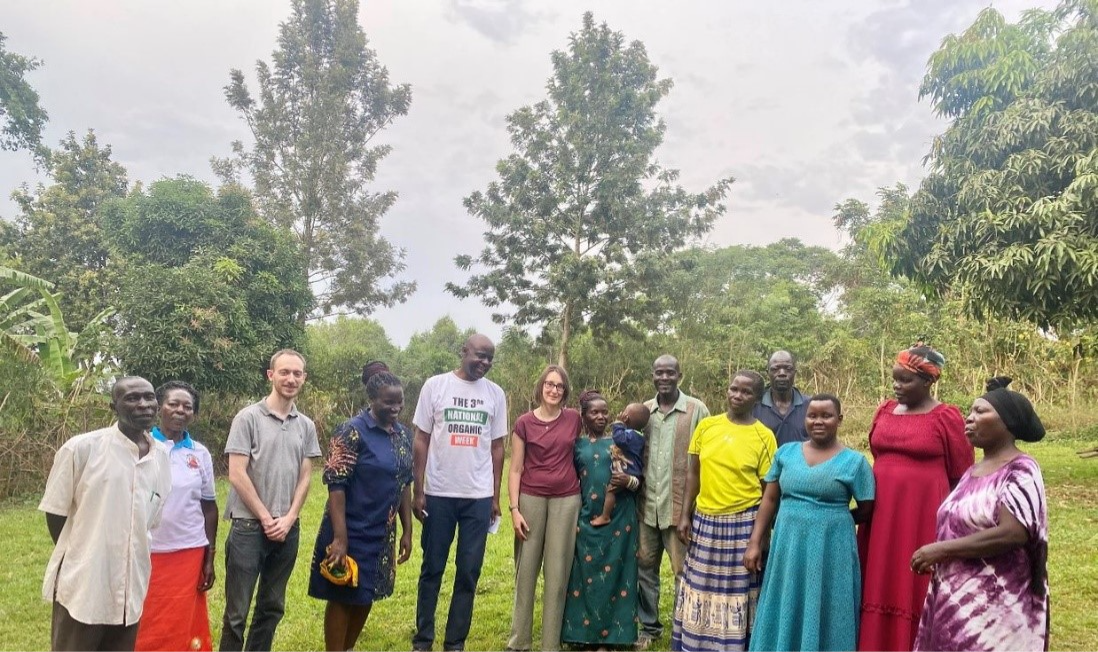 The day after, we joined the AMECEA workshop again. The morning was devoted to interaction with the Petroleum Authority of Uganda on the East African Crude Oil Pipeline (EACOP). The pipeline, which would be the world's longest heated oil pipeline, is widely contested. Ugandan Church representatives/leaders had therefore invited the Petroleum Authority to give an overview of the project and to clarify certain aspects. In the afternoon, we all stepped into the bus and left the busy city of Kampala behind to go visit the Bethany Land Institute in Luweero. The Institute serves as a demonstration site for the kind of integral ecology that Pope Francis calls for and was a nice closure of the workshop on the implementation of Laudato Si'.
Exchanging around women's land rights in the Eastern African Region
Our partner visit was also a great opportunity to prepare for a workshop that we are planning in July in Kampala. It will be a learning and consultative workshop for Catholic actors in Eastern Africa to support advocacy for women's land rights. This workshop, originally scheduled to take place in March 2020, had to be postponed due to the COVID 19 pandemic. However, the organising committee collectively decided it was time to pick it up again. Speaking with different actors (both CSO actors like AFSA, ACSA, ESAFF and Church actors like AMECEA and various Justice and Peace commissions) throughout the week, it became clear that the workshop was still much needed. The issues surrounding women's land rights are complex and interconnected and time and space is needed for a diverse range of actors, especially Church and non-Church actors, to meet and connect around it.
During our visit, we also got a glimpse of the amazing work that CSOs but also some Church actors are already doing to address women's land rights issues in their daily work. One day, during lunchtime, we had the chance to listen to the story of Margaret, a small-scale farmer and member of ESAFF. She had travelled 8 hours, just to attend the preparation meeting for our workshop! As we started exchanging, she proudly told us about her involvement in the ESAFF Gender Action Learning Systems (GALS) programme in land rights and gender equality. This is a community-led empowerment methodology that aims at improving livelihoods and gender justice in communities. It uses visual diagramming tools that enable small-scale farmers at different levels in the chain to develop visions where they dream of their future, reflect on their present situations, identify challenges and available opportunities and distinguish possible relations and actions to their problems. She shared with us how much her life had changed since she entered the programme. While she initially started it alone, her husband joined her along the way. Thanks to the programme, her husband became more aware of the issues around women's land rights, and they now hold a joint land title for their property. He has also become very supportive of her, pushing her to continue achieving her goals and dreams. The programme has also had an impact on their children. It inspired her eldest daughter, for example, to better visualize her future. Margaret is involved in her local parish and in her diocese; she is exploring how the GALS training can be useful for them as she often hears stories of women who struggle. She would like to help them by also involving men as much as possible as she herself has witnessed the change this can bring about.
The workshop that CIDSE is planning in collaboration with various other actors will provide us with a much-needed space to listen to more of these stories and experiences of women's land rights and to connect CSOs and Church actors around it. Beyond that, at the national level, there is already legislation on women's land rights, but the issue lies with the implementation. The aim of the workshop is also to direct lobbying to the government to show them what is lacking. As an outcome of the workshop, the idea is to issue strong recommendations that we can put forward to different stakeholders (African governments, Church actors (from various faiths), women's movements and CSOs).
Our partners' visit to Uganda has been incredibly fruitful in many ways. It helped us to get to know better the work of our partners and allies, strengthen our relations and explore future collaborations.
---