Journalists and Experts Panel
Journalists and Experts Panel "TALKING INTEGRAL ECOLOGY AND LIVING SUSTAINABLY" and official launch of the "JOURNALISTS' TOOLKIT ON SUSTAINABLE LIFESTYLES" (Programme Italian version –  Press Invitation in Italian)

14 h- 14-15 h- General Presentation

: CIDSE and REPAM

 
14.15 h- 15.30 h. First round table  
Andrea Ferrante, Coordinator of the International Agroecology school – Schola Campesina
Martin Kopp, Director of Living the Change, Green Faith
Sister Mary John Mananzan, OSB, Benedictine Missionary, feminist-activist from The Philippines
Massimiliano Cochi,  Journalist of TV2000, CEI's Television
* Moderator: Marta Isabel González, Media and Communications Officer CIDSE
Reba Elliot, Director of Communications and Special Projects at Global Catholic Climate Movement
Corinna Würzberger, Press and Public Relations / Campaigns MISEREOR
* Moderator: Chiara Martinelli, Senior Advisor / CIDSE
16.30 H- 18 H. Second round table
Daniela Andrade, Media and Communications Officer REPAM
Ricardo Higueras de Cárdenas, Spanish Architect
Manuel Cubías, Journalist responsible of Spanish Section at Vatican News
* Moderator: Marta Isabel González, Media and Communications Officer CIDSE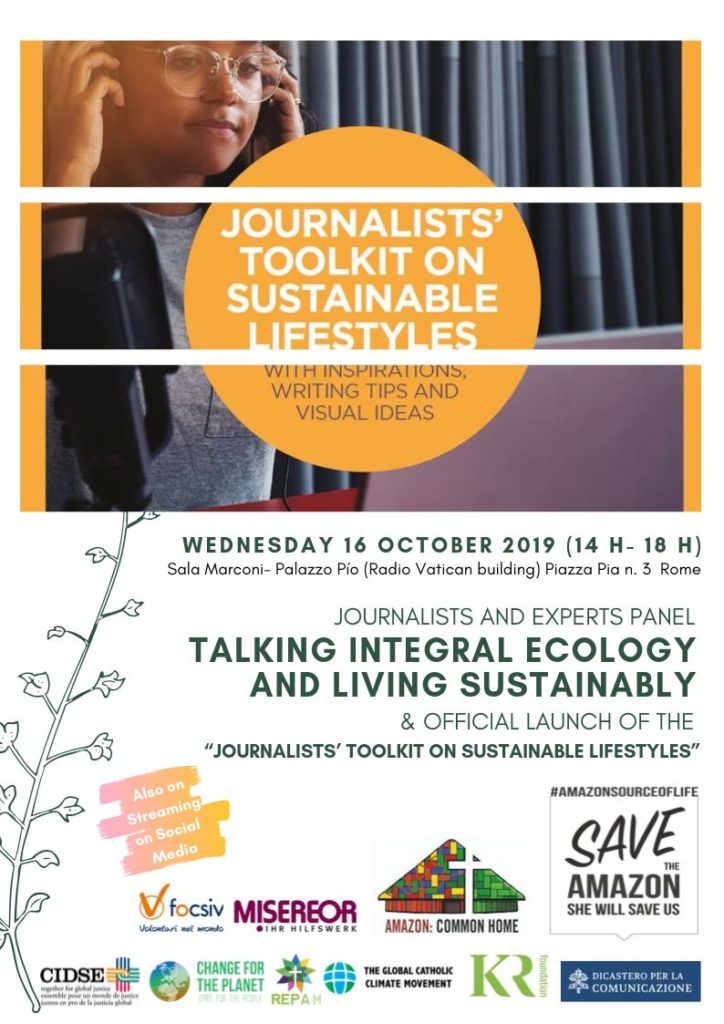 LANGUAGE [The event will be in English, Italian and Spanish with simultaneous translation in Italian and Spanish].
Offline: 50 people (translation English/Spanish English/Italian)
Online: Streaming event on Social Media (Facebook Live/Later also on Youtube).
Organized by CIDSE, the campaign "Change for the Planet- Care for the People" in collaboration with GCCM, FOCSIV, Misereor and REPAM. Financed by KR Foundation. With the support of the Dicastery for Communication.
FLYER/POSTER (download image here ENGLISH , SPANISH  e ITALIANO)
JOURNALISTS' TOOLKIT (EN / ES/ FR / GE/ PT).
ASSISTANCE CONFIRMATION Facebook event 
DESCRIPTION: The main objective is to raise awareness in society (with a special focus on journalism and communication) about the Amazon, Integral Ecology, sustainable lifestyles and how everything is globally connected. In this moment of the History, we need a "call to action", tools and inspirations in order to change the dominant narratives and also the daily praxis of journalism, media and communication as specific actors and influencers in seeking Systemic Change and holistic solutions.