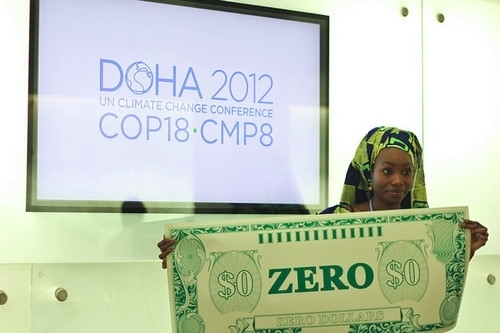 When Ministers reached Doha at the start of week two almost no progress had been made on any of the crucial issues at the climate talks. A few days later, the finish line is now fast approaching. Let's have a look at where we are. (FR version below)
Overall, discussions have been difficult and ministerial roundtables have taken several thorny issues from the technical to the political level. Will Ministers be up for the challenge to inject some political will and move beyond national interests to respond to the urgent needs of the poorest and for the sake of our common future?
Concerning the second commitment period of the Kyoto Protocol (KP) there is no sign of progress on ambition. The EU will not move beyond its current -20% target unless other parties move, and it is unwilling to consider the cancellation of carbon credits in KP2. So far none of the parties present have announced urgently needed more ambitious emission cuts.
A weak KP2 is a bad sign in terms of the trust and ambition needed to build a new global climate deal which includes all parties, not only the current group of developed countries which amount to only 15% of total global emissions. All should think of the common good and move from their current positions and as a climate champion the EU should lead the way towards more ambition. Discussions on the second period should conclude today, which leaves observers wondering about the form and ambition of what is in fact a new treaty. We need KP2 and we need it to be strong, because this is not only about keeping the international climate regime alive, it is also about paving the way towards an ambitious and equitable global deal in 2015.
It is not given that discussions on Long Term Cooperative Action (LCA) can be closed. There is still consensus missing on crucial issues, especially on finance and it looks difficult to get that sorted. The Ministers of Switzerland and The Maldives now have the task to work out a satisfactory outcome on this track, which will be a hard nut to crack if finance is not part of it. Climate finance is of fundamental importance to developing countries for their efforts to adapt to the impacts of climate change.
Finance can turn out to be a deal-breaker or a deal-maker here in Doha. Pledges from the UK, Germany, Denmark, Finland and Sweden are a first step and welcome move after too long silence on this issue. Hopefully it will trigger other countries into action and we will see more money on the table, or even better – into the Green Climate Fund, by the end of the week. In fact, what has been pledged so far is far from what is needed to fulfill existing needs and to deliver on commitments that were made.
We need concrete commitments in a text that can be agreed here in Doha, commitments that will result in predictable climate finance which can be monitored, reported and verified. Also, as not all the issues related to scaling up climate finance will be resolved here, a high level political space should be created to sort out how developed countries will reach the promised $100 billion per year by 2020.
Have a look here at Colette Benoudji of environmental NGO Lead Tchad talking about climate change in her country and the need to keep faith in the climate talks. Let us know why you think we must keep faith in climate justice on Facebook and using #faithcop18 on Twitter. Watch other #faithcop18 videos.
—

Doha : Parties, retroussez vos manches !
Quand les ministres ont rejoint Doha au début de la 2ème semaine de négociations, peu de progrès avaient été faits sur les enjeux majeurs de ces négociations climat. Quelques jours plus tard et l'échéance finale approchant rapidement, voyons où nous en sommes.
De manière générale, les discussions sont fastidieuses et plusieurs sujets, sur lesquels aucun consensus n'avait pu être trouvé au niveau technique, ont été renvoyés aux tables-rondes ministérielle. Les ministres seront-ils à la hauteur du défi, sauront-ils insuffler la volonté politique nécessaire et dépasser les intérêts nationaux pour répondre aux besoins urgents des plus vulnérables et préserver notre futur commun ?
Concernant la 2nde période de l'engagement du protocole de Kyoto, il n'y a pas de signes de progrès en termes d'ambition. L'UE ne fera évoluer son objectif actuel de 20% que si d'autres pays Parties rehaussent également leurs engagements, et il semble peu probable que les surplus des quotas d'émissions de la 1ère période du Protocole Kyoto soient annulés dans la 2ème période, voire dans le nouvel accord qui devrait être établi en 2015 (venant ainsi niveler par le bas les engagements qui y seront pris). Et jusqu'à maintenant, aucun pays Partie n'a fait d'annonce de réductions d'émissions plus ambitieuses, pourtant indispensables.
Une 2ème période du protocole de Kyoto affaiblie envoie un mauvais signal en termes de confiance et d'ambition pour la construction d'un nouvel accord mondial qui inclurait tous les pays Parties, et pas seulement le groupe des pays développés engagés dans le protocole de Kyoto et qui représentent 15% des émissions totales dans le monde. Tous devraient penser à la défense du bien commun et revoir leurs positions actuelles, et l'UE devrait donner l'exemple vers plus d'ambition. Les discussions sur une 2nde période du protocole de Kyoto « a minima » devraient se terminer aujourd"hui et laissent les observateurs dubitatifs sur la forme et l'ambition d'un nouveau traité. On a besoin d'un protocole de Kyoto 2 fort, car il ne s'agit pas seulement de garder le régime climatique international vivant, mais aussi d'ouvrir la voie à un accord global ambitieux et équitable en 2015.
Par ailleurs, il n'est pas acquis que les discussions du chantier de négociation sur l' « Action Coopérative de Long Terme » pourront être closes. Il manque toujours un consensus sur des enjeux majeurs, comme les financements. Les ministres de la Suisse et des Maldives, qui président le groupe de négociation dédié, ont la charge de faire aboutir de manière satisfaisante les discussions de ce chantier, ce qui sera difficile sans décision claire sur les financements. Il s'agit d'un enjeu fondamental pour soutenir les efforts des pays en développement en termes d'adaptation aux impacts du changement climatique.
La question des financements sera décisive sur l'issue des négociations à Doha et l'obtention ou non d'un accord. Les annonces financières faites par le Royaume Uni, l'Allemagne, le Danemark, la Suède et la Finlande constituent une première étape bienvenue après un trop long silence sur ce sujet. On peut espérer que cela incite les autres pays à s'engager également et que davantage de fonds seront mis sur la table ou, encore mieux, dans le Fonds Vert pour le climat, d'ici la fin de la semaine. De fait, ce qui a été annoncé à ce jour est loin de répondre aux besoins existants et n'est pas à la hauteur des engagements qui avaient été pris à Durban. On a besoin d'engagements concrets officialisés dans un texte adopté à Doha, engagements qui se déclineraient en financements climat prévisibles, qui puissent être suivis, déclarés et vérifiés. Et comme tous les enjeux liés au nécessaire changement d'échelle dans les financements de la lutte contre le changement climatique ne seront pas résolus à Doha, un espace politique de haut niveau devraient être établi pour clarifier comment les pays comptent atteindre les 100 milliards de dollars par an en 2020, sur lesquels ils se sont engagés en 2011 à Durban.