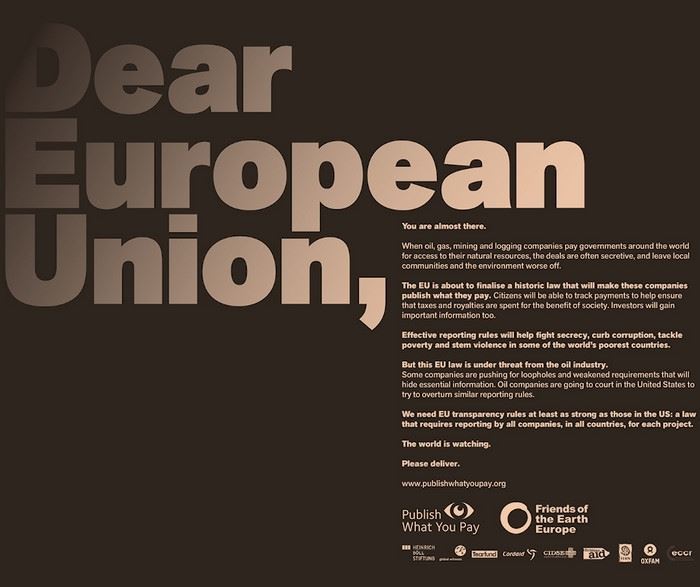 Campaigners celebrated as the European Parliament and European Council met key demands of the coalition on corporate transparency, Publish What You Pay. CIDSE has demanded changes to the Accounting and Transparency directives which will require oil, gas, mining and forestry companies listed on European stock exchanges to publish what they pay governments. This country-by-country-reporting will improve the possibility of local campaigners to learn what their governments are paid by European and transnational companies.
Among others, CIDSE member organisations CAFOD and MISEREOR have been active on the topic. CAFOD published this reaction by Anne Lindsay when news of the agreement broke:
Publish What You Pay celebrates as Europe takes the lead on transparency
Today activists from more than fifty countries will be celebrating a deal agreed in Brussels last night. Excited emails popping up in my inbox from countries like Timor, Australia, Ghana and the US show that this is by no means just a European affair.
Yesterday evening following a series of protracted negotiations, the European Council and the European Parliament reached a deal on changes to the Accounting and Transparency directives which will require oil, gas, mining and forestry companies listed on European stock exchanges (and the very largest non-listed European extractive companies) to publish what they pay to governments.
Timorese villagers discuss income from natural gas industry
Readers of previous CAFOD blogs will know that some extractive companies were lobbying to create exemptions within the law and set a ridiculously high reporting threshold which would have meant that payments below a million Euros remained secret. There has also been massive resistance by industry groups against project-level reporting, despite the fact that the United States introduced this level of detail in its transparency requirements for extractive companies under 2010 Dodd-Frank Act.
But the arguments of those promoting transparency-lite haven't stood up to close scrutiny. In fact a robust approach from the European Parliament and growing recognition by EU Member State governments that this opportunity was simply too important to waste means that the final deal is worth the wait.
Project level reporting will be a key part of the transparency reforms as well as country level reporting. The threshold for triggering payment transparency is going to be 100 000 Euros – a much more relevant figure for citizens in some of the poorest countries in the world such as the Democratic Republic of Congo than the million Euros business had proposed.
What does it mean in practice? With last night's deal, Europe has taken up the baton from the United States. These reporting requirements mean that local organisations in Cambodia, Angola, Zambia, Colombia, the Philippines and many other countries in the developing world will be able to access reliable information about extractive projects in their own countries. And let's not forget how dangerous life can be for activists asking questions about mining deals in some of the more remote corners of the world. It means that officials responsible for negotiating key natural resource contracts will know that information on how much multinational companies actually pay is going to end up in the public domain. This is a crucial step in making sure that income from natural resources is used to support lasting development not conflict or corruption.
Explaining what had happened last night to two friends who are not part of the Publish What You Pay coalition and who work in completely different fields, their response was slightly underwhelmed. Surely this was common sense – why shouldn't citizens of resource-rich countries know who is paying what for their natural resources?
It may have taken ten years but the agreement in Brussels last night showed that European MEPs and EU Member States have recognised that this is indeed common sense.
As the momentum grows for transparent ways of working which mean that businesses and governments are accountable to citizens, it's over to you G8 – show us how you will build on this valuable work.
Text originally published on the CAFOD policy blog.
MISEREOR's press release (in German) can be read here.