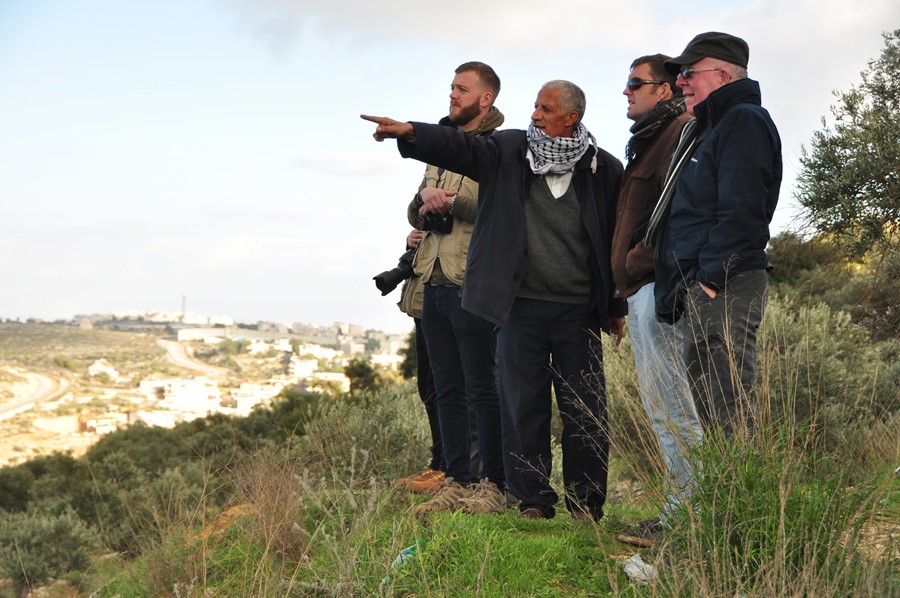 Seán Farrell, Trócaire's Director of International Division, reports back on a recent trip he made to Israel and Palestine.
"Over the last 20 years I have become used to living in places where human rights are systematically abused. Places where the powerful will do anything to retain power and ensure that communities have no ability to develop.
In the early 90s I lived in Romania, where the former dictator Ceaușescu's secret police held the country in its grip of control and brutality. More recently I spent two years living in Zimbabwe.
In between, I have visited the villages of conflict-scarred southern Philippines, the survivors of the war in Northern Uganda, the coffee plantations of Nicaragua, the Mayan communities of Guatemala and many other communities where Trócaire provides support to vulnerable people.
Oppression and the denial of rights through brutal and violent force has been a constant companion over the last two decades.
Palestine is a place that has held my interest for years but I only recently had the opportunity to visit for the first time.
Seeing the situation facing people there – from the ghost town of Hebron, to the rural villages of the South Hebron hills, to the Separation wall cutting off Palestinians from the land in the Cremisan Valley – one thing rings true for me: the denial of basic rights comes in many guises.
In Palestine, that guise looks very different to the overtly brutal ones of many other countries I have visited. The oppression of the Palestinian population and the targeting of both people and their land comes in the guise of 'security' and 'legal protection'.
It goes without saying that Israel as a state has the right to safety, security and recognition. But what I saw in the Palestinian territories was not about the security of Israel.
The building of settlements across Palestinian land, driving farmers from their fields and demolishing homes, needs to be seen for what it is: a land grab.
When all of the rhetoric is removed about security and legal processes, what is left is an illegal occupation and a systematic campaign of forced displacement, house demolition and land seizures. It is both illegal and immoral.
The bravery and courage of the people I met, both Israeli and Palestinian, who struggle to challenge this, is amazing. The Israeli people who challenge their own society to come and see that the occupation destroys both the occupied and the occupier were particularly inspiring. Their bravery is a shining light in the midst of a lot of madness.
The situation facing people in the West Bank is a clear injustice, but in Gaza people face an entirely different crisis.
Gaza is like nothing else: 1.8 million people corralled into a tiny strip of land cut off on all sides. It is the largest open prison in the world.
And from that prison of poverty and isolation comes the frustration, anger and seething resentment that breeds and gives life to violence and despair.
Justice is about recognising the rights and dignity of all. And in too many places in our world, political and economic forces turn a blind eye to abuses and oppression. But working for an organisation like Trócaire is fundamentally about speaking truth to power.
Over the last two decades I have too often come face to face with the closed fists of oppression and injustice. And I have become too used to seeing the signs and sensing its awful, threatening presence.
That presence is all over Gaza and the West Bank.
It is an oppressive injustice, and it is hard to see how any solution can be reached until we articulate it as such.
But, for some reason, the world cannot bring itself to speak about the truth of the problem.
Until we do, the settlements will continue to grow, land will continue to be seized and frustrations will continue to overspill into violent and horrible acts. We will continue to swallow a daily media diet of security and terrorism.
Seeing first-hand the seized land, demolished houses, displaced families and segregated streets and roads, it is clear to me that we must speak truth to power and unveil the reality that many seek to hide.
Then and only then can justice prevail."
END

* A Palestinian farmer shows the impact of the separation wall to Seán Farrell and Bishop John McAreavey.
This text was originally published on Trócaire's blog on 18 January 2016.
Trócaire is CIDSE's member organisation in Ireland.