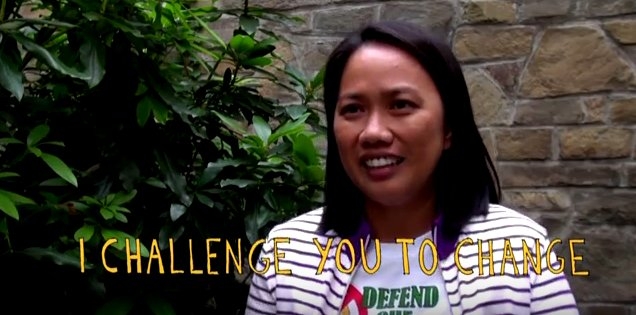 There are alternatives that work, which respect farmers' livelihoods while protecting, restoring and preserving the natural resources that are essential to our lives. By persisting and believing in the power of people and communities to work together, imagine and implement solutions that are adapted to their context and environment, changes at different levels are possible.
Maria Rowena Buena, or 'Weng' as she likes to be called, has grown, lived and spent most of her life within farming communities, learning and sharing experiences. She has worked for MASIPAG for over 15 years and is now Research, Education and Training Coordinator there, working closely with farmers on transitioning to organic agriculture and agroecological practices. MASIPAG is a farmer-led network of people's organizations, NGOs and scientists based in the Philippines, who work together in resisting the effects of genetically modified crops, chemical farming and technologies imposed on farmers in the context of the 'Green Revolution', whose legacy still stands today. They do so in a number of ways, focusing primarily on safeguarding the culture, traditional knowledge and know-how of the farmers. By nurturing and valuing this knowledge and combining it with organic and agroecological methods, MASIPAG farmers have been able to regain control over their seeds, restore biodiversity, recover lost rice varieties and improve them without recurring to the use of dangerous chemicals, pesticides and herbicides of which a large amount of evidence has shown long-lasting and highly damaging effects on soil fertility, the environment and human health.
The Philippines is known to be a highly vulnerable country to erratic climate events driven by global warming. Recent typhoons have ravaged cities and villages, and disasters such as these ones are slow to recover from. Weng tells us that about 58 typhoons hit the Philippines each year. "There are more typhoons than letters in the alphabet", she says between laughs, "each a little bit stronger than the next." After more than 10 years of following the grand scheme of the Green Revolution, promising "high yields and better lives", Filipino farmers have experienced quite the opposite: when extreme weather hits, as it has done in recent years and has become persistent, damaged soils are unable to cope and crops fail, leading to more poverty and increased indebtedness of farmers, their families and their communities. However, as Weng reminded us when we met her recently at the CIDSE Climate and Agriculture workshop, despite the many challenges, there are alternatives that work, which respect farmers' livelihoods while protecting, restoring and preserving the natural resources that are essential to our lives – "and they are driven, not by us, but by the farmers themselves who know better what is best for them and what they need."
The essence of MASIPAG is the farmers' work, they set priorities, they share knowledge and experience, and they mobilize to defend their lands and seeds. "Practical work is the best advocacy. Farmers showing other farmers how organic agriculture can be implemented, how seeds can be bred to suit different types of soils more adequately, learning together to protect recovered varieties…has had positive policy changes at the local level. We've seen that local governments are reacting to this by enabling policies to promote organic agriculture". In this way, it has been possible for them to feel empowered and be active participants of a common project – to defend their seeds as a common heritage, enhance the resilience of their crops and their communities and preserve food security in the phase of climate change and corporate power.
This resilience is visible and was also felt by our colleagues who visited MASIPAG recently in the Philippines:
"When I set foot in the Philippines in April 2016 I found myself in the middle of one of the hottest and driest summers on record. Farmers were struggling to grow enough food for their families, and only some of the traditional crops were resistant to such an extreme and long-lasting heat wave. Accompanying Weng and other MASIPAG colleagues around the country, I could see with my own eyes how their approach makes farmers independent and fosters their shared knowledge, increasing their readiness as communities in the face of extreme weather situations and therefore their adaptation skills. At the MASIPAG back-up farm in Santa Rosa, a young farmer and trainer called Boning tried to teach us how to breed rice, a process that requires a lot of care, precision and patience. We were probably not successful in the task and there probably won't be a new type of rice named after us in the near future, but the experience got me thinking. Learning and being attentive even to the smallest details in nature, starting from a sheaf of rice, helps farmers be better prepared to the biggest nature's events. Resilience starts from there, from the almost intimate relationship that farmers develop with nature, their crops and their land, by knowing them inside out, and respecting them. And, when shared and kept alive in time, the knowledge that farmers build in steps becomes the most powerful of shields."
– Valentina Pavarotti, CIDSE Media and Communications Officer.
Despite the many challenges, "because it's not easy to change people's mindsets after so many years of conventional agriculture" as Weng acknowledges, there is an urgent need to transition to more sustainable and just ways of producing and consuming food. "This [current] model of agriculture is not working for us in the Philippines. We need a different model that is beneficial to the planet and to small-scale farmers […] Organic agriculture, agroecology, is a good option, if not the best option". By persisting and believing in the power of people and communities to work together, imagine and implement alternatives, changes at different levels are possible. For the people and the planet, Weng challenges us to think about the people that work the land, where food comes from, and how through simple actions we can support them.
Watch the story here: