By Josianne Gauthier, Secretary-General of CIDSE
(Original French translation below)
ENGLISH VERSION
"The urgency of the present moment cannot be measured. The time has come to act immediately. We are calling on decision makers to take concrete action to save our planet and we call on the Catholic Church to give an example through its witness." These were some of the messages from the young and not so young people, indigenous communities from Amazonia and "Pacific Warriors" who came to Rome in response to Pope Francis' appeal for an ecological conversion.
Nearly 400 people accepted a Vatican invitation to attend a July 5-6 conference, entitled "Saving our common home and the future of life on earth," to mark and celebrate the third anniversary of Pope Francis' encyclical Laudato Si' on the protection of our common home.
Participants included Christians and non-Christians, scientists, artists, politicians, economists and activists, all involved in various ways in working for climate justice and the protection of a dignified life on earth. All felt challenged by the increasing urgency to act and bring pressure to bear to achieve a firm commitment from states and other parties in the COP24 climate negotiations to be held in Poland next December. As Msgr. Bruno Marie Duffé, secretary of the Dicastery for Integral Human Development, told us, "we can no longer accept that the appropriation and exhaustion of natural resources should continue to enrich a small number of people while endangering the lives of the poorest."[1]
The young people present understood how to attract the attention of plenary hall. We do not have the luxury of time, they said, appealing to us – their elders – "to give them a chance" on this earth. A variety of scientists, politicians and economists also shared their respective observations. The alarming speed of climate change caused by human behavior and the choices we make threaten the very survival of species, water and air quality as well as food security. These are huge challenges. However, we also heard from the representatives of the indigenous communities and the "Pacific warriors" that, on top of the risk to other species, human life is also under threat. Hence, demands for implementation of the Paris Agreement are an absolute minimum and in fact do not go far enough. The 2°C ceiling for planetary warming exceeds what is really acceptable. All the various views expressed in recent days confirm this. The difference between 1.5° and 2° warming will make the difference between life and death for the Pacific islands and communities who live there, their traditions, their history and culture. The Paris agreement must not fail.
For some of us, this appeal for action goes beyond logical or intellectual understanding. Rather, it is a cry from the heart, from the depths of the forests, a cry heard through the music and beauty of Creation that we need to protect against our human behavior. For those who make up the great family of the Catholic Church, we also feel the moral and ethical moral responsibility to act, to witness to this ecological conversion and to carry forward the cultural revolution that the pope has spoken of. In his address to meeting participants, Pope Francis told us that there is still time to correct our aim. Starting from now, all of us need to make deep and radical changes in our lifestyles, economic choices, indeed, in our very definitions of progress, development and flourishing. The earth and dignified life on this earth are common goods. We must be ready to defend them with all the gifts and talents at our disposal. And we need to do so together in solidarity with each other.
Josianne Gauthier, Secretary general, CIDSE
[1] Excerpt from the Conference recommendations "Saving our common home and the future of light on earth", presented by Msgr. Bruno Marie Duffé, Secretary of the Dicastery for Integral Human Development, Vatican City, 5 July 2018.
FRENCH VERSION
Laudato Si', l'encyclique du pape François, a été publiée il y a trois ans et a été une source d'inspiration pour un nombre incroyable de personnes, s'adressant à tous les peuples de la terre. La conférence « Saving our common home and the future of life on earth » vient de se terminer. Elle a rassemblé des personnes de tous les milieux et de toutes les origines reflétant parfaitement l'esprit de Laudato Si'.
Tribune de Josianne Gauthier, Secrétaire générale de la CIDSE publiée dans l'espace Forum et Débats du site de la Croix.
« L'urgence du moment ne se mesure pas. Le temps est venu d'agir et de le faire immédiatement. Nous appelons les décideurs à poser des gestes concrets pour sauver notre planète et nous demandons à l'Église catholique de donner l'exemple par son témoignage.» Voici quelques-uns des messages issus des voix des jeunes et moins jeunes, des communautés autochtones venues d'Amazonie et des « Pacific Warriors » (guerriers du Pacifique) invités à Rome pour répondre à l'appel lancé par le Pape François pour une conversion écologique.
Ces derniers jours, près de 400 personnes se sont réunies à l'invitation du Vatican pour marquer et célébrer le troisième anniversaire de la lettre encyclique du Pape François Laudato Si' sur la protection de notre maison commune.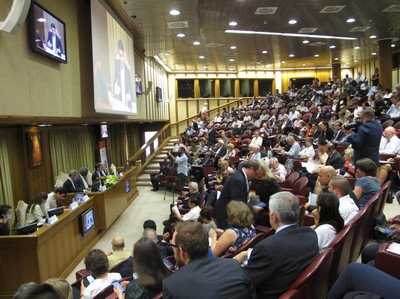 Les participants à la conférence « Saving our common home and the future of life on earth » (Sauver notre maison commune et l'avenir de la vie sur terre), étaient un groupe divers de chrétiens et non chrétiens, scientifiques, artistes, politiciens, économistes, militants et militantes – tous et toutes engagés pour la justice climatique et la protection de la vie digne sur la terre, et tous interpelés par l'urgence alarmante d'agir et de faire pression pour obtenir un engagement ferme des États et parties présentes aux négociations climatiques de la COP 24 qui se dérouleront à Katowice, en Pologne au mois de décembre prochain. Comme l'a déclaré Mgr Bruno Marie Duffé, Secrétaire du Dicastère pour la Promotion du Développement Humain Intégral « Nous ne pouvons plus accepter que l'appropriation et l'épuisement des ressources naturelles continuent l'enrichir un petit nombre de personnes et mettent en péril la vie des plus pauvres.[1] »
Les jeunes qui étaient présents ont su provoquer la salle comble, en nous rappelant que le temps est un luxe qui ne nous est pas donné, en nous demandant, à nous, leurs ainés de leur « donner une chance » sur cette terre. Scientifiques, politiciens et économistes ont partagé leurs constats. La vitesse alarmante à laquelle les changements climatiques – causés par les comportements humains et les choix que nous faisons – menace la survie même des espèces, la qualité de l'eau, de l'air et la sécurité alimentaire. Les défis sont immenses. Mais ce que nous avons aussi entendu des représentants des communautés autochtones et des jeunes « guerriers du Pacifique », c'est que c'est la vie humaine qui est menacée au-delà de toute autre espèce. Ainsi, les demandes liées à la mise en œuvre de l'Accord de Paris, sont un minimum absolu qui non seulement sont en danger grave de ne pas être remplies mais sont loin d'être suffisamment ambitieuses. Le plafond de 2°C de réchauffement planétaire dépasse ce que nous pouvons réellement accepter. Les voix réunies ensemble ces derniers jours le confirment. La différence entre 1,5° et 2°C, c'est la différence entre la vie et la mort pour les îles du Pacifique et les communautés qui y vivent, leurs traditions, leur histoire et leur culture. L'accord de Paris ne peut pas échouer.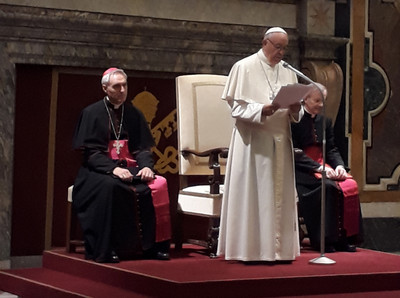 Pour plusieurs d'entre nous, l'appel à agir dépasse tout entendement logique ou intellectuel. C'est un cri du cœur, un cri du fond des forêts, un cri à travers la musique et la beauté de la Création que nous devons protéger contre nos comportements humains. Pour ceux et celles qui font partie de la grande famille de l'Église catholique, nous avons aussi senti la responsabilité morale et éthique d'agir, d'être témoins de cette conversion écologique et de porter cette révolution culturelle dont nous parle le Saint-Père. En s'adressant aux participants réunis au Vatican, le pape François nous a rappelé qu'il est encore temps de corriger le tir. Les changements profonds et radicaux doivent venir de nous tous et toutes, dès aujourd'hui, dans nos modes de vies, dans nos choix économiques, dans notre définition même du progrès, du développement et de l'épanouissement. La terre et la vie digne sur cette terre sont des biens communs et nous devons être prêts à les défendre avec tous les dons et talents qui nous ont été accordés et nous devons le faire ensemble, en solidarité les uns avec les autres.
[1] Extrait des recommandations de la Conférence "Saving our common home and the future of light on earth", présentées par Mgr Bruno-Marie Duffé, Secrétaire du Dicastère pour le Développement Humain Intégral, Vatican le 5 Juillet 2018