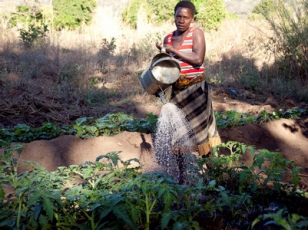 Today, the High-Level Panel of Experts (HLPE) of the UN Committee on world Food Security (CFS) is launching its report on "Agroecological approaches and other innovations for sustainable agriculture and food systems that enhance food security and nutrition". This report will be discussed at the October CFS plenary session and should lead to the adoption of recommendations in October 2020. This comes at a crucial time as agroecology is clearly gaining ground at the international level; FAO and IPBES have both recently highlighted the high potential of agroecology to achieve respectively the Sustainable Development Goals, the Paris Agreement and the Convention on Biological Diversity. CIDSE has long been fighting for agroecology to be fully acknowledged and supported by governments. In this regard, the HLPE's publication adds to the wealth of reports, studies and initiatives calling for agroecology to be put on the political agenda.
We are currently facing diverse and mutually reinforcing human-made crises (climate, biodiversity, hunger, inequalities, …). The recent IPCC report on 1.5°C and the IPBES global assessment on biodiversity have both highlighted the urgency to radically transform our societies and agriculture. Such a paradigm shift is also needed if we are seriously thinking about meeting the targets set in the Sustainable Development Goals, as hunger is again on the rise – climate change playing an important role in that perspective. The report acknowledges this specific context in which we are now evolving and calls for "profound transformation of our food system".
The report dives into several approaches that could contribute to the transition needed towards sustainable food systems. What is interesting, is that the authors have clustered the different approaches they analysed in two distinct groups: agroecological approaches and sustainable intensification approaches. We are pleased to see that this global scientific effort has managed to highlight differences between those approaches as this is something CIDSE has been repeating and demonstrating over the past years. Indeed, CIDSE, along with many other civil society organisations and scientists, has long fought for not putting climate smart agriculture and sustainable intensification at the same level as agroecology.
For CIDSE, it is quite clear that sustainable intensification has a reformist agenda while agroecology is transformational. It is clear to us that rising hunger and inequalities, climate urgency and biodiversity collapse cannot be dealt with a reformist agenda and a limited focus on increased productivity through efficiency gains. The report highlights that "it is possible to have high resource use efficiency at the same time as having a negative ecological footprint", calling for "practices that are regenerative rather than degradative" to be the new norm.
The important role of agroecology for smallholder farmers is also strongly highlighted in the summary: "Given that many smallholder farmers are vulnerable to food insecurity and malnutrition, encouraging them, through appropriate public support, to use agroecological methods would have a double impact, addressing both FSN and transitions to SFSs simultaneously".
The HLPE report recommends to shift public support towards "transitions to diversified and resilient food systems" and to address "power inequalities in the food system" which agroecology has proven to be heavily contributing to. This includes the need for:

– Redirecting subsidies that are benefiting unsustainable practices (which could include removing subsidies for synthetic inputs),
– Promoting alternatives to the use of chemicals,
– Exploring ways for trade agreements and rules to better support transitions towards more sustainable agriculture and food systems,
– Recognizing gender equity as a key driver of agroecology and other innovative approaches and support gender transformative policies…

This echoes CIDSE's recent work: CIDSE has been working on principles of agroecology and on a transition towards agroecology and sustainable food systems that would enable us to meet the 1.5°C objective. The HLPE report echoes several of the messages we have been sharing around.
As is often highlighted by CIDSE, a transformation of the whole food system is needed both in the global north and the global south. This requires an integrated and coherent approach for which the report is also calling for. The task ahead of us is huge as reforming the current system will not do. It is clear to us that strong political choices need to be made. Governments can no longer shy away from putting agroecology at the centre, both in domestic and international policies.
Notes
IPBES: Intergovernmental Science-Policy Platform on Biodiversity and Ecosystem Services
IPCC: Intergovernmental Panel on Climate Change
FSN: Food security and nutrition
SFSs: Sustainable food systems
Disclaimer
This article is based on the summary and recommendations of the report which were released at the end of June.
Contact: François Delvaux, Climate & Agriculture and food sovereignty Officer (Delvaux(at)cidse.org)