In 2012 the UN issued a report warning that Gaza would become unlivable by 2020 unless fundamental change was made and Gaza was given open access to the outside world.[1] This year the illegal blockade of Gaza entered its 14 year and Israel continues to deny the people of Gaza their basic rights and life in dignity.[2] There is no real prospect of significant change or recovery for Gaza. On the contrary, a divided Palestinian leadership and the worldwide Covid-19 pandemic are aggravating and accelerating social and economic collapse. There is only one remedy, the blockade needs to be lifted immediately!
Despite the closure, dangers and hardship, people in Gaza refuse to be defined by the conflict that affects their daily lives. Just like other people around the world, they hope and dream for a better future. People in Gaza are determined to make life 'livable' and demonstrate huge determination and creativity in doing so. However, we should not forget that human resilience has its limits when confronted with such extreme adversity, as is the case in Gaza.
---
JOIN OUR TWO WEBINARS (Languages: English/French):
25 February 2021, 19:30 (CET):
Youth of Gaza: Stories from a lifetime under blockade. (French). Register HERE.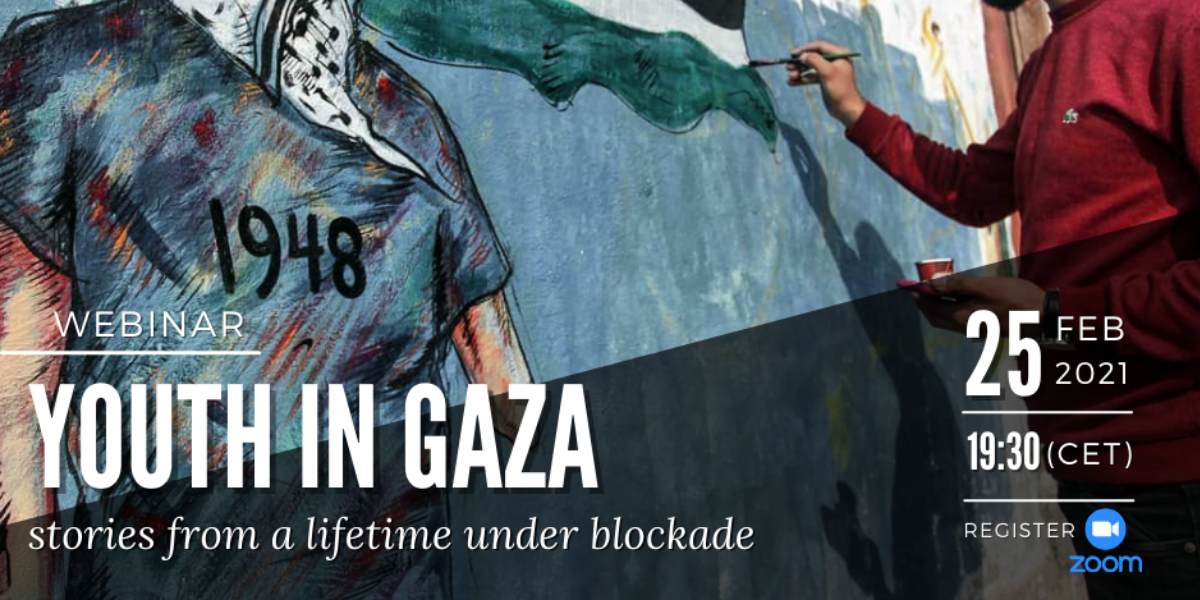 Speakers:
– Asmaa el Khaldi, Filmmaker and storyteller, Gaza Sky Geeks
– Majed Abusalama, Director, We are not numbers
– Dina Khadra and Ahmed Al Aydi, Theater Day Productions
4 March 2021, 19:30 (CET):
Women of Gaza: Listening to their perspectives on 14 years of blockade (French) – Register HERE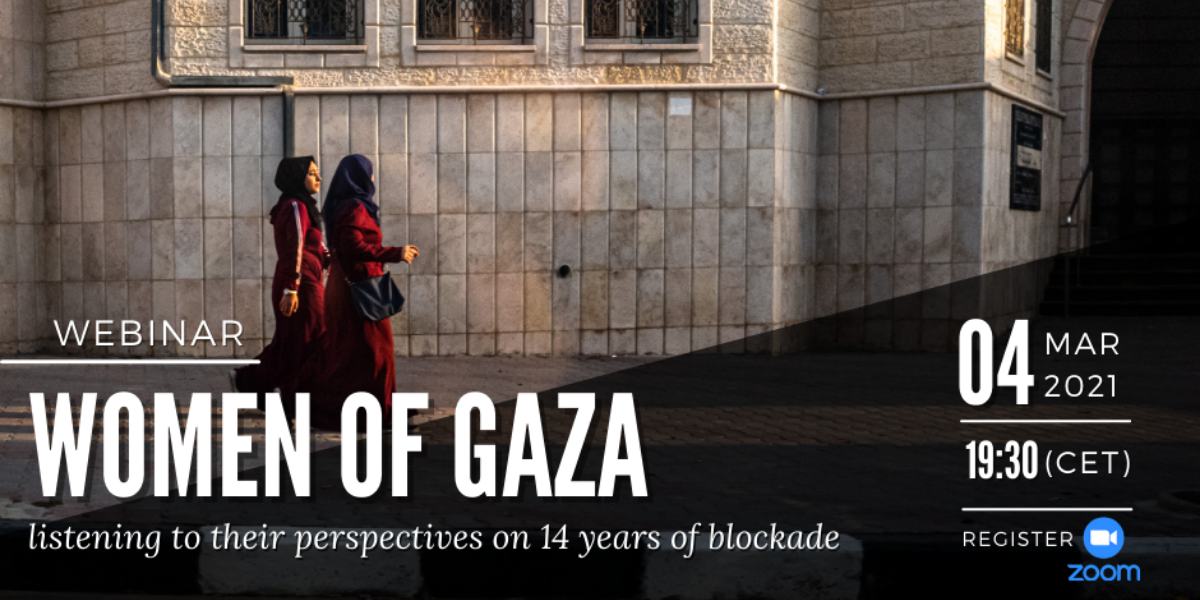 Speakers:
– Amaal Syam, General Director Women's Affairs Centre (WAC)
– Wafa' Abdel Rahman, Director, Filastiniyat
– Maha Al Raei, Director, Wessal Network

14 years of illegal blockade
Since 1967, Gaza has been under Israeli military occupation, along with the West Bank, East Jerusalem and the Golan Heights. Israel controls all entry and exit (except for the border crossing with Egypt), as well as Gaza's airspace and coastline. As a result, under International Humanitarian Law (IHL), Israel retains effective control over Gaza as an occupying power.
In 2007, Hamas ousted Fatah and took over the Gaza Strip by force. As a response Israel imposed a land, sea and air blockade upon the almost two million people, punishing the entire civilian population of Gaza for acts for which they bear no responsibility. This is a form of collective punishment, which is considered strictly illegal under International Humanitarian Law.[3]
The Israeli blockade of the Gaza Strip is maintained through a system of restrictive measures and sanctions that prohibit the travel of almost all people in and out of Gaza. Rare exceptions are granted to people that obtained medical, commercial or educational permits.[4] The import of goods into Gaza as well as export to Israel, the West Bank and third countries is heavily restricted. As a result of Israeli policy, the Gaza strip has fallen into a deep economic, social, and humanitarian crisis.
The Palestinian Authority imposed its own sanctions on the de facto Hamas government, such as delaying, cutting, and withholding the salaries of government employees.[5] These are aimed at pressuring Hamas to relinquish control and also constitute a form of collective punishment. In practice the measures have put additional strains on life in Gaza.

A man-made economic and humanitarian disaster
The Israeli restrictions and the military hostilities in 2008, 2012 and 2014 have had a devastating impact on the economy and the wellbeing of Palestinians. Power shortages undermine Gaza's fragile economy, in particular the manufacturing and agriculture sectors.[6] The private sector in Gaza is highly dependent on Israeli permits and policy decisions on what goods, equipment, and raw materials are allowed in and out. These extremely limiting conditions have led to the de-development of the Gaza Strip.[7]
Currently, more than half of the population in Gaza lives under the poverty line, at least 75% depends on humanitarian assistance and 69% of youth are unemployed.[8] Clean drinking water is unavailable for 95% of the population, and the ongoing power shortages also have repercussions on the provision of essential services, such as healthcare, water, and sanitation.[9]
Even before the Covid-19 outbreak, the WHO had warned that Gaza's healthcare system was 'on the brink of collapse".[10] The blockade, successive military hostilities in 2008, 2012 and 2014, and the diminished funding for UNRWA (the main healthcare provider in Gaza) have caused a shortage of drugs, medical equipment, and personnel. Vaccines are now necessary to guarantee public health, but Israeli has refused to provide them to Gaza, renouncing its responsibilities as an occupying power under the Fourth Geneva Convention.[11]
[Read Riwaa Abuquta's, "double lockdown" a young woman's reflections on living a global pandemic in Gaza and the" by.]
Change for Gaza?
The people in Gaza have been steadfast and rising up against the blockade, the injustice and the dire living conditions. In 2018 and 2019, during the 'Great March of Return', civilian protesters demanded an end to the blockade and their right as refugees to return home. They were confronted with disproportional and even lethal force from the Israeli military.[12] In the aftermath, perpetrators were not held accountable, which left injured and traumatized victims without justice.
Resistance can also be found in the peaceful day-to-day work of civil society organizations, local entrepreneurs and young activists that are making a difference. Their engagement is vital in making life more livable and plants seeds of hope for people of Gaza. Despite the admirable work they are doing, change for Gaza will not come without political solutions. It will not come without International Humanitarian Law and Human Rights being upheld, and holding those that violate it accountable. Change will only come hand in in hand with justice, and respect for the unalienable rights of the people of Gaza.

Learn more about life in Gaza and support the work of our partners :

Take action for Gaza in your country through our Member Organisations:
Belgium
Broederlijk Delen: https://www.broederlijkdelen.be/nl/hoe-en-waar-we-werken/israel-en-palestina
Entraide et Fraternité: https://www.entraide.be/entraide-et-fraternite-debute-son-action-en-israel-et-palestine
France
CCFD-Terre Solidaire: https://ccfd-terresolidaire.org/projets/moyen-orient/palestine-israel/
Ireland
Trócaire: https://www.trocaire.org/countries/israel-palestine/
UK
CAFOD https://cafod.org.uk/About-us/Where-we-work/Middle-East/Israel-and-Palestine


---
NOTES
[1] Gaza in 2020: A liveable place? A report by the United Nations Country Team in the occupied Palestinian territory, August 2012. https://unsco.unmissions.org/sites/default/files/gaza_in_2020_a_liveable_place_english.pdf.
[2] The blockade constitutes a violation of the Hague Conventions, Art. 33 of the Fourth Geneva Convention and Art. 7 of the Rome Statutes.
[3] Collective punishment violates the Hague Conventions as well as article 33 of the Fourth Geneva Convention. See Diakonia International Humanitarian Law Resource Center, "Guilty by association. Israel's collective punishment policies in the oPt", October 2016. p.4. https://www.diakonia.se/globalassets/blocks-ihl-site/ihl-file-list/ihl—briefs/guilty-by-association-israels-collective-punishment-policies-in-the-opt.pdf.
[4] For a full overview of permit applications necessary to exit and enter Gaza, see https://www.gisha.org/UserFiles/File/LegalDocuments/procedures/general/50en.pdf. See also Gisha "Access Kit. A guide to procedures and protocols that regulate access to and from the Gaza Strip", October 2019, https://features.gisha.org/access-kit/.
[5] Khoury, J. PA, workers in Gaza take to streets to protest 30-percent cut in salaries, 08/04/2017, https://www.haaretz.com/middle-east-news/palestinians/.premium-pa-workers-in-gaza-take-to-streets-to-protest-30-percent-cut-in-salaries-1.5459052.
[6] UNWRA, Gaza strip, December, 2019, https://www.unrwa.org/where-we-work/gaza-strip.
[7] United Nations Country Team in the occupied Palestinian territory," Gaza, Ten Years later", July 2017, https://unsco.unmissions.org/sites/default/files/gaza_10_years_later_-_11_july_2017.pdf.
[8] Oxfam, May 2020, briefing note. Shifting vulnerabilities: the faces of the ongoing crisis in Gaza.
[9 ] UNWRA, Gaza strip, December, 2019, https://www.unrwa.org/where-we-work/gaza-strip.
[10] WHO, Health response to the crisis in Gaza, http://www.emro.who.int/images/stories/WHO_Gaza_donor_alert.pdf?ua=1.
[11] Human Rights Watch 'Israel: Provide Vaccines to Occupied Palestinians. Over 4.5 Million in West Bank, Gaza Excluded From Vaccination Push' January 17, 2021, https://www.hrw.org/news/2021/01/17/israel-provide-vaccines-occupied-palestinians.
[12] During the Great March of Return 214 Palestinians, including 46 children, were killed, and over 36,100, including nearly 8,800 children were injured. In comparison, one Israeli soldier was killed and seven were injured. https://www.un.org/unispal/document/two-years-on-people-injured-and-traumatized-during-the-great-march-of-return-are-still-struggling/.

Cover photo credit: Asmaa Elkhadi