Settler violence and corporate complicity in the occupied Palestinian territory and Israel (OPTI)

REGISTER HERE –

When: 12 May 2022, 12:00-13:30 CEST – 13:00-14:30 oPtI time 

Languages: ES / FR (interpretation provided)
This webinar aims at shedding light on the expansion of the illegal Israeli settlements in the West Bank, and East Jerusalem, settlers' violence, the complicity of private entities in the settlement expansion, and their impacts on Palestinians and is organised under the context of the European's Citizen Initiative on the ban of trade with illegal settlements.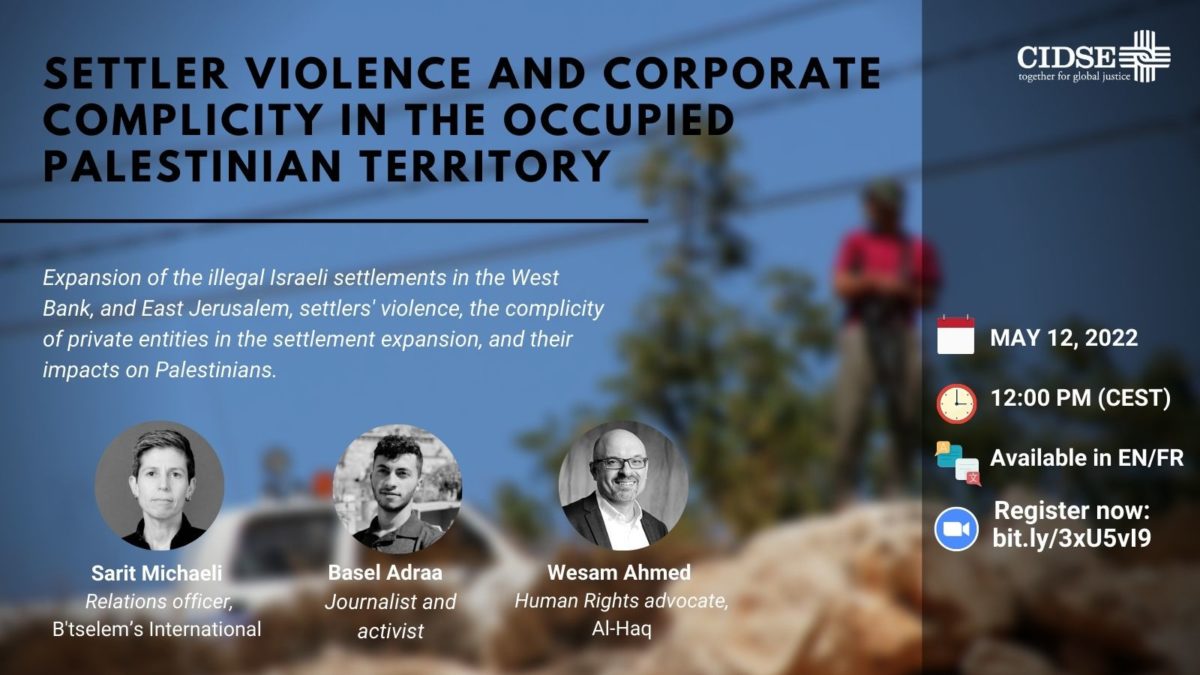 PANEL
Sarit Michaeli – B'tselem's International Relations officer. B'tselem is an Israeli Human Right Organisation who has documented and published testimonies of violence from settlers against Palestinians in the oPt since 2020. In November 2021, they published a comprehensive study of misappropriation of land by Israel through settler's violence. Sarit will present B'tselem's work and their conclusions regarding Israel's policies of aiding and supporting violent settlers.
Basel Adraa – Basel is a Palestinian journalist and activist from the village of a-Tuwani on the South Hebron Hills. Basel reports on daily cases of settler violence against the local population and the security forces' complicity in encouraging this regime of aggression. He will speak about the effects of settler violence on the Palestinian population and their own perspective.
Wesam Ahmed (Al-Haq) – Wesam is a Human Rights advocate for the Palestinian NGO Al-Haq and will speak about the relationship between private entities and the international financial system with the ongoing occupation of the oPt, and how the expansion of settlements affects local Palestinian economy.
Moderation: Bernardo Kaiser, Policy Officer for the occupied Palestinian territory and Israel, CIDSE
Cover photo: Armed settler from Elon Moreah settlement watches the olive harvest in Azmut (2006). Michael Loadenthal (CC BY-NC-SA 2.0)