Virtual Side Event on Child Rights approach to the Draft Legally Binding Instrument on Business and Human Rights
DKA Austria along with International Commission of Jurists, Child Rights Connect, Ecpat international,  Clinica de Direitos Humanos Universidade Federal de Minas Gerais and Clinica de Direitos Humanos PPGD/PUCPR are organising a side-event taking place online via ZOOM on the 17th of October at 13:00 – 14:30 CET ahead of the eighth session of the open-ended intergovernmental working group on transnational corporations and other business enterprises with respect to human rights.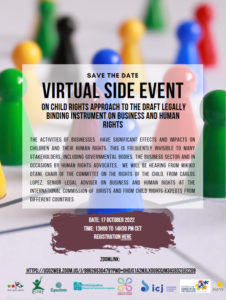 The aim of the side event is to highlight the importance of adopting a child rights based-approach to the legally binding instrument on business and human rights. We will have the honour of hearing from Ms. Mikiko Otani, chair of the Committee on the Rights of the Child, from Carlos Lopez, senior legal advisor on business and human rights at the International Commission of Jurists, and from other child rights advocates.
Please register here via email.