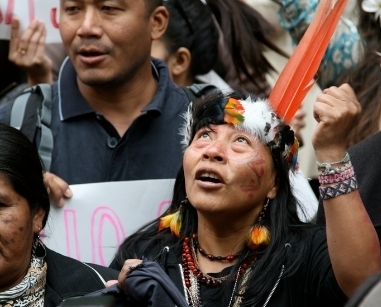 As President Humala of Peru is in Europe to meet EU President Van Rompuy (Tue12 June) and Members of the European Parliament (Wed 13 June), CIDSE's Geraldine McDonald expresses concern about recent episodes of rights abuses in Peru.
In Peru in recent weeks and months there has been an alarming increase in the violent repression and criminalisation of communities expressing opposition to large scale mining operations.
The latest example comes from Espinar, where violent clashes broke out in late May when special police commandos trained in counter-insurgency and anti-terrorism were sent to disperse protesters who were blocking access routes to the Tintaya Marquiri mine site, owned by the Anglo-Swiss company Xstrata. Two people were killed and more than a hundred injured, including many police officers. A state of emergency was declared, and the government authorised the army to assist the police in restoring order. Twenty-two were detained in a police post within the mining camp belonging to Xstrata, including three women, one minor and two members of staff belonging to our partner organisation the Vicaria de Solidaridad de Sicuani.
The staff members were reportedly detained because they were accompanying a community leader. Subsequently police allege to have found 10 bullets from a firearm in their car. This accusation is vehemently denied and the Vicaria de Sicuani believes it to be part of a defamation strategy. In subsequent days the 22 were released, but the Mayor of Espinar, Oscar Mollohuanca, remains in police custody. According to reports from human rights organisations due process was not followed in his arrest and there are serious concerns about ongoing judicial procedures. For example, Mr. Mollohuanca has been moved to a region 800km away to be held, a move which violates provisions within Peru's Constitution.
President Humala was elected last year having made promises to deal with social environmental conflicts in a constructive way, but this has not happened. Resorting to states of emergency as has happened repeatedly in Peru in recent months is very concerning since it suspends constitutional rights and civil liberties and normalises 'emergency' situations. The use of police and armed forces, sometimes through special contracts, to protect the private interests of transnational companies, putting their security above that of citizens, is another very serious concern. Peaceful protest cannot be met with violence and human rights abuses.
How can the EU intervene? European member states and the EU, particularly embassies and delegations in Latin American countries, should provide concrete support to human rights defenders whose rights are being violated through a thorough implementation of the EU Guidelines on the Protection of Human Rights Defenders. Political dialogue can also be used to express concern about the repression, stigmatisation and criminalisation of social protest and human rights defenders, with offending states being encouraged to annul, repeal or amend legislation which permits criminalisation to happen and which contravenes international and regional obligations in this regard. In addition, where European companies are involved, binding legislation under both civil and criminal law should be used to investigate and punish violations committed by companies, ensuring that victims have access to effective channels of redress.
Geraldine McDonald is Extractives and Poverty in Latin America Coordinator at the international alliance of Catholic development agencies CIDSE.
More information:
In April 2011 CIDSE co-hosted a workshop on the on the criminalisation of social protest with partner input from Peru, Colombia, Ecuador and Guatemala. In July 2011, CIDSE published its own analysis of the problem (available in EN and ES) and in June 2012 CIDSE published a joint position paper (available in EN and ES) with other concerned organisations.