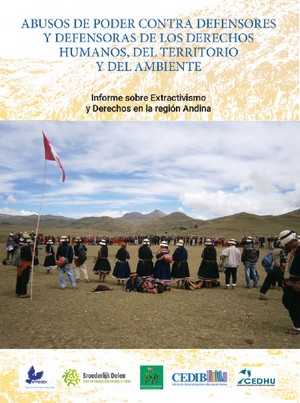 A report on extractivism and rights in Andean countries by APRODEH, Broederlijk Delen, Colectivo de Abogados, CEDHU and CEDIB, March 2018
This publication is a contribution to discussions on the protection of environmental human rights defenders (EHRDs) in the context of extractive industries; it proposes recommendations to States, the private sector and the international community.
The report is part of the project 'Defending our land and nature is our right' which aims at strengthening individual and collective capacities of environmental human rights defenders from local communities and social organisations in four Andean countries (Bolivia, Colombia, Ecuador, Peru), in regions that suffer the negative impacts of extractive industries and energy projects and was launched at a panel discussion in the European Parliament on 20 March 2018.
The full report is available in Spanish only. An English summary is available.
Also available in Dutch only: an opinion piece by Wies Willems called "Wat doet Europa voor de veiligheid van activisten in Latijns-Amerika?" ("What is Europe doing for the safety of activists in Latin America?"
For further information, please contact: Wies Willems, Policy Officer Natural Resources, Broederlijk Delen (wies.willems(at)broederlijkdelen.be)
Broederlijk Delen is CIDSE's Belgian Dutch-speaking member organisation.
ES-BD Informe Extractivismo y Derechos en la región Andina
EN-BD Summary Extractivism & Rights in the Andean region