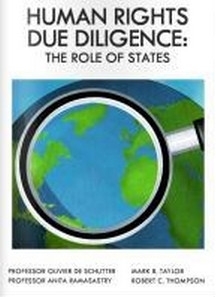 Human Rights Due Diligence: The Role of States, a project by ICAR, ECCJ and CNCA, December 2012 (Report available in EN – ES- FR)
The UN Guiding Principles on Business and Human Rights affirm that business enterprises have a responsibility to respect human rights, and that States have a duty to ensure that they do so. They suggest due diligence as an operational means for business enterprises to respect human rights, but the specific options available to States to ensure the implementation of business due diligence are not specified. This report is the culmination of consultations with lawyers and scholars from around the world on the question of how States already use due diligence to ensure that the behavior of business enterprises meets social expertations.
CIDSE supported this project by organising the Latin America regional consultation in Peru in October 2012 and the Spanish translation of the report.
Contact: Denise Auclair
EN-Human Rights Due Diligence: The Role of States
ES-La Diligencia Debida en Materia de Derechos Humanos : El Papel de los Estados
FR-La Diligence Raisonnable en Matière de Droits Humains : Le Rôle des Etats