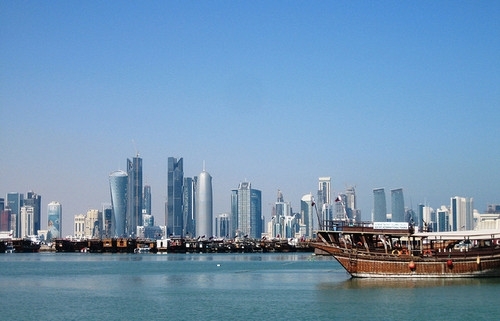 After a week of negotiations with little to no progress, Ministers arrive in Doha among increasing uncertainty about a positive outcome of the climate talks.
Once a modest fishing village, Doha rapidly transformed into a busy capital of a rich nation when enormous gas reserves were discovered. The plane that took me to Qatar circulated for nearly an hour in the dark above the luminous city. It felt like hanging over a giant pinball machine and I couldn't help wondering whether planet earth was going to finish beyond the flippers of the climate change negotiations.
Organised by the >United Nations Framework Convention on Climate Change (UNFCCC), this year's climate talks entered their second and final week yesterday (Monday, December 3rd). Today, Government Ministers make their appearance in Doha to firm up agreements their climate negotiators prepared during 2012 based on the outcomes of last year's climate summit in Durban, South Africa, which started preparations for a new global climate deal by 2015.
In Doha, discussions mainly revolve around the Kyoto Protocol, which expires end 2012 and is currently the only binding international agreement to lower greenhouse gas emissions, as well as around developed countries' vows to financially support developing countries responding to climate change. Little to no progress on both accounts during the first week of negotiations adds to fears that the summit might fail to answer to the most urgent needs and to lay the foundations for an ambitious new climate deal.
On the Kyoto Protocol there is major disagreement about whether countries should be allowed to carry over a surplus of carbon credits, which represent allowances to emit greenhouse gases, into a second commitment period of the Protocol. Plans to limit or cancel remaining credits from the first commitment period are opposed by nations with an excess, like Poland, which will host the 2013 climate summit.
On climate finance, developed countries continue repeating that there will also be funds for adaptation and mitigation projects in developing countries from 2013 onwards. At the same time, there are no concrete signs about how they are going to scale up finance to reach the $100 billion per year by 2020 they have pledged. This leaves the most vulnerable communities worldwide with little clarity about the support they can expect in dealing with the impacts of climate change.
After a difficult first week of negotiations, developed countries must raise ambition. CIDSE hopes that the arrival of Ministers will boost the negotiations, adding the much needed political leadership.
On Monday, I spoke to Isaac Kabongo of the Ecological Christian Organization in Uganda, a partner of CIDSE's Dutch member Cordaid. In his country, where drought spells are becoming longer and increasingly frequent, there is an urgent need to address the impacts of climate change.
Climate action is just as much about saving ourselves as about protecting others, Kabongo told me, because "it is about saving the human race from depletion."
He hopes that developed countries will soon provide clarity about climate finance. According to Kabongo, this is important "not only to help Uganda cope with a changing climate in the short term, but also to build more resilient communities, a more resilient economy, and a more resilient society for the future."
Watch the interview with Isaac Kabongo in the video below.
Let us know why you think we must keep faith in climate justice on Facebook and using #faithcop18 on Twitter. Watch other #faithcop18 videos.