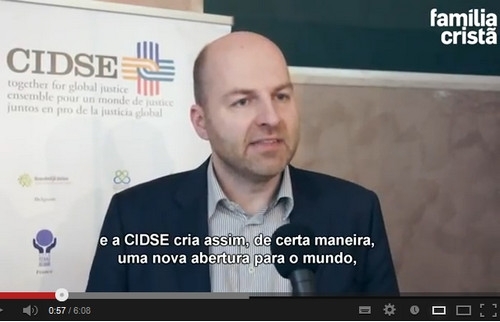 Família Cristã interviews at fringes of CIDSE's Board of Directors meeting, 20-22 January 2013. The video is Portuguese and English)
In this video, Catholic magazine Família Cristã interviews CIDSE President Chris Bain, CIDSE Secretary General Bernd Nilles and FEC Director Jorge Líbano Monteiro at the fringes of CIDSE's Annual Board of Directors meeting, hosted this year by CIDSE's Portuguese member FEC. At the meeting, CIDSE welcomed its 17th member organisation, eRko from Slovakia. 
A Fundação Fé e Cooperação (FEC), representante da Conferência Episcopal Portuguesa na CIDSE, rede europeia de organizações não governamentais (ONGD) católicas que trabalham na área do desenvolvimento e da cooperação, foi a anfitriã da primeira reunião de 2013 dos diretores da CIDSE. A reunião serviu para fazer o balanço do Programa Estratégico da CIDSE e para aprovar a entrada da primeira ONGD do leste europeu, a eslovaca Erko. Foi a primeira que este reunião, que acontece duas vezes por ano, teve lugar em Portugal. Nos próximos dias, a Família Cristã irá publicar uma entrevista exclusiva vídeo com o presidente da CIDSE, Chris Bain.
Share this content on social media