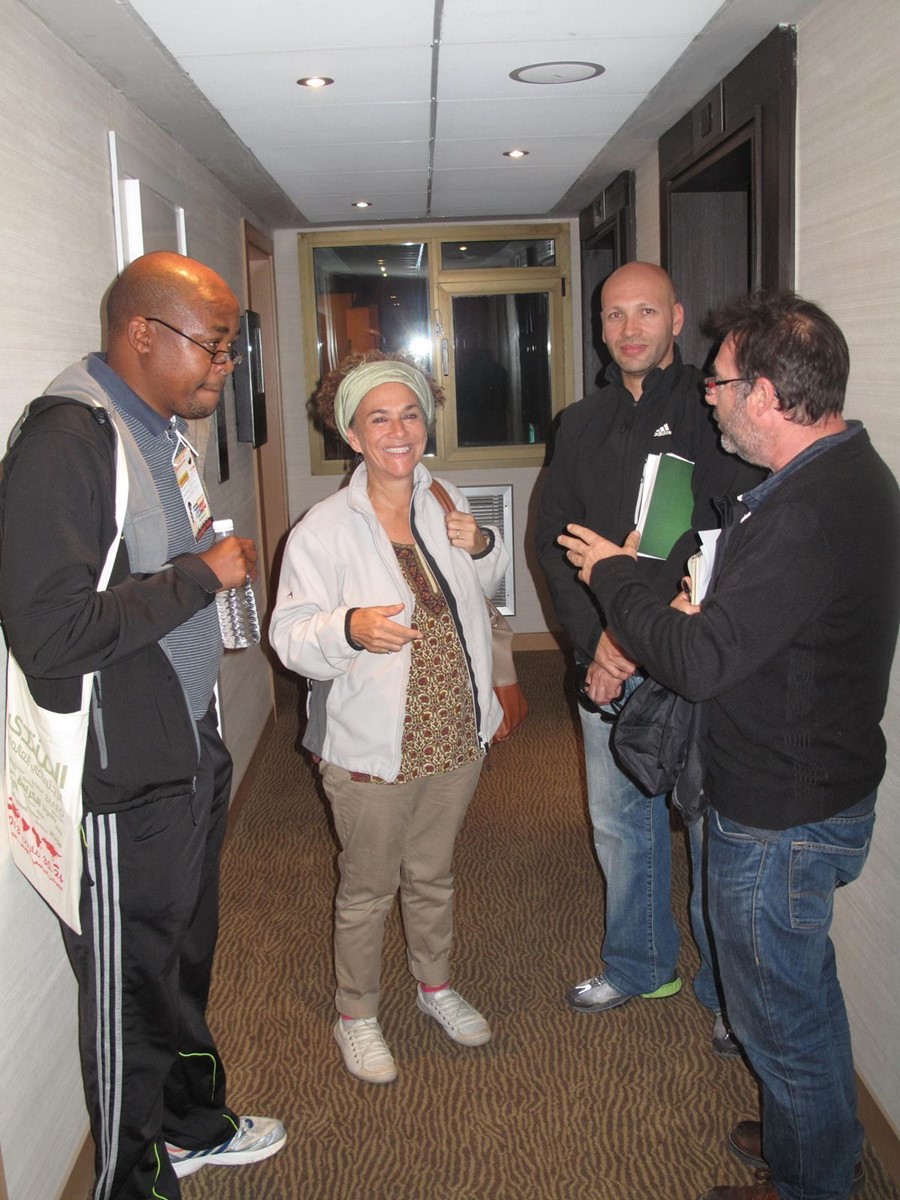 CIDSE joined civil society organisations from all over the world to make plans for a fairer and more democratic world at the 2013 World Social Forum in Tunis, Tunisia (26-30 March).
CIDSE and its member organisations organised a range of workshops with discussions on the right to food, a post-2015 development framework and alternative models of development.
You can find our reports from the World Social Forum here.
Wednesday 27 March 2013

Which investment for the right to food?

WHERE: Campus El Manar– Amphi 2, World Social Forum, Tunis, Tunisia.
WHEN: 13.00 – 15.30
Outcome: The Civil Society Mechanism was able to reach out to civil society and social movements present to introduce the responsible agriculture investment (rai) event. We also had the opportunity to hear from constituencies in different regions about how agricultural investment is happening in their regions. Through this exercise we were able to recognize some common trends, such as the domination of corporate interests and the exclusion of those most affected by food insecurity in the policy processes that are affecting them.
The results of this meeting will be taken into consideration by the CSM to help in the rai consultations which will be officially happening during 2013 in different regions of the world. The organizers of the workshop urged the civil society members present in the room to contribute to it, to actually make their voice heard in this crucial consultation.
Speaker Shamali Guttal ("Focus on the global south") reminded of the human costs destructive agricultural policy can have. "Before starting this workshop on investments in the food sector, let's all remember that 102 days ago, Sombath Somphone disappeared in Laos (last seen in Vientiane on the evening of Saturday 15th December). He's just one example of many human right abuses that occurs in the world every week".
More info on Sombath Somphone: http://sombath.org/
Thursday 28 March 2013

Strategy Session on the Post-2015 and Post-Rio agenda: Vision, Risks and Opportunities
WHERE: Campus El Manar– Room G108
WHEN: 09.00 – 11.30
Working session to strategise around risks and opportunities that political discussions on the implementation of the Rio+20 outcome document and a new framework on development after 2015 (MDG deadline) on the road to reaching systemic solutions to address persisting crises and aiming at lasting change.
Speakers:
Rev. John Patrick Ngoyi, Development and Peace Commission and member of International Beyond-2015 Executive Committee, Nigeria
Sammy Gamboa, Freedom from Debt Coalition and member of Jubilee South, Philippines
Firmin Adjahossou, Secretariat of Symposium of Episcopal Conferences Africa and Madagascar (SECAM), Ghana
Moderation:
Jean Letitia Saldanha, Senior Policy Advisor, CIDSE
Outcome: There was a general consensus that the Post-Rio+20 and Post-2015 agenda should come together to form a single new framework. The need to go beyond the neo-liberal conceptualisation of development to holistically address finance, economy, ecology and the social dimensions was commonly felt. Participants agreed that meaningful civil society participation, which went beyond the participation that was 'tokenistic' and based on the 'usual suspects' of big NGOs was a big challenge for the process.
JDPC Nigeria reminded us that "it's crucial to make the voices of the "invisibles" more visible in the global debate, to really reach out to the most vulnerable people".
Flyer
The world needs Tax justice and a FTT

WHERE: Campus El Manar– Room M211
WHEN: 09:00 – 11:30
The irresponsibility of speculators has triggered a world crisis that has resulted in poverty, rising inequalities and a huge debt crisis. It's now time to make them pay for the crisis they caused; it's now time for fair burden sharing and tax justice. Taxing the financial sector would enhance fairness. Moreover, this would increase government revenue, which is badly needed to build more inclusive and fairer societies. – A financial transaction tax could generate more than 500 Billion Euros per year – a moeny hardly funds badly needed to finance fight against climate change, pay for global public goods, Fight against poverty, and create jobs in Europe, as well as rebalance the economy from gambling and speculation to manufacturing and services – According to the Tax Justice Network, total tax evasion represents about 5.1% of world GDP. Assets held offshore, beyond the reach of effective taxation, are equal to about a third of total global assets. 250 billion dollars annual loss of tax revenue on the income from assets held offshore by individuals: this is 5 times what is needed to cut extreme global poverty in half and substantially improve health and education in developing countries by 2015. In Europe, 1 trillion Euros are lost per year in tax fraud, tax evasion and tax avoidance, while most Governments are struggling with debt. The developing world lost US$859 billion in illicit outflows in 2010. And in most countries in the world, total losses to tax evasion are bigger than the amount spent on healthcare.
Partners: Europeans for Financial Reform, CNCD-11.11.11, Global Progressive Forum, Jubilee South Asia Pacific Movement on Debt and Development, Oxfam Great Britain, Robin Hood Tax campaign, War on Want, FGTB, Attac Norway, Friedrich-Ebert-Stiftung, Tax Justice Network-Africa, ETUC-CES, UBUNTU Forum, National Nurses United, SOLIDAR, Public Services International (PSI), Trades Union Congress
Agricultural transition – into a viable future

WHERE: Campus El Manar– Room P19
WHEN: 16:00 – 18:30
Input from leaders of farmers' and fisherfolks' organizations, NGO's, scientists and activists. How can unsustainable agriculture be transformed into agroecological and other forms of sustainable agriculture? How can small scale food production and peasants movements be supported and strengthened? What policies, actions and steps are needed for a transition into a viable food future? How to strengthen the movements and alliances for transition? A two sessions seminar presenting different initiatives for strengthening / building a global movement for agricultural transition and sustainable agriculture. Session 1: Opening by the organizers; presentation of the main points of the findings and recommendations from the agricultural transition initiative; presentation of initiatives and ideas for building a global movement for agricultural transformation; panel on how to make the agricultural transition needed; open debate. Part 2: Agroecology, resiliency and food sovereignty.
Partners: More and Better Network
Eco-Social Fiscal Justice as Part of a Holistic Post 2015 Agenda

WHERE: Campus El Manar– Salle de lecture n° 1
WHEN: 16:00 – 18:30
Fiscal policy is a key instrument to turn a rights-based approach of sustainability, well-being and societal progress into practice. Actual political priorities are reflected more clearly in public budgets than in government declarations and action programs. Moreover, the composition of budgets allows inferences to be drawn about the political influence of different interest groups: Is the military dominant? Are business interests pushed through? Or is public spending focused on the needs of the people and on correcting imbalances and unsustainable behavior? At the workshop, we want to share experiences from different parts of the world with the introduction of eco-social budgetary and tax reforms. We want to gain insights into reforms in various regions and countries. We want to highlight challenges and ways to overcome those. How can we balance possible regressive effects of ecological taxes? How can we design budgets that address social and environmental objectives simultaneously? And how can we ensure better participation of the people in those processes? Another goal of the workshop will be to bring together actors from the fields of budgeting initiatives with people who have so far been working on social and environmental issues. We want to explore ways for better collaboration, build new contacts and develop strategies for more civil society engagement in the field of eco-social fiscal reforms.
Partners: TJN-Africa, Friedrich-Ebert-Stiftung, War on Want, CNCD-11.11.11
Food Sovereignty vs. Energy Sovereignty: The Impact of Biofuels on the Right to Food
WHERE: Campus El Manar– Room P15
WHEN: 16:00 – 18:30
Outcome: Partners testified via firsthand accounts the negative impacts that EU's biofuels policy is having on them. This included not only landgrabbing but also competition for resources in general. The food/feed/fuel nexus was evident as was the fact that we are concerned with Europe's access to energy but not Africa's. Many of these biofuels projects are going to meet Europe's energy needs while people in developing countries stay in darkness.
Paula Alvarez (Grupo Semillas, Colombia)
Partners: CNDC-11.11.11
Friday 29 March 2013
Open Forum on the Tax Justice Agenda
WHERE: Université de Tunis El Manar, Faculté de droits, salle de lecture n° 1
WHEN: 13.00 – 15.30
Main outcomes: Tax Justice Declaration
Launch of new global alliance: It will be steered by a global coordination committee (unclear when and how this will be formed) and will serve as the umbrella organization for the different regional tax justice alliances (at the Convergence assembly TJN Africa took responsibility for Africa and Wolfgang Oberland from Global Policy Forum-Europe took responsibility for Europe). It has 3 priorities:
– Tax dodging by TNCs and wealthy individuals.
– Tax competition.
– Promoting alternatives to address lack of accountability, erosion of social contract in all countries and growing inequalities in societies: progressive taxation, fair tax rates in all countries and use of tax revenue to provide social services
A Tunisian activist in the audience said that "in 2010, the IMF and WB opened consultations with Ben Ali's govt proposing reforms to transform Tunis into an offshore financial center. After the revolution, at the G8 summit in Deauville France, leaders of Arab springs countries were invited: agreement between new Arab spring govts and IFIs: reforms to support democratic transition. But actually it was exactly the same agreements proposed to Ben Ali. The reforms/bills passed today at the Tunisian Assembly are the one proposed by IMF/WB to Ben Ali (so no change). The former prime minister inaugurated the launch of the Tunisian tax haven. à Tunisia will be the first offshore financial center of northern Africa. Conventions were signed with other tax havens (as Luxembourg), facilitating the tax dodging. This all happened while new gas fields were discovered…"
Partners: Friedrich-Ebert-Stiftung, Global Policy Forum, TJN-Africa, War on Want, CNCD-11.11.11
Visit the 2013 World Social Forum website can still be seen at www.fsm2013.org
WSF_Agriculture_transition_web.pdf
WSF_Strategy_Session_flyer.pdf