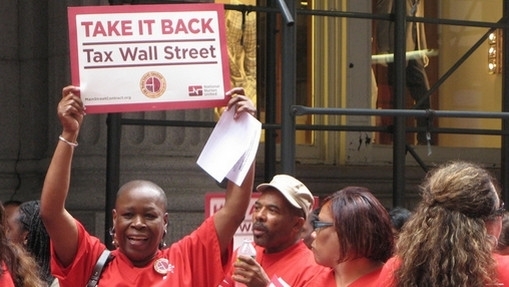 Eleven countries in the EU are set to implement a Financial Transactions Tax (FTT) thanks to the green light given by EU Finance Ministers on 21 January 2013
and the European Commission's quick response in presenting its updated proposal on the FTT's design.
The 'Enhanced cooperation on Financial Transaction Tax' is particularly remarkable as it is a new milestone in more intensive cooperation across national borders in the tax arena.It also represents an important political consensus on the need to tax the financial sector, a hitherto disproportionately under-taxed section of the economy which has rapidly grown thanks to globalization.
Particularly welcome in the Commission's new proposal is the attention paid to close the loopholes that would allow traders to avoid the FTT.Alongside application of the FTT on the basis of the 'Residence principle' covering transactions involving one financial institution with its headquarters in the tax area, or trading on behalf of a client based in the tax area, the proposal will also apply to transactions based on where the financial product was issued.
The outstanding question is how FTT revenue-estimated by the Commission between 30 and 35 billion euros- will be allocated.Will its revenues benefit those originally intended to be its beneficiaries, the poorest?
NGOs lobbied hard for nearly three decades for the currency transactions tax to be one of the pillars of financing a new era of development.In 2005 the Belgian government laid down the necessary legislation for such a tax to be used to meet development objectives.In the same year, France and Spain joined Brazil and Chile in stressing the need for innovative finance for development in their 'Action against Hunger and Poverty'.
FTT implementing states have demonstrated their ambition to tackle one of the big challenges of our times- harnessing the immense power of the financial sector in today's world to contribute to the common good.They now have to walk that extra mile to guarantee that the future of our planet and the millions of poor men, women and children fit into this equation.
Share this content on social media