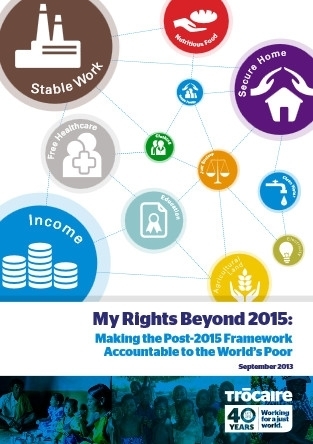 My Rights Beyond 2015: Making the Post-2015 Framework Accountable to the World's Poor, a Trócaire Research Paper, September 2013
This report is published as Trócaire celebrates its 40th anniversary. This is a time for Trócaire to reflect on international development efforts past and present, and to look to what the future holds. The research points to the need for a very different framework to the MDGs beyond 2015, if it is to effectively support people living in poverty to achieve their priorities. The overall insights resonate strongly with other participatory studies carried out in recent years, around the need to focus attention back on key principles and processes underpinning human development.
Contact: Cliona Sharkey, Trócaire (csharkey(at)trocaire.ie)
Trócaire is CIDSE's member in Ireland.
EN-My Rights Beyond 2015: Making the Post-2015 Framework Accountable to the World's Poor