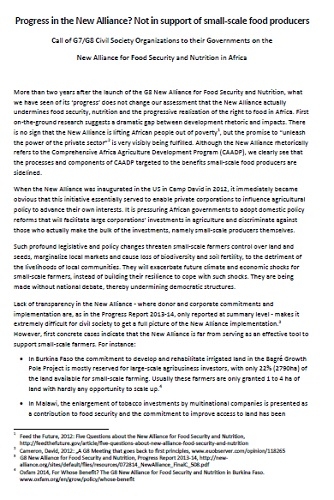 CIDSE is signatory to a joint call of more than 80 civil society organisations on the New Alliance for Food Security and Nutrition in Africa.
In May 2013, CIDSE and EAA released a position paper on the New Alliance for Food Security and Nutrition in Africa that had been launched by the G8 one year earlier. In this paper we expressed the concern that "the New Alliance risks serving primarily as a vehicle for market access by multinational companies, paving the way for them to extend their reach into African markets and exert control over African resources".
One month later, along with Europafrica, Misereor and CCFD, CIDSE co-organized a workshop gathering different actors from the civil society, European institutions, academia, and media. The objective was to present the perspectives of civil society and African farmers' organisations on both the G8's New Alliance for Food Security and Nutrition (G8 NA), and on the type of investments they consider necessary and appropriate for African agriculture.
Today, as the members of the leadership council are having a meetin, CIDSE and more than 80 international and national civil society organisations from G7 countries call upon governments to review their engagement in the New Alliance, warning that this investment framework is actually undermining food security in Africa. Unfortunately, CIDSE's concerns reveal itself to be true as "first on-the-ground research suggests a dramatic gap between development rhetoric and impacts. There is no sign that the New Alliance is lifting African people out of poverty, but the promise to 'unleash the power of the private sector' is very visibly being fulfilled"[1].
That is why together with more than 80 other signatories, CIDSE reaffirm that "African food producers hold the potential for strengthening food security and nutrition in the region. They provide the majority of investment in their own agriculture and maintain diverse and sustainable local food systems. G7 countries must support local small scale food producers as the best way to build resilience and contribute to the realisation of the Right to Food".
EN – Progress in the New Alliance? Not in support of small-scale food producers
Share this content on social media