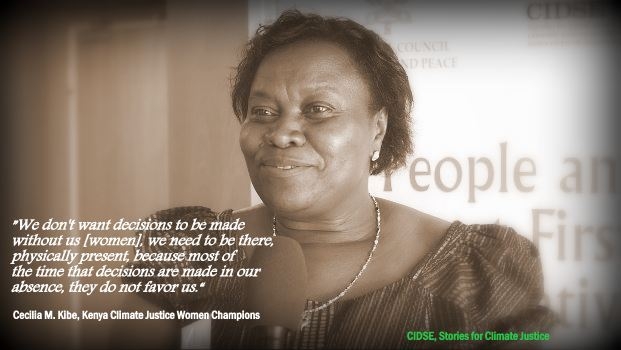 How are women affected by climate change? Why do women's lives and voices matter in the run up to COP21? Here's the July version of "Stories for Climate Justice", focused on Climate Justice and Women.
"We don't want decisions which are made without us [women], we need to be there, physically present, because most of the time that decisions are made in our absence, they do not favor us".
Cecilia M. Kibe is the Executive Director of the Kenya Climate Justice Women Champions (KCJWC), a network of 30 grassroots women organizations that work to unite the actions and the voices of grassroots women to address the issues of climate change and gender equality, advocate for climate justice, and understand and implement ways in which women can adapt better to climate change. Her testimony in this month's video of the "Stories for Climate Justice" series brings about deep reflections on the effects of worsening climate conditions on the environment and the daily lives of grassroots women in Kenya, with dramatic consequences, in particular, for their health and food security.
The rise of global temperatures and climate variability in recent decades has made Kenya's land and water resources considerably vulnerable to drought and water depletion. Responsible for collecting water and fuel for the family, women can spend up to 85% of their daily energy in this task. Overtime, this backbreaking work leaves women exposed to lasting health hazards. But water depletion has also considerably disturbed agricultural activity in the country, an activity that remains the primary source of food and one that is predominantly run by women in Kenya. With increasing unpredictability in weather and rainfall patterns, long-term food security is threatened for the overall rural population. Yet, in the context of water and food shortages, women and girls are particularly affected by malnutrition due to the convention that they are to eat only after they have fed their families.
While everyone is touched by worsening climate conditions, this example shows how women and men are affected differently, as a result of different needs, power, resources and capacities to which they have access or benefit from. Often the ones with unequal access to resources and opportunities in employment and education due to societal and cultural responsibilities made on them, women and girls are disproportionally affected by climate change. Moreover, despite the fact that, in many developing countries, women are the primary food producers and providers of water to care for their families, and thus have key knowledge and skills about their environment, they have little say in decisions on how to adapt and mitigate the effects of an increasingly erratic climate. In this way, both at the local and international levels, gender injustice impacts how women and girls participate in and influence responses to the problems that the ecological crisis brings upon livelihoods and communities worldwide.
Highlighting the key role of women in her speech at the Conference "People and Planet First: The Imperative to Change Course", held in Rome on 2-3 July, former President of Ireland and UN Secretary General Special Envoy for Climate Change Mary Robinson said, "Because women are the primary care givers and home makers in most places around the world they are at the forefront of protecting our common home. We will not solve the climate crisis or embark in a new pathway of sustainable development if we do not fully engage the 50% of the world's population, which are women". Indeed, if we are to achieve effective policies that tackle climate change and climate injustice, increased participation for women in decision-making processes at the local, regional and international levels is essential. As Ms. Kibe points out, if women are not at the table of climate negotiation, like COP21 this year, their needs and proposals may be ignored and, as a consequence, we run the risk of issuing policies that will not adapted to women's needs. A human rights-based approach to climate justice therefore cannot ignore gender equality and women's rights as crucial dimensions.
In its work, CIDSE strives for the dignity of both men and women, and recognizes that gender equality is essential for women and men to realize their fundamental human rights. In this sense, we reiterate that "promoting women's rights and gender equality is a pre-requisite for poverty alleviation, human development and well-being, justice and dignity, and requires a commitment to challenging and transformative approaches".
For more information on CIDSE's work on this issue, read our discussion paper "Gender Equality: CIDSE's Understanding and Definition – Standing for the equal dignity of women and men (December 2014)"