A pilgrimage towards Paris « Act now ! Let's go ! » ("Geht doch!" – "En marche!")
The Bridderlech Deelen-Team and two members of its Board participated in the ecumenical and cross-border pilgrimage for climate justice on November 12th, 2015. On a sunny beautiful autumn day we caught up with the pilgrims that started in Flensburg (Germany) and have already walked 1.000 km on the roads from the North of Europe towards Paris. Our meeting point is near the Luxembourgish frontier, opposite Remich, in Nennig.
The pilgrimage along the Moselle-river was marked by interesting exchanges between the participants on the preservation of the environment, liturgical moments and songs, a moment of silence in a little church and a pleasant break around a cup of coffee organized by the villagers of Besch (Germany).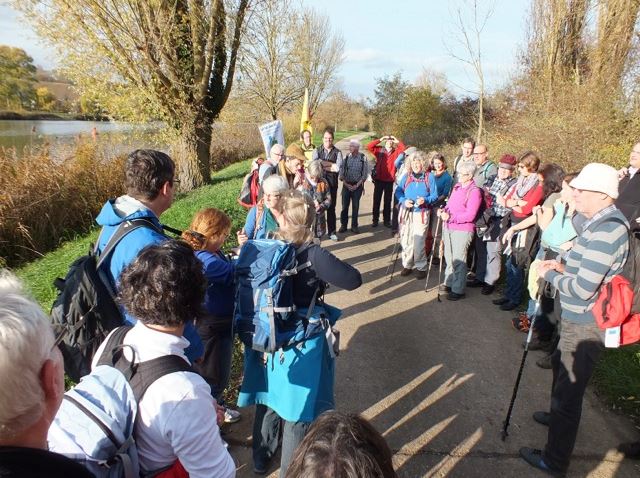 One key issue was certainly the nuclear power plant of Cattenom, at the French-Luxembourgish border. The giant cloud of vapors from the cooling towers impressed the pilgrims because this cloud symbolizes the constant threat for the French population and the whole Grand-Duchy of Luxembourg, in case of a nuclear accident.
During our walk we had the pleasure to get to know other pilgrims, like Eva Catarina from Sweden, who joined the group in Flensburg. Proudly she told us that she brings a bottle of water from a Scandinavian lake that she will carry to Paris, to show the richness of our natural resources and to underline the importance to protect the earth and the climate. "I wanted to make a gesture for the climate. If we don't change our way of living, we will all loose in the end. This pilgrimage represented a challenge for me and I wanted to be part of it," she explains to us.
In the Schengen-Lycée, the "pilgrim's-stick" was passed on to the French group.
In parallel Bridderlech Deelen realizes some other awareness raising activities in Luxembourg:
– The ILO 169 Action we launched together with the NGO ASTM (www.astm.lu) and Caritas Luxembourg (www.caritas.lu) in September 2015, aims to ask the Luxembourgish Government to ratify the convention ILO 169 in favor of the international protection of the rights of the indigenous people. This action wants to increase awareness among the population and the government of the necessity to strengthen the indigenous people who are not destroying but rather protecting their environment, but who suffer all the consequences of the pollution committed by the industrialized countries.
Through this Action we want to collect fingerprints symbolizing the support to this claim. The fingerprints are applied on a geographical map that represents the native reserve kayapó located in the region of the Xingú-river, in the Brazilian Amazon.
The action began at the well-known "Oekofoire" (Eco-Fair) in Luxembourg in September 2015 and was followed later on by initiatives in secondary schools (Lycée Aline Mayrisch, Lycée Michel Rodange), during a philanthropic activity, during Board meetings of some municipalities of the "Climate Pact" and during an activity in the South of the country, in Sanem. The claim will officially be transmitted to the competent minister.
– From November till December we organize a photo exhibition about « The Life of indigenous people in Brazil and Peru", together with the ASTM (www.astm.lu) at the cultural meeting center "neimënster" in Luxembourg-city (www.neimenster.lu). The target is to increase awareness among the public in Luxembourg concerning the indigenous people.
– The "Biggest" Climate March to support the COP21 will be organized on November, 30th in Luxembourg-city. Many Luxembourgish artists committed themselves to present a cultural program to encourage this March. http://bridderlechdeelen.lu/fr/actualites/189/climate-march-2015
https://www.facebook.com/events/414668532064686/
– Bridderlech Deelen is part of the Platform VOTUMKLIMA who has published a package of claims regarding the COP 21.
– Bridderlech Deelen facilitates a Workshop on Climate Justice during the Conference « Responsibility to Act: Engaging in innovative partnerships to implement the Sustainable Development Goals (SDG) framework » (www.sdg2015.org). This international conference from Decembre 7th to 9th, 2015 is organized by Caritas Luxembourg, with the help of the « Cercle de Coopération des ONG de développement » (www.cercle.lu, and discusses the implementing of the Sustainable Development Goals (SDG). The facilitator for climate justice is Patrick Godar from Bridderlech Deelen.
http://bridderlechdeelen.lu/fr/actualites/190/conference-responsibility-to-act