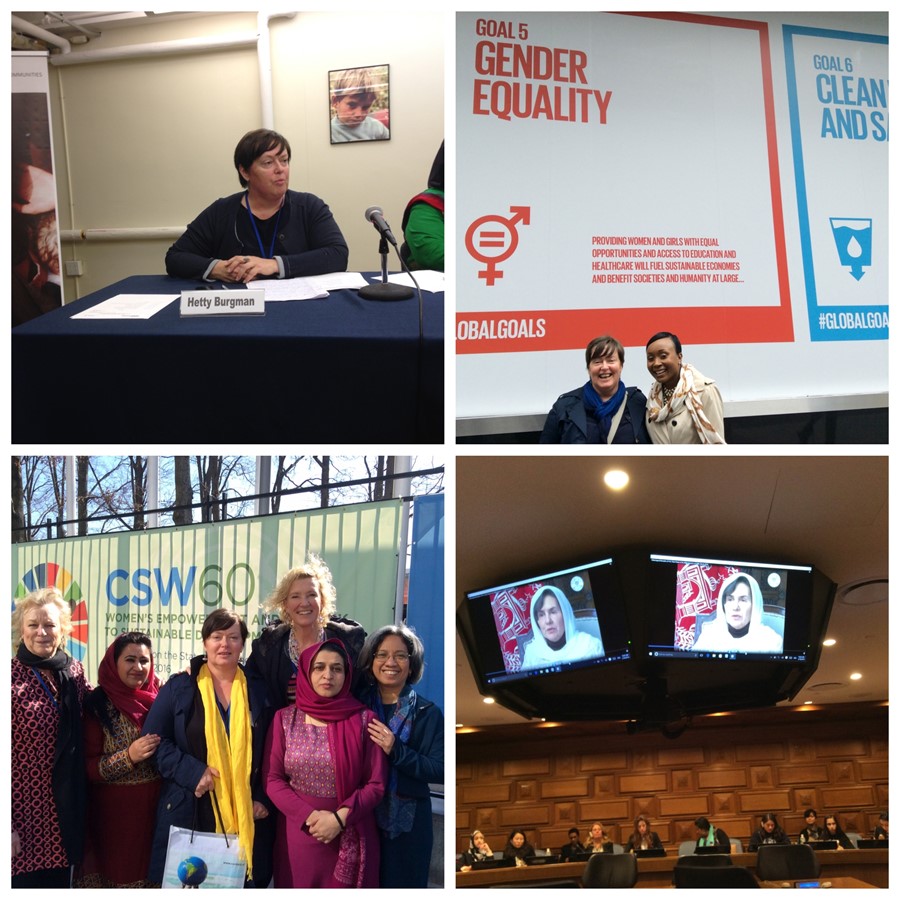 On the occasion of the 60th session of the Commission on the Status of Women at the UN, some of our member organizations were present and share with us their perspectives and thoughts on this event.
Thoughts from CSW 2016
Hetty Burgman, Director of Security and Justice at Cordaid, The Netherlands
From 14 – 24 March, the 60th session of the Commission on the Status of Women gathered at UN headquarters in New York, bringing together global leaders, representatives of member states, UN entities, private sector, NGOs and activists from all regions from the world. Main topic on the agenda of this year: Women's empowerment and its link to sustainable development.
As a first time participant to the CSW, my first days at UN headquarters were dazzling: an amazing energy, commitment and strength could be felt flowing through the building and its surroundings, coming from the almost 10.000 participants, most of which women, from all over the globe. Furthermore, a choice selection of side events to attend, with topics ranging from Countering Violent Extremism to Repression of Civil Society, to name but two from the hundreds on offer.
However, after a few days, my energy level dropped a bit. Two main reasons:
– Every year, the UN member states negotiate the outcomes of the Commission's consideration of the priority themes, in the form of an Agreed Conclusion. Every year, there are forces who want to lower the commitment that was agreed previously, undermining the benchmark set in the Beijing Platform for Action. How can we make real progress, if we have to re-negotiate that what was already agreed?
– So many side-events! Organized by NGOs, UN entities and member states. Most of the events follow the same structure: presentations given by a panel of experts, generally leaving little time for discussion. Interesting though all these events may be, is real progress being made on the topic under discussion? Or is there too much preaching to the converted?
For Cordaid and myself, I saw the added value of this CSW in the organization and facilitation of a very targeted dialogue with relevant policy makers, partly through closed-events. A closed event is focused and participants are committed to take follow up actions on the issues being discussed.
Finally, one of the key challenges for CSOs, especially women group's, to participate in the implementation on the ground to advance gender equality and WPS agenda, as well as implement SDG's, is sufficient political space and financial support. Cordaid hopes that the newly launched Global Acceleration Instrument on women, peace and security and Humanitarian Action will significantly contribute to addressing these challenges.
United Nation's Commission on the Status of Women (CSW): faith, youth, men and St. Patricks
Tanja Haque, Gender Advisor at CAFOD, UK
Have been wanting to go to the CSW for quite some time, so you can imagine how excited I was finally sitting in the yellow cab in New York on the way to my hotel. 'So you came here for the St. Patrick's parade?' the driver asked. 'Not quite', I responded…'No I came for the UN Women's conference'….'Oh yes' he said….'you mean the one when women from all over the world come to this city all dressed up in those colourful elegant clothes'.
Yes that's the one, the 60th UN Commission on the status of Women. The CSW, a commission of the United Nations Economic and Social Council, is a global policy-making body dedicated exclusively to promoting gender equality and women's empowerment. This year it focuses on women's empowerment and its link to sustainable development.
In the recently created UN Women's Working Group on 'Faith and Feminism' one of the panellists pointed out that faith based organisations (FBOs), youth and men are critical partners for UN Women. I couldn't agree more. In fact I was struck by the high number of events on faith and gender, a new phenomenon I was told, which I find surprising given that '8 out of 10 people define themselves by one faith or another'. One such event was organized by Side by Side, the Global Faith Movement for Gender Justice, and what a powerful presence its Buddhist youth panellist had. Her response to the question of homophobia in religion was 'religion is compassion without any kind of discrimination'….which closely resembled the messages I took away from other faith and gender sessions: 'The role of the FBOs is to challenge discriminatory practices in their own structures and to reach out to the left behind groups'.
Last but not least hats off to the male gender champions from the likes of Sonke (www.genderjustice.org.za) and ABAAD (www.abaadmena.org) who spoke of their groundbreaking work on masculinities, gender based violence and engaging men including faith leaders.
As CAFOD's Gender Advisor I had to get used to dealing with the many challenges one faces when advocating for gender equality. One thing is clear allies are needed to do so and I am convinced that men and male gender champions should not only be critical partners for the UN, but also for us in CIDSE.
I have yet to digest all I heard and saw at the CSW, but am already looking forward to the next one and who knows maybe I will even catch a glimpse of the St. Patricks parade too.
Same old? On the 60th session of the CSW
Fatima Hasse, Policy and Advocacy Officer at Progressio, UK
A day at the Commission on the Status of Women (CSW) can go either direction, depending on the focus of the sessions. You can end up in a session where the same old questions are asked, such as: how can we end violence against women and girls, how can we challenge unjust power structures that discriminate and oppress women and girls, and so on. These sessions are interesting as they offer an excellent analysis of the problem, however, it is important not to get stuck on the problem analysis, and always take some time to identify a way forward.
But, you can also end up in an inspiring session where great female speakers share their insights into girls' and women's empowerment, offering some answers to the big questions when it comes to advancing women's rights and ending violence against women and girls.
This year, I saw a few new developments at the CSW. First of all, more faith-based organisations offered side events, which in my opinion, were more interesting and offered more than other events. This is because they were focused on values (like solidarity, respect and benevolence), and how these values can shape a powerful response to some of the pressing issues concerning girls' and women's continuous disadvantage in societies around the world.
Secondly, I saw that many organisations are now walking the talk on putting girls at the centre. Many of us know that if we ever want to achieve a world in which women and men are seen as equals, we need to invest in girls' future. This also means we need to allow them to speak their mind, find out what dreams they have, and which solutions they see for some of the problems we have been analysing for decades. This year, the CSW not only had a youth pre-conference, in which young people could network and develop their thinking together, there were also many organisations who empowered girls by offering them places as panellists and speakers at the side events.
And last but not least, I was impressed as for the first time in a while, a new language on the role of men and boys and social norms has been agreed by governments, who negotiated an outcome document:
"Transform with the aim to eliminate those social norms that condone violence against women and girls, and attitudes and social norms by which women and girls are regarded as subordinate to men and boys, including by understanding and addressing the root causes of gender inequality such as unequal power relations, social norms, practices and stereotypes that perpetuate discrimination against women and girls, and engage them in efforts to promote and achieve gender equality and the empowerment of women and girls for the benefit of both women and men, girls and boys […]"
This language is a huge win, as it outlines a vision of how our world should look like in the future.
Let us make sure all of us, in our daily lives and encounters, act and speak according to the values and principles of equality between men and women, and ending violence against women and girls.