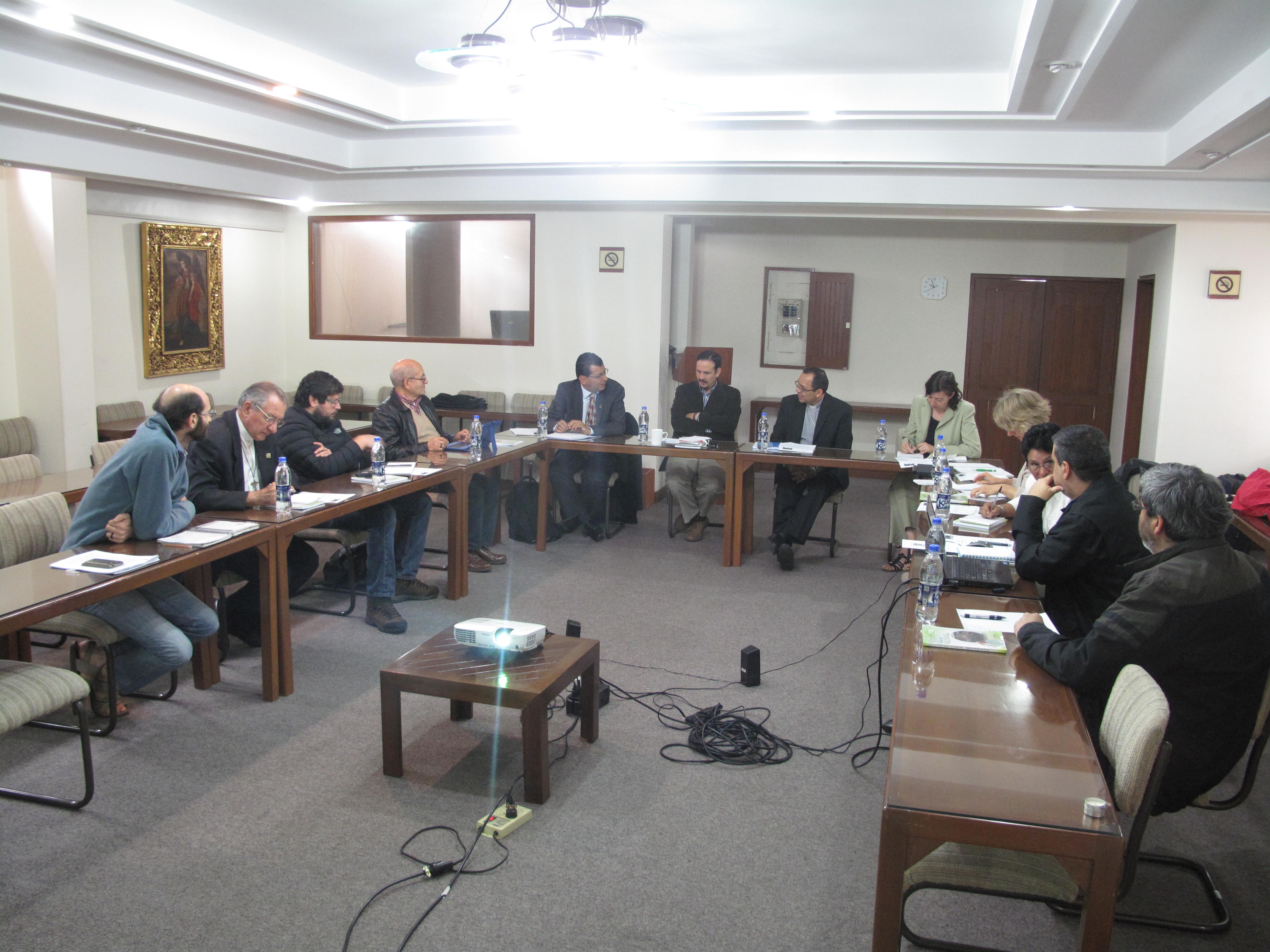 CIDSE works closely with Iglesias y Minería (Church and Mining) since the creation in 2013 of this ecumenical coalition of about 70 Latin American organizations united to reflect and struggle against the common challenges posed by transnational mining companies in Latin America.
Spanish version below
On the 1st of September 2016, CIDSE together with its members Misereor and CAFOD were invited to a meeting in CELAM (Conferencia Episcopal Latino Americana) together with representatives of REPAM (Red Eclesial Pan-Amazónica) and Iglesias y Minería.
After welcoming all participants, Mgr. Espinoza Jimenez, Secretary General of CELAM, acknowledged the tremendous harms that extractive industries are causing throughout Latin America, impacting especially the most vulnerable communities.
In this context, Pope Francis's Encyclical letter Laudato Si' has a particular resonance for grassroots communities but is also strongly hailed by the highest hierarchy of the Latin American church such as CELAM. CIDSE and its members were pleased to learn that the Solidarity and Justice Department (DEJUSOL, Departamento Justicia y Solidaridad) of CELAM plans to join forces for the years ahead with Iglesias y Minería, REPAM and many national Bishops' Conferences to deepen the learnings from Laudato Si', engaging in reflections on integral ecology.
As a concrete example, CELAM representatives assured they would soon publish a pastoral letter to spread the world of Laudato Si' with a specific focus on mining issues. This encouraging news promises a constructive collaboration with regional networks such as Iglesias y Minería while it echoes the directions CIDSE would like to take according to its new strategic framework.
***
CIDSE trabaja en estrecha colaboración con Iglesias y Minería desde la creación de esta coalición ecuménica en 2013, cerca de 70 organizaciones de América Latina se unieron para reflexionar y luchar contra los desafíos comunes planteados por las empresas mineras transnacionales en América Latina.
El 1 de septiembre de 2016, CIDSE junto con sus miembros Misereor y CAFOD fueron invitados a una reunión en la CELAM (Conferencia Episcopal Latinoamericana), junto con representantes de REPAM (Red Eclesial Pan-Amazónica) e Iglesias y Minería.
Tras dar la bienvenida a todos los participantes, Mons. Espinoza Jiménez, Secretario General de la CELAM, reconoció los enormes daños que las industrias extractivas están causando en toda América Latina, lo que afecta especialmente a las comunidades más vulnerables.
En este contexto, Laudato Si ' , la carta encíclica del Papa Francisco, tiene una resonancia particular para las comunidades locales, siendo también fuertemente aclamado por la más alta jerarquía de la Iglesia latinoamericana como la CELAM. CIDSE y sus miembros estuvieron complacidos de saber que el Departamento de Justicia y Solidaridad (DEJUSOL) de la CELAM, planea unir fuerzas en los próximos años con Iglesias y Minería, REPAM y varias conferencias episcopales nacionales para profundizar en las enseñanzas de Laudato Si ', al participar en reflexiones sobre ecología integral.
Como ejemplo concreto, los representantes de la CELAM aseguraron que pronto se publicará una carta pastoral para difundir el mensaje de Laudato Si' con un enfoque específico en temas de minería. Esta noticia alentadora promete una colaboración constructiva con las redes regionales como Iglesias y Minería en resonancia con las direcciones que CIDSE quisiera tomar de acuerdo a su nuevo marco estratégico.