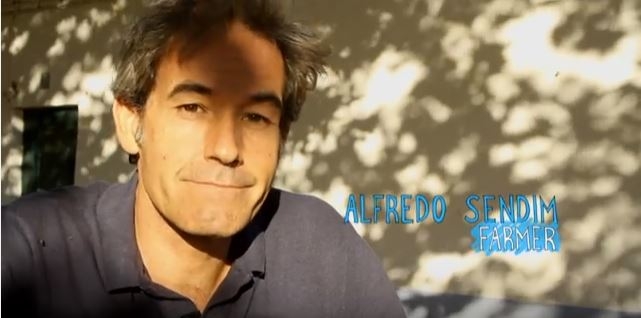 Responsible and conscious co-existence with nature is at the heart of Alfredo Sendim's approach to farming. As an organic farmer in Portugal, he has learned that ecosystems are delicate and interdependent. Learn more about this fantastic Story of Change.
Alfredo Sendim, had always lived in Lisbon, Portugal and was a lover of the sea. He wanted to study Oceanography, but he ended up studying Animal Science in Évora instead, which at the time, he thought was a sort of exile. He eventually fell in love with the city's charms and, therefore, the countryside. Unexpectedly, after a period of 15 years there, he had the opportunity to return to Freixo Herdade do Meio, a farm that was once the place of his family. Having just graduated and with little experience, he embraced the project with his mother. They returned to Herdade do Freixo in 1990 with only three types of cultures: the cork, sheeps and wheat (at the time already quite in decline).
At the beginning of his professional life, Alfredo had absolutely no knowledge about nature's ways but he learned to discover through experience and also by chance. For example, he started to work with Ana Fonseca, who had just finished her graduation in Environmental Sciences and who asked him if she could do a Master's thesis about the montado. And, all of a sudden, half of his life was – and still is – invested and dedicated to the production of food and raw materials in agriculture, forest and livestock. He doesn't identify a specific moment when he changed everything or when he became much more aware about social and environment problems, he sees it like a gradual development, through a growing conscience, that maybe has grown stronger from his 30s.
It's through this consciousness of active collaboration with nature, in a very humble line between responsibility and dispossession of land that Alfredo has been realizing and materializing his calling to re-invest in the montado, by agroecology. Agroecology comes as the solution par excellence: it solves all our requirements, respect and care for the nature's cycles and seasons. We don't have to kill the vermin anymore, not either dry out the soil, the ecosystems and the biodiversity. If we cooperate with it, agroecology gives us exactly what we need, in the amount and diversity we need.
And that's how the major project Herdade do Freixo do Meio got up and launched all the other projects we can find there today, always aiming at economic sustainability alongside the true practice of proper social and environment policies.
For example, when Alfredo realized that the lack of customers was due to their little knowledge of what existed – which Alfredo himself was object to years ago – and about the benefits of this way of management and production, he created tourist and educational services, to promote information and awareness. He also integrated, and made it possible for others to be part ofthe Community Supported Agriculture (CSA) program, bringing forth the community, generating more sharing experiences, more cooperation and, in this way, more security. The CSA also fights the unaccountability of everything that's important and common, making everyone who is in the program co-responsible for everything that is practiced at, in this case, Herdade do Freixo.
Not only farmers but also schools, childrens, adults, among other, have already surrendered themselves to this project! The Herdade do Freixo do Meio ensures sustainability and unique food security. Nowadays we can also find there small complementary businesses (like eggs and honey, for example). To learn more abou this fantastic and delightful world of organic farming, visit:
http://www.herdadedofreixodomeio.com/
Alfredo is someone who did not give up until he found sustainable and profitable solutions for organic farming. He's a true example of how accessible it is to all of us. Not in an immediate purpose, but in a gradual process and, most of all, through a profound personal development, suggesting awareness as a first step.
"I am increasingly convinced that one of the worthiest role for Man is the ability to understand the functioning of what is surrounding us. We have this ability to have a connection with the material and the spiritual. When we perceive nature's behaviour, we are able to truly create edens."
Alfredo Sendim challenges us to a very simple mission: each one of us should add to the construction of a wonderful reality on the planet, both in therms of relationships as in therms of nature.
Watch the full video here: