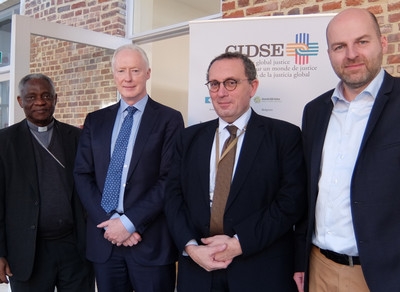 The annual meeting of the CIDSE Board of Directors took place from January 25-27th, in Leuven, Belgium and board members had the pleasure of welcoming Cardinal Peter Turkson, Prefect of the new Dicastery for Promoting Integral Human Development, and Mr. Stefano Manservisi, Director-General of DG DEVCO (The European Commission's Directorate-General for International cooperation and Development). These guests provided insight for CIDSE as it begins to carry out its new strategic framework, 'Acting for Transformation for a Just and Sustainable World'.
Cardinal Turkson met with the Board on Thursday morning to discuss the new Dicastery for Promoting Integral Human Development, which was created by Pope Francis in August when he merged the Pontifical Councils for Justice and Peace, Cor Unum, Migrants and Travelers, and Health Care Ministry.
The dicastery was officially launched in January and is focused on issues regarding migrants, those in need, the sick, the excluded and marginalised, the imprisoned and the unemployed, as well as victims of armed conflict, natural disasters, and all forms of slavery and torture.
The creation of this new dicastery is a continuation of Pope Francis' engagement with grassroots organisations that are working for greater economic and social justice. The Pope has made efforts to strengthen ties with social justice movements, particularly those in the Global South, through the World Meetings of Popular Movements. There have been three meetings to date, and a regional meeting co-sponsored by the dicastery will be held in February in Modesto, California, that will bring together more than 500 grassroots leaders.
Cardinal Turkson spoke on the mandate of this new department and potential areas for collaboration with CIDSE, particularly in relation to Pope Francis' encyclical letter 'Laudato Si': On Care for our Common Home', whose call to halt the destruction of the planet is reflected in CIDSE's strategic framework.
Cardinal Turkson took the opportunity to thank outgoing President Heinz Hödl and praised the CIDSE leadership for the work it has achieved over the last years, its collaboration with the Holy See to care for our common home and its support to local Churches around the world to enable all human beings to live a dignified life.
That afternoon, the Board also held a special session with Mr. Manservisi of DG Devco to discuss the implementation of accords such as the UN Sustainable Development Goals and the Paris Agreement on climate change, and the future of foreign aid.
The newly-elected President of the Board, Éamonn Meehan of Trócaire, opened the session with a presentation of CIDSE's work and the objectives of its strategic framework. Various external challenges and opportunities in implementing these historic agreements were discussed, as well as how policies will reflect the targets put forward in them.
The presence of both guests encouraged deep and diverse discussions that will undoubtedly further enrich reflections on the actions needed to transition towards a more just and sustainable world.