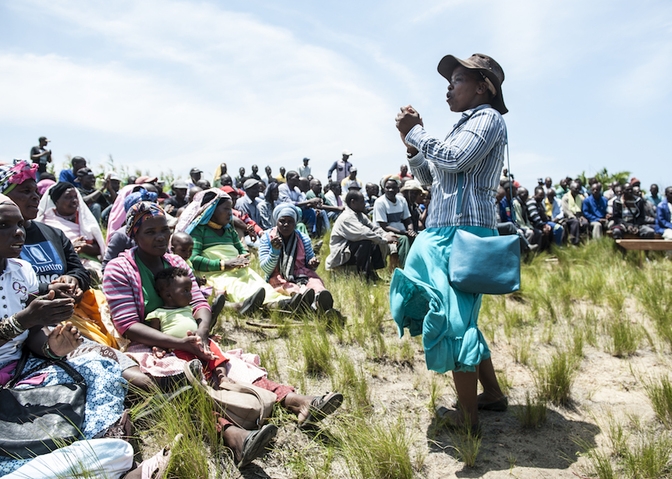 "We believe that we know who we are because of the land. We believe that once you have lost the land, you have lost your identity," says community activist Nonhle Mbutuma, a founding member of the Amadiba Crisis Committee and resident of Xolobeni. "We also believe that it is our right to live in a healthy environment (…). To make all these things happen, we believe that women must be a part of decision making. There should be no discrimination in terms of gender. If we do that, we are going to build a healthy nation."
N.B: The views expressed in this blog do not necessarily reflect CIDSE's official positions.
For activists like Mbutuma, the right of women and communities to have a say in what development looks like for them has long been a cause worth fighting for. In many resource-rich nations in the global South, large-scale natural resource exploitation and extraction, and accompanying mega infrastructure projects, are often the chosen and celebrated pathway out of poverty and dependency. This dominant development approach tends however to come at the expense of communities, prioritising profits over the livelihoods and well-being of citizens. Under this development logic, consent—the right for communities to say 'yes' or 'no' to extractive projects—is merely a "rubber-stamping exercise to enable projects… to proceed without hindrance" instead of a democratic and community-driven process.
Women sit at the frontlines of the harm extractives projects cause, facing the double-burden of a gendered division of labour and unequal power to make decisions in the community. When land is taken it is women, the primary subsistence producers who are ignored and not compensated for their unrecognised informal land rights. When water is polluted women walk further and longer, in often dangerous areas, in search of clean drinking water for their families. And when children and other household members fall ill because of water and air pollution, it is women who nurse them as part of their unpaid care responsibilities.
"Consent" is not a new idea. As a concept, it has been expanded from an individual to a collective one, grounded in moral theory and legal statute. However, the reality for many communities is that even where consent is legislated, it lives and breathes in struggle. One such struggle is that of the Xolobeni community in South Africa's Eastern Cape Province.
In early 1996, Mineral Resource Commodities (MRC), an Australian mining company, began to show interest in mining titanium in Xolobeni. First they approached the local tribal authority (TA), which administers community affairs in accordance with customary laws and traditions. The TA then introduced the company to the Amadiba community living in the area and gave the company an opportunity to explain their mining interests. From the start, the majority of the community was not agreeable – some concerned about the threats their grazing land and water supply, the impact on livestock and livelihoods as well as the destruction of medicinal plants, and the interference with ancestors' graves.
Nevertheless, in 2002, MRC made its first application to the Department of Mineral Resources (DMR) (then the Department of Minerals and Energy) prospect the area with the intent to start mining in 2007. Prompted by the increased mining interests and pressures on the community, the Amadiba Crisis Committee (ACC) was founded by members of the community who were opposed to mining.
By July 2008, the DMR had granted mining rights to MRC's South African subsidiary, Transworld Energy and Minerals (TEM) which owns the Xolobeni Mineral Sands project. This decision was met with protest from the community and subsequent backlash by police against those who spoke out. "In September 2008, pupils at the Xolobeni Junior Secondary School were jambokked by police after refusing to sing at an event organised by politicians to celebrate the granting of mining rights," wrote one journalist at the time.
The ACC's mobilisation against the decision resulted in the mining rights revocation. But the struggle did not end there.
Since 2011, the Xolobeni community has continued to oppose the mining prospects in their area, resolving to block the "environmental impact assement" required for mining to proceed in 2015. This blockade led to escalated violence and repression against the community by police. On 22 February 2016, planned drilling on the dunes was blocked by mass mobilisation. Shortly thereafter, Bazooka Radebe, chairperson of the ACC, was assassinated by two hitmen in front of his son on 22 March 2016.
In April 2016, the South African Human Rights Commission condemned Mr Radebe's murder and the ongoing violence related to mining in the Xolobeni community. Almost a year later in June 2017, the government announced an 18-month moratorium on mining in Xolobeni to allow time to "resolve" the community conflict. ACC has since rejected the moratorium, and contend that it is part of a strategy to demobilise community resistance and lay ground for the mining to proceed.
The struggle in Xolobeni is emblematic of hundreds of communities in the global South that struggle to claim their development sovereignty against corporates and states. In this case, the state is working with a development vision that ignores the interests and voices of the very community most directly affected. Their ongoing struggle to define and shape development for themselves speaks to the revolutionary nature of consent.
For WoMin, consent is tied to the question of power. As a collective, WoMin works with women and communities to build a "counter-power" around consent, bringing the voices and development interests of rural and peasant women to the centre of decision-making processes on development. Women's power to counter patriarchal exclusion from discussions and decisions about capitalist extractivist development agendas that push them off their lands and open up their territories to exploitation is critical to building truly radical development alternatives.
To read more about extractivism and development sovereignty, the struggles of the Xolobeni community and WoMin's approaches, read the paper on which this article is based, Extractives vs development sovereignty: building living consent rights for African women, available at Gender and Development Journal – Natural Resource Justice or visit WoMin's website here: www.womin.org.za