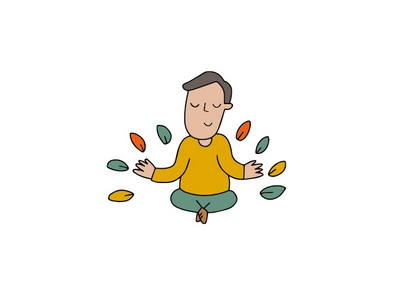 A reflection on how to bring about systemic change. On 17 and 18 April 2018, over 90 representatives of CIDSE members, allies and partners gathered at the Irish College in Leuven (Belgium) for CIDSE's first Systemic Change Forum. The theme was "Transforming our relationship with nature."

MAIN OUTCOMES

Systemic Crises and integrated responses
The global crisis we are tackling has multiple faces: social, economic, ecological, political and spiritual. Whether we talk about climate change, rising inequalities, growing nationalism or the alienation of our human nature, it is crucial to understand that these crises are not isolated but deeply interconnected. They share historical and structural roots like colonialism, patriarchy and capitalism-fueled globalization. Humanity's distorted relationship with nature, through the commodification of nature and extractivism, is one of the elements contributing to the different crises we are facing. Transformation requires a shift from the dominant values and frames that shape the way we live, interact with each other and nature, to values and frames that recognize and respect the interconnectedness of every issue and every living being. Isolated solutions contribute to exacerbating rather than solving the crises.
Challenging prevalent asymmetric power dynamics
We need community activists, politicians, scientists, indigenous people, farmers- a multiplicity of transformative actors and actions in order to understand the current crises and to nurture alternatives that work for everyone. The current system with its asymmetric power dynamics silences the voices of those most affected by the crises and consequently sidelines powerful initiatives that could serve as alternatives to the status quo. To combat this trend, we need to actively address the current power imbalances and make space to let those most affected be in the center of the process of change.
Changing the North-South Paradigm in our partnerships
A key factor for change is the transformation of the current development model which is generally characterized by top-down approaches. This means that we as social justice organisations need to be aware of the power dynamics in our partnerships and work towards collaborations and alliances which are truly inclusive and equal in nature. We must depart from our traditional binary development model and imposing solutions from the outside and instead move towards political alliances and accompany and support movement building.
Supporting and protecting social movements
A priority must be the support and protection of those who are at the forefront of fighting for a system change, namely social activists and movements. We are at a critical moment, pregnant with potential for transformation, but we also face repressive forces. Social movements have gained a lot of experience and are key actors for change with a wide range of responses to the current crises. Yet we see continuing and more violent repression and criminalisation of movements. It is important to support these actors, magnify their voices and protect them from violence and criminalisation.
Transforming our connection with nature
Change is not possible without a true shift at cultural and spiritual level. In order to work towards actions and alternatives that truly serve the common good and respect the community of the Earth, we need to restore our connection with our environment and recognize that we are an intrinsic part of nature. By turning towards the spirituality and understanding of indigenous communities, undermined by years of colonialism and Occidentalism, we should transform our way of thinking to feel one with nature and not to violate any aspect of our Earth. Starting from this new understanding we should then reassess our positions and strategies.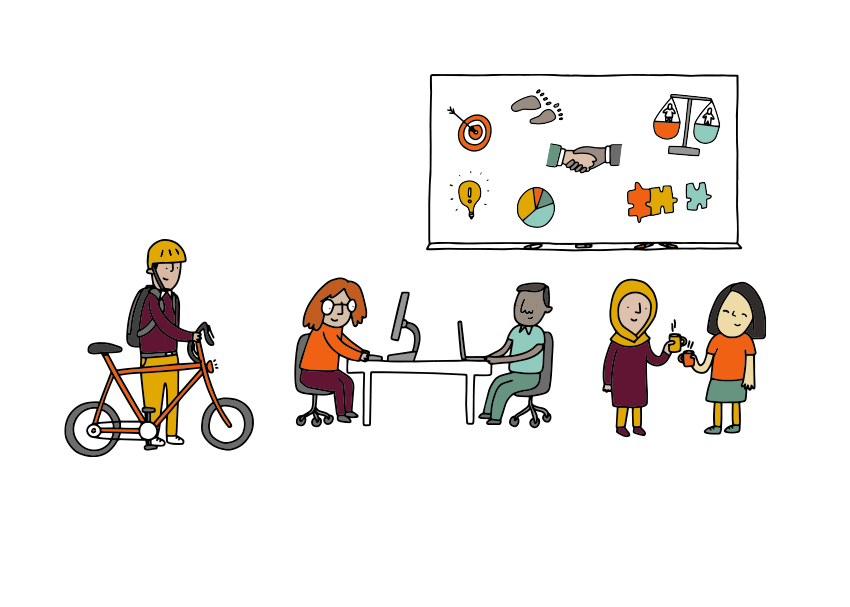 Change starts with us
The cultural and structural shift also needs to happen at organizational level. We need to own the change we want to see and undergo an organizational transformation. Beyond tackling systemic issues in our thematic work, this also means that we need to address skewed power dynamics within our own structures and decision-making processes, develop inclusive HR policies and create a culture that does not emulate toxic patterns but instead pays attention to burn-out prevention and reinforce positive behaviors. At the same time, we also need to evaluate our practices in view of ecological impacts and work towards reducing our carbon footprint.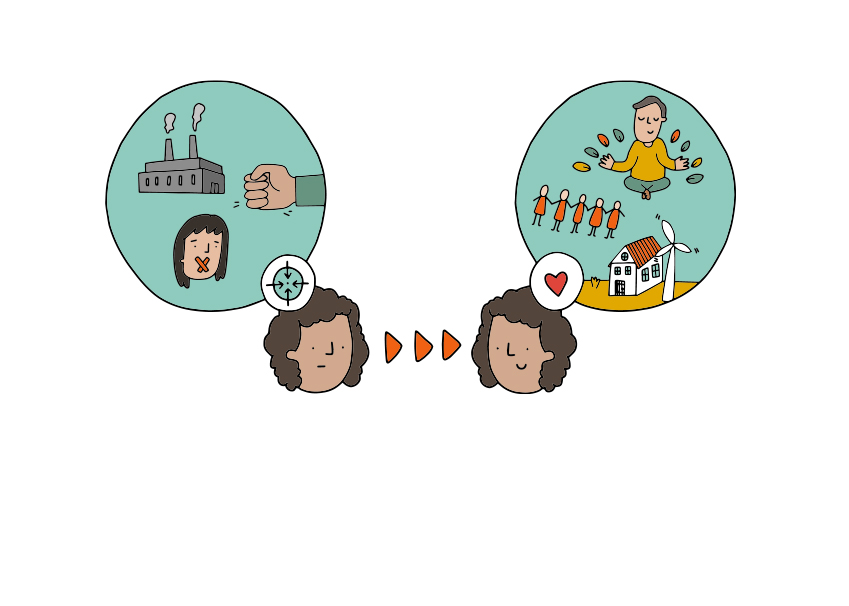 Building new narratives
To trigger an intrinsic change of our relationship with nature and each other and to communicate the alternative paradigm we are working towards, we need to continue to build new narratives. The language and framing commonly used to talk about our planet, nature and society is loaded with implications that affect our perceptions. We need new imaginaries and stories that, in the face of neoliberal discourse, acquire enough strength to be heard and become social convictions, which serve as a breeding ground for the change.
Graphic design: Hearts&Minds, Brussels, www.heartsnminds.eu
Illustrations: Zsofi Lang, http://zldrawings.com/

STRATEGIES AND ACTION THAT EMBODY NEEDED RESPONSES

"Stories of Change" documentary
CIDSE and Patricia Pedrosa, Box Utopia, Portugal
In this 35-minute video produced for the CIDSE campaign "Change for the Planet Care for the People", viewers discover the lives and experiences of 10 inspiring protagonists who share the steps they have taken in their personal or collective transformation towards a more sustainable living.
→ "Stories of change" documentary
Cooperative supermarket, Belgium
Pascale Zoetart, BEES Coop.
Collaborative supermarkets, owned and run by citizens who both are shareholders, consumers and workers are a growing trend in European and North American cities.
BEES Coop. was the first of this kind to open in Brussels in 2017.
→  PP Presentation by Pascale Zoetart
Campaign against Belo Monte Dam, Brazil
Maria-Paula Fernandes, Uma Gota No Oceano
"Uma Gota no oceano" (one drop in the ocean) is a successful campaign launched in 2011 against the Belo Monte Dam. The campaign was built around a successful video (6 million views in one week) which played with humor, education and involved famous Brazilian actors.
→  PP Presentation by Maria-Paula Fernandes da Costa
Public Interest Litigation, India
Colin Gonsalves, Human Rights Law Network
The work of the Human Rights Law Network (HRLN) aims to illustrate the value of using constitutional protections and remedies to secure the rights and livelihood of indigenous communities who are living in harmony with nature.
→  HRLN and the Institute of the Global South for PIL
Campaign for Taxing Coal, Philippines
Gerry Arances, CEED-Center for Energy, Ecology and Development
CEED has been raising awareness about the impacts of fossil fuels on environmental degradation, social breakdown and climate change for many years. The victory to secure a coal tax against the backdrop of a government that civil society finds very challenging to work with, offers important lessons.
→  CEED Position on the Coal Tax
Women Building Power Campaign, South Africa
Samantha Hargreaves, WoMin
"Women Building Power" is a cutting-edge and developing collection of research, information materials, and tools which forms the knowledge hub of an emerging African women-led grassroots driven campaign on Fossil Fuels, Energy and Climate Justice.
→ Women Building Power Resources

OTHER RESOURCES
1_CIDSE_SCF_systemic_crises.jpg
2_CIDSE_SCF_integrated_responses.jpg
3_CIDSE_SCF_power_imbalances.jpg
4-CIDSE_SCF_alliances_and_collaborations.jpg
5_CIDSE_SCF_social_movements_suport.jpg
6_CIDSE_SCF-relationship_with_nature.jpg
7_CIDSE_SCF_rethinking_office_behaviours.jpg
8_CIDSE_SCF_new_narrative.jpg
9_CIDSE_SCF_Poster