Disclaimer: This article was originally published on the MISEREOR blog as part of the Strong Women series. Thérèse Coulibaly is Malian; she is an animator and activist, fighting for a law banning gender-based violence with a focus on female genital mutilation.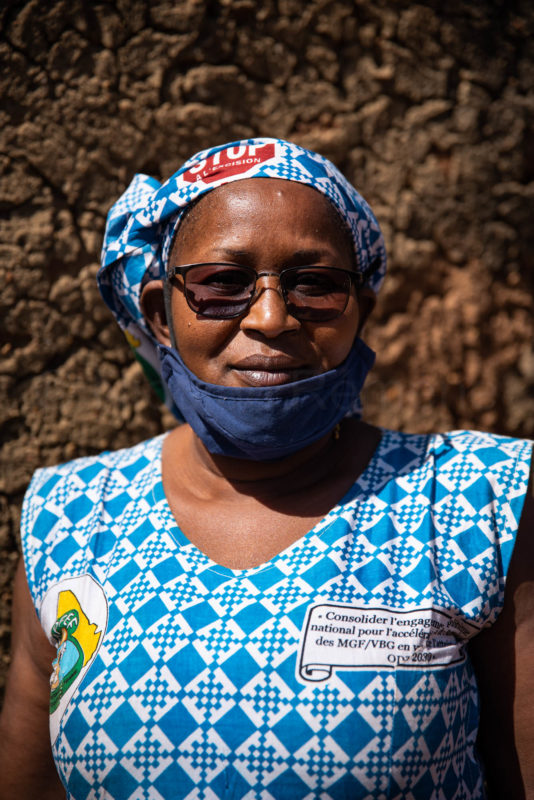 At the age of 8 in my home village, I was circumcised along with about 30 other young girls. The pain I felt during the procedure and the hemorrhage that followed are still engraved in my memory. However, until adulthood, I never condemned circumcision, believing it was normal. At that time, I was unaware of the disastrous consequences that could result from it. I had a total of six children, one boy and five girls. Unfortunately, the first- born boy died during childbirth. While following my husband to the north of Mali for service reasons I discovered that the indigenous communities did not practice  circumcision. I contracted my penultimate pregnancy in Gao and my labour lasted more than 3 hours. The Touareg people who came in more than 2 hours after me all gave birth before me. Surprised by these facts, I asked the matron for an explanation and she replied in these terms: uncut women have a clitoris that makes childbirth easier for them. 
At the same time as this revelation, an information campaign was being conducted on television and radio about the consequences of circumcision. This is when I saw a television program on the consequences of circumcision that described at the end my own reproductive health issues: the sharp pain, the heavy bleeding during and after the procedure, the difficulties of giving birth, the loss of a baby; to say that all this was caused by circumcision. Then I knew I would not subject my daughters to circumcision. 
When I returned to South Mali, I got to know the Tagnè association that was fighting against circumcision and other forms of  gender-based violence. I explained to them my motivation for their work and my personal history. The entire team of the association felt sympathy for the suffering I had endured and accepted my request to join their structure as a facilitator. 
Nowadays I am happy and proud that I did not have my daughters circumcised and that they are living their family life without experiencing the consequences of circumcision.
Today, in my capacity as a facilitator, I have seen the Tagnè association (a partner of CIDSE's German member organisation MISEREOR), which is now an NGO, set up several women's groups which benefit from the economic assistance fund enabling many women to carry out income-generating activities. In addition, they participate in community development activities. It was a great satisfaction for me when two of the greatest circumcisers and their apprentices came to declare, and I quote: 
"The information on the consequences of female circumcision that we received during the talks and screenings during your animation sequences showed us that we can and must brave tradition to preserve the reproductive health of our daughters in order to guarantee them a fulfilling future". 
A continuous fight 
Similar to Thérèse, 200 million girls and women alive today have been subjected to female genital mutilation, according to data from 30 countries. Female genital mutilation is mainly concentrated in the Western, Eastern and North-Eastern regions of Africa, as well as in some countries of the Middle East and Asia.
February 6th is the International Day of Zero Tolerance to Female Genital Mutilation, which is considered a violation of the human rights of girls and women.  
Photo: Flickr.com/UNICEF Ethiopia.