Right to Say No Global Webinar
NEW: BLOG ARTICLE "LEARNING FROM GLOBAL STRUGGLES"
TUESDAY, 27 JULY 2021, 14:00-15:30 (CEST)
REGISTER HERE
Languages: English, French, Portuguese and Spanish
In 2020, the Thematic Social Forum on Mining hosted a series of webinars on how the "Right to Say No" is being implemented in different circumstances. Case studies from Europe, Latin America, Asia, and Africa, were presented, in which this right has become the focus or main content of the collective process of struggle. 
You are invited for a Global Webinar that will go beyond the case examples and present our current understanding of the "Right to Say No". It is necessary to deepen the shared understanding and maintain the motivation to work together in the configuration of international solidarity to pursue the "Right to Say No" of the affected communities.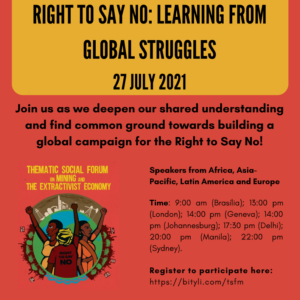 The task of this webinar will not be to provide a definition, but to find common ground, taking into account the differences in understanding in the regions about this right. The various case studies expressed different meanings that communities have been building, as well as processes and struggles around the idea of the "Right to Say No" to mining and the need to build territories free from mining. In recent years, we have had examples of successful struggles that blocked mining projects or complex expansions.
Speakers from Africa, Asia-Pacific, Latin America and Europe will tie things together, as the variety of forms of "right to say no" in order to give clues to build a global campaign affirming the communities' Right to Say No.