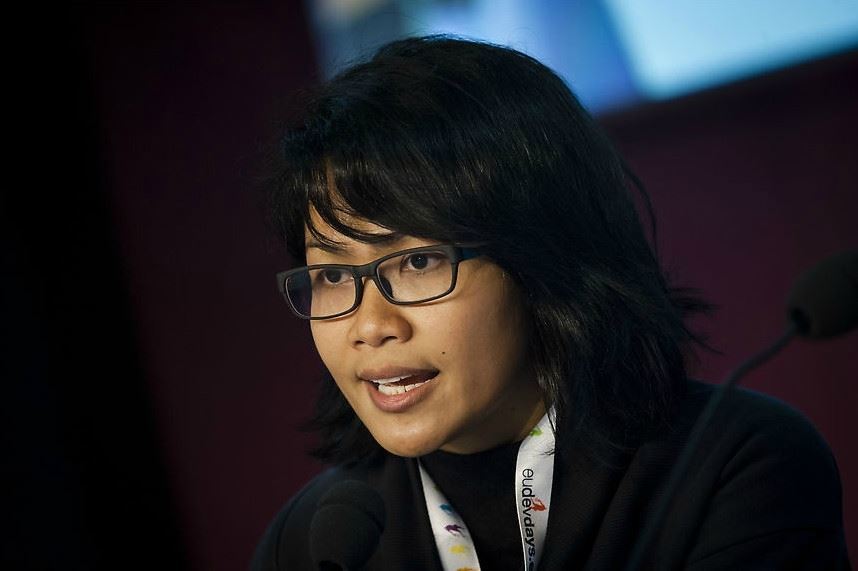 On the day the European Commission presented stricter rules on biofuels, CIDSE partner Rahmawati Retno Winarni told participants of the EU Dev Days about the negative impacts of biofuels in Indonesia.
CIDSE co-organised two high-level panels, one on the Right to Food and one on Biofuels, at this year's European Development Days (Brussels, 16 and 17 October), Europe's premier forum on international affairs and development cooperation, which focused this year on food security, private sector and inclusive growth.
Promoting biofuels, creating scarcity?
In an event co-organised by Organised by CONCORD, Actionaid, Oxfam International and CIDSE, Rahmawati Retno Winarni discussed with representatives of the European Commission, the biofuels industry and other civil society organisations about the stricter rules on food-based biofuels presented by the European Commission on the day of the event. Speaking from her experience as Programme Director at Indonesian Sawit Watch, she told about how palm oil expansion has driven people off their land, destroying their environment. Watch the event below.

Resources:
The event page on EU Dev Day.eu
Stricter EU rules on biofuels must foster food security, not industry interests, CIDSE news release
"Indigenous people in Indonesia suffer from the palm oil boom", an interview with Rahmawati Retno Winarni.
Pictures from the 2012 EU Dev Days
Free humanity from hunger!
How to ensure a world without Hunger after 2015
17 October 2012, 14.00-15.30, Auditorium A, Tour & Taxis, Brussels
Organised by Caritas Europa, CIDSE and CYINDEP
More information about this event…
Contact:
Denise Auclair (policy)
Roeland Scholtalbers (media)


SEI policy brief on EU biofuels and palm oild production South-East Asia