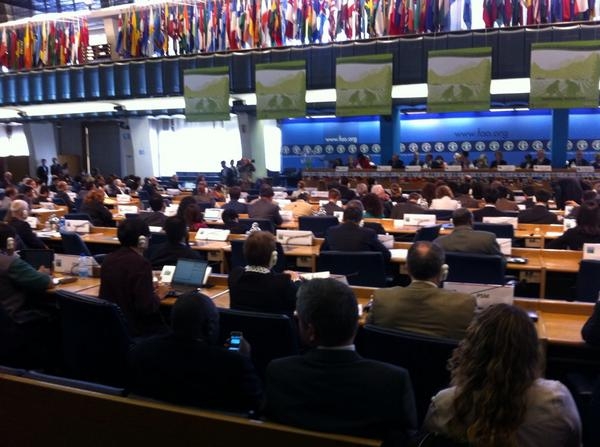 A CIDSE delegation composed of representatives from the CIDSE Secretariat and CIDSE Member Organisations CCFD-Terre Solidaire (France), Cordaid (the Netherlands), Entraide & Fraternité (Belgium), FEC (Portugal), FOCSIV (Italy) and Manos Unidas (Spain), joined forces in Rome in advance of the 41st session of the World Committee on Food Security (CFS-41, 13th–17th October), where negotiations – open to stakeholders from across the spectrum and hosted at the UN's Food & Agricultural Organisation (FAO) – will culminate in decisions of critical importance for agriculture, food security and nutrition.
In preparation for the challenges ahead, our determined and diligent delegates hit the ground running on Saturday October 11 at the International Food Security & Nutrition Civil Society Mechanism (CSM) Forum (11–12th October), where – alongside civil society organisations and social movements representing various constituencies, including peasants, rural women, fisherfolk, indigenous peoples and pastoralists, among others – they rolled up their sleeves and got started on the considerable tasks at hand, including an overall assessment of the CFS, five years after its landmark reform; an evaluation of the impact and effectiveness of the CSM itself, and – of crucial importance – preparation of civil society interventions for different CFS-41 sessions, in a bid to ensure that small-scale food producers have a prominent place at the negotiations table.
The agenda for CFS-41 is similarly charged: among the hot topics up for debate this year is agricultural investment, with a two-year negotiation process potentially set to be drawn to a conclusion through the adoption of the responsible agricultural investment (rai) principles. A key obstacle threatening to derail this process however lies in the hands of the Canadian government, which – in thus far refusing to recognise Free Prior Informed Consent (FPIC) in the rai principles document, is denying internationally agreed language – an absolute red flag for CIDSE and civil society, as highlighted in a recent civil society statement signed onto by CIDSE. With the CSM's final position on the rai to be shaped by the final stance from Canada and the CSM's evaluation of rai during the CSM Forum, there is still a lot left to play for.
Issues of accountability – originally a cornerstone of the reformed CFS mandate – will also be prevalent, with the CSM calling on the CFS to develop a proposal for an innovative monitoring mechanism to help ensure that all actors involved in food and nutrition security decision-making are held accountable for their actions. Food Losses and Waste in the Context of Sustainable Food Systems will also be in the limelight, with the floor to be open for discussion via a policy round table, as well as through a CIDSE-supported CSM side event, which will explore how local alternatives can address food loss and waste, resulting in systemic changes en-route to more sustainable food systems and global food security. Celebrations are to be had – and reflections to be made – in honour of the Right to Food (RtF) Guidelines, which celebrates its 10th anniversary this year. What progress has been made over the last ten years towards advancing the progressive realisation of the right to adequate food and nutrition at global, regional, national and local levels? What more must be done to enhance this progress and link it to people's struggles and realities on the ground? These questions will be at the fore of discussions for CIDSE – and all the more so on 16th October when we come to celebrate World Food Day, which has a thematic focus on innovation in family farming this year. Last but by no means least, all eyes will be firmly on future plans, with discussions on the CFS Multi-Year Program of Work (MYPOW) to reveal details about the much-anticipated selection of activities – including major workstreams and a High-Level Panel Report – for the CFS biennium 2016–2017… Will all-important issues such as agroecology and seeds finally be granted centre stage?
CIDSE also travels to Rome with a new paper, 'Climate-Smart Agriculture: the Emperor's new clothes?', where we argue that there is a real risk with the current concept of 'climate-smart agriculture'. We highlight concerns and flaws identified in the Global Alliance for Climate-Smart Agriculture, before suggesting alternative elements and principles which should be at the heart of initiatives truly dedicated to tackling the climate and food crises.
To keep abreast of these burning questions and more, stay tuned via our website, or follow our eager ear-to-the-ground Food Policy expert François Delvaux, who – when coming up for air between intense rounds of negotiations – will do his best to Tweet (#cfs41) on what's going on in Rome!
Here is our most recent report from the CFS: Signed, sealed… but fails to deliver: Responsible Agricultural Investment document is endorsed but raises alarm bells for civil society
You can also read earlier reports from Rome: Right to Food Turns 10: Putting the 'right' solution back into Food Policy and the Food for though; thought for action.
At the CFS, CIDSE is part of the Civil Society Mechanism. How does the Civil Society Mechanism work? What are their views about their participation in issues related to food, agriculture and nutrition? What is their contribution to the CFS? Find out in this video: