CIDSE at the 2015 World Social Forum in Tunis – day 1
Despite the 2015 edition of the World Social Forum opening march took place under a soft but constant rain, one could feel the very positive vibes of worldwide civil society members gathering together in a joyful moment of hope. We also felt very strong solidarity with the Tunisian people affected by last week terror attacks.
The whole CIDSE team now has i
ts World Social Forum badge and program, and we are feeling well equipped and prepared to go on with our workshops. At the university El Manar, we already noticed some clear improvements compared with the 2013 edition, particularly on organization and logistics. Young volunteering Tunisians wearing blue shirts are all over the place to help lost participants finding their way through the impressive number of workshops.
To only name a few, the CIDSE team today attended a workshop on "True and false solutions for food security in the face of climate change" co-organized by our French member CCFD-Terre Solidaire. We also joined the "Global movement for a Treaty on human rights and corporate activities". We later caught up with our long time partner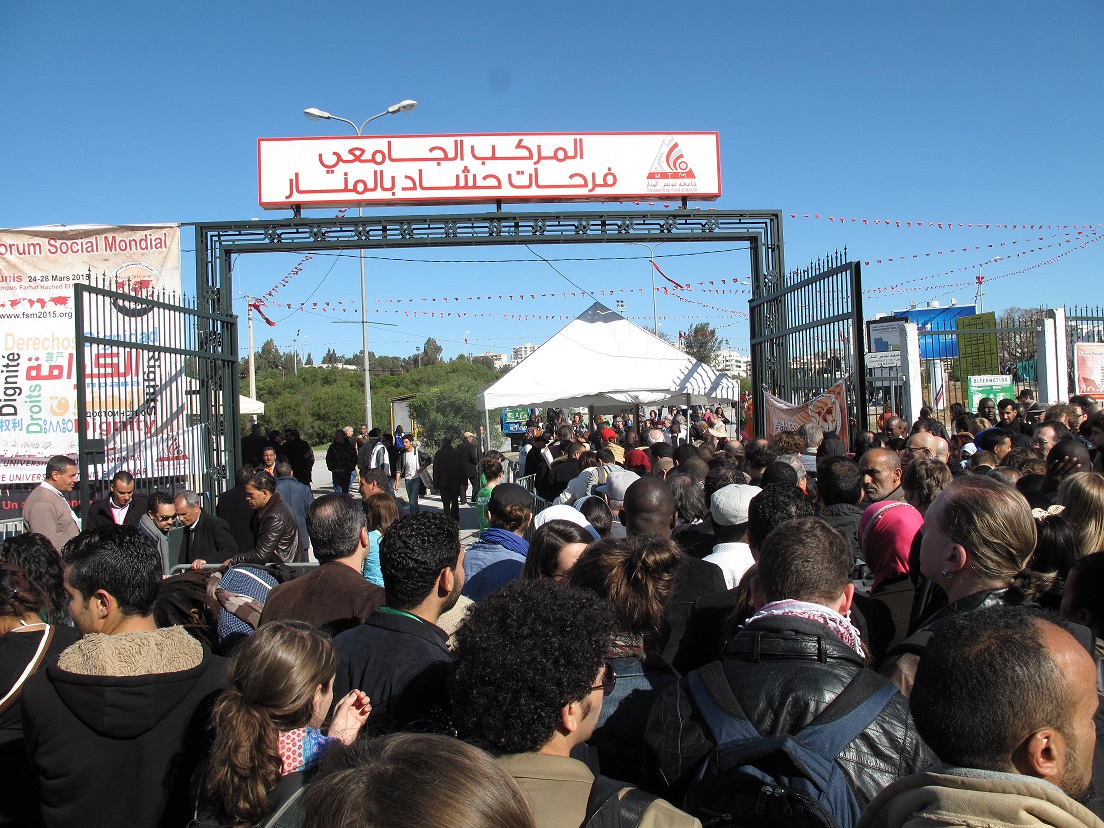 Ibase in a vibrant discussion about "Mining, territory defense and climate change". There, various participants from "front line communities" told us about the serious and irreversible effects of mining on their territory but also and on the climate. Against this background, the resistance struggles of the people in the territories all over the world are growing.
We questioned ourselves and wondered: what connections there could be with work for sovereign and sustainable energy alternatives in the climate context? How do we understand mining, territory defence and climate change as part of a larger story about systemic failures and alternatives? What synergies can be established for mobilization towards the COP21 in Paris, such as decentralized actions, and pilgrimages?
We all feel very excited to catch up with our old friends and colleagues and hope to meet new inspiring people tomorrow.
More pictures are available here.
Contact on-site: Stefan Reinhold, Reinhold@cidse.org
Contact at the CIDSE secretariat in Brussels: Valentina Pavarotti, Pavarotti@cidse.org