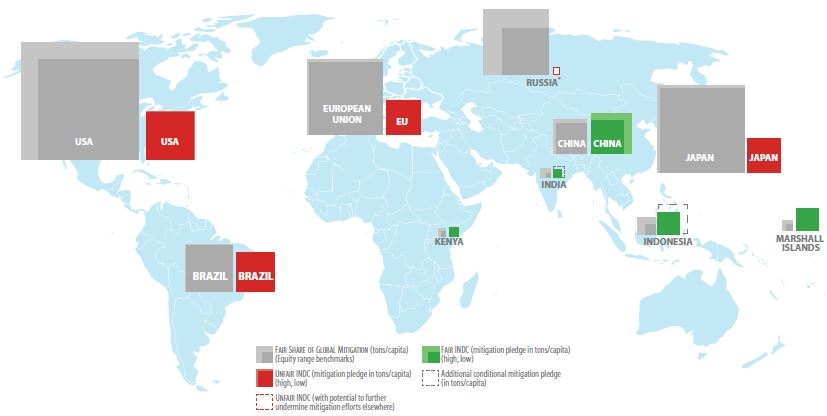 Step-change needed to get a Paris Agreement that's ambitious and fair.
Bonn, Germany, 19 October, 2015) – A review of country climate targets reflecting the twin pillars of science and equity has been released by civil society ahead of the UN climate conference in Paris.
By early October, a total of 146 countries, representing almost 87 per cent of global greenhouse gas emissions, had submitted their climate targets to the UN Framework Convention on Climate Change (UNFCCC).
These country climate targets – called Intended Nationally Determined Contributions or INDCs – will be the cornerstone of a new global climate deal to be agreed in December at a meeting of the 196 Parties who are members of the UNFCCC.
A new report, Fair Shares: A Civil Society Equity Review of INDCs shows that there is still a big gap between what it will take to avoid catastrophic climate change, and what countries have put forward so far. It is an independent review, supported by social movements, environmental and development NGOs, trade unions, faith and other civil society groups from all over the world
It measures the fair share that each country should have in tackling climate change on the level of historical responsibility and capability to tackle climate change.
.
The report argues that while equity is a core principle in the UN process to find a new global climate deal, countries have so far been allowed to determine their own targets on a purely national basis without reference to the scale of the global effort needed or what is fair. It warns that we have 10 – 15 years to implement significant emissions reductions to prevent climate change spiralling out of control.
The report says all high emitting countries will have to do more to close this emissions gap, and this can be done in a fair way. Richer emitters must reduce their emissions substantially and they must contribute to more emissions and adaptation action by poorer countries by providing additional finance and technology access.
The report recommends that the Paris Agreement provides a framework where governments set targets in line with fairness and what the science says is needed:
• To avoid a 3 degree world, governments must agree targets to reduce emissions in 2025, 2030, 2040 and 2050, with a view of near-zero emissions by the middle of the century;
• The Paris Agreement should include a mechanism to ratchet up current targets before they come into effect in 2020, and every five years thereafter;
• It should include a step-change in international climate finance;
• It should create a clear and fair plan to address the emissions gap through new cooperative action fuelled by scaled-up support from the developed countries that are most responsible.
For editors:
1. Read the report online here: http://civilsocietyreview.org/
2. Read related press releases and individual quotes from individual organisations here: http://civilsocietyreview.org/
3. The list below includes global and regional organisations that support this review. A full list, including national organisations, can be found at: http://civilsocietyreview.org/
ActionAid International
Asian Peoples Movement on Debt and Development
CAN South Asia
CARE
Center for International Environmental Law
Christian Aid
CIDSE
Climate Action Network Latin America
EcoEquity
Friends of the Earth International
International Trade Union Confederation
LDC Watch International
Oxfam
Pan African Climate Justice Alliance
SUSWATCH Latin America
Third World Network
What Next Forum
WWF International
For further information, contact:
Valentina Pavarotti, CIDSE Media & Communication Officer. Landline: +32 (0)2 282 40 73; Mobile: +32 (0) 491 39 54 75; E-mail: pavarotti@cidse.org.