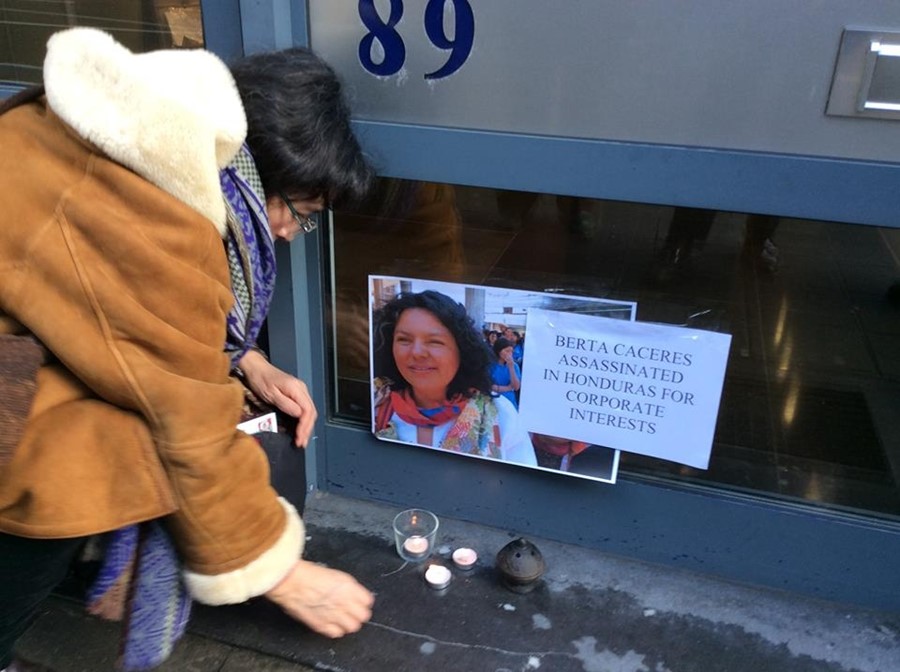 Open letter to the Honduran Minister of Human Rights, Justice and Decentralisation and international civil society statement

(CIDSE is part of the Climate Action Network)
Dear Minister Ayala Alvarenga,
Climate Action Network (CAN), a community of over 1,000 NGOs in more than 110 countries fighting for action to tackle climate change, expresses sadness, regret and condemnation at the brutal murder of Berta Cáceres that took place in her home on Thursday 3 March.
As the world's largest environmental community we urge the authorities to act swiftly and bring to justice those responsible for her murder.
The CAN community also expresses concern for the safety of Berta's colleague Gustavo Castro Soto who was injured in the attack. As an important witness to this serious crime we demand that the Honduran authorities ensure his wellbeing, and that they conduct a transparent investigation without impunity. Berta cofounded the National Council of Popular and Indigenous Organizations of Honduras (COPINH) to fight for their rights. She led the peaceful opposition to the building of a dam that would have destroyed local communities' farmland and limited access to drinking water. In 2015 she was awarded the Goldman Prize, the highest recognition for environmental activism. Together we face the threat of climate change. As climate impacts increasingly hit home governments and citizens must work together. To do this effectively we must shun false solutions and uphold human rights this is what Berta did, and she paid for it with her life. CAN calls on all involved with regional dam projects to do everything in their power to stop the violence and intimidation against activists.
This letter is supported by the entire CAN community, you can find a list of all 1,000 organisations here: http://www.climatenetwork.org/about/members
Sincerely,
Climate Action Network
CIDSE also joined the statement by over 80 American and European civil society organisations condemning the murder of Berta Cáceres (see attachment below in English and Spanish):
"March 4, 2016. The signatory networks and organisations who support the defence of human rights in Honduras, condemn the murder of Lenca indigenous leader Berta Cáceres, coordinator of the Civic Council of Grassroots and Indigenous Organisations in Honduras (Consejo Cívico de Organizaciones Populares e Indígenas de Honduras – COPINH), which occurred earlier on Thursday at her home in La Esperanza, Intibucá, Honduras.
…
Faced with this terrible crime:
1) We stand in solidarity with Berta's family, with the Lenca people and members of COPINH and all social organisations in Honduras who are in mourning today.
2) We condemn the murder of Berta and we urge the Honduran authorities to invest all the necessary resources to independently investigate, prosecute, and punish those materially and intellectually responsible, to ensure the protection of witnesses, and to take appropriate measures, including publicly dignifying the memory of Berta.
3) We call on Honduran institutions to fulfil their duty to ensure the protection of all people who defend human rights in their country and the proper implementation of the Law on the Protection of Human Rights Defenders, Journalists, Social Communicators and Justice Operators, currently in force in Honduras, so that incidents like this do not happen again.
4) We urge the international community to condemn this murder and take all necessary measures to ensure that the Honduran State fulfils its human rights obligations. And we call on them to adopt adequate measures to ensure that bilateral or multilateral financial support for Honduras contributes to the full respect for and realization of human rights."
CAN_carta_-_Berta_CaYceres.pdf
CAN_open_letter-_Berta_CaYceres.pdf
EN-International Joint Statement on Berta Caceres March 2016
ES-International Joint Statement on Berta Caceres March 2016