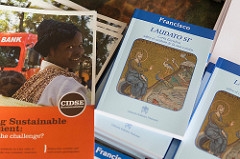 In June 2015, CIDSE welcomed the Pope's hope for a profound "ecological conversion" and advocated for a fair and binding global agreement on climate change at the UN Climate Conference (COP21). However, together – politicians, business people, investors, teachers, healthcare workers – can and must do more to live Laudato Si'.
Pope Francis' encyclical Laudato Si', launched roughly a year ago and published in June 2015, was globally acclaimed for its strong relevance in times of crucial decision-making.
This was not in vain; the encyclical presented a lucid, integral understanding of the root causes of climate change and inequality in our world. It brought forth the moral responsibility we all share as part of Creation to work together and protect "our common home", and paved the way for an open dialogue to find common solutions and alternatives to the current global crisis.
CIDSE welcomed the Pope's hope for a profound "ecological conversion" and advocated for a fair and binding global agreement on climate change at the UN Climate Conference (COP21). However, together – politicians, business people, investors, teachers, healthcare workers – can and must do more to live Laudato Si'.
It is hard not to notice the impact the encyclical had at different levels. It allowed faith communities to gather around a common call to action on climate change and justice for the world's poorest and most affected communities. Catholics around the world launched a petition that attained more than 900,000 signatures demanding world leaders cut down emissions. Following the publication of the encyclical, the Islamic Declaration on Climate Change was signed and, throughout the year, several interfaith statements were pronounced as faith communities worldwide united to put pressure on decision-makers to take responsibility and raise their commitments towards COP21.
But Laudato Si' also united and inspired people beyond faith communities. It brought civil society and social movements together, echoing the Pope's call for a profound transformation – one that is able to ensure that all human beings live in dignity, within the planet's natural boundaries. Together, this broad convergence of voices, including those from communities at the frontlines, allowed in great part to reflect the 1.5 degrees target within the Paris Agreement and to recognise the inter-linkages between climate change and poverty eradication.
Being part of the negotiations myself as an observer, I could not help but notice how present the Pope's words were in conversations, speeches and interventions. In this respect, we could say that the encyclical may have contributed to the overall sense of urgency and moral responsibility that was needed to push things forward. However, we have much work ahead. As it stands today, the Paris Agreement does not guarantee an effective and timely action, and it will take great courage at all levels to turn these words into reality.
There is an urgent need to dismantle vested interests motivated by a logic that seeks profit over the general common good. Policy-makers must strive for long-term decisions that look beyond short-term electoral cycles. Countries must raise their ambitions in reducing emissions by mid-century, as the current reduction targets are far from representing global efforts for keeping temperatures below 1.5 degrees. Moreover, countries must provide clear incentives to enhance the phase out from fossil fuels by favoring renewable energy and provide a policy landscape that enables sustainable consumption and production alternatives to thrive.
Motivated by the understanding of our fundamental interconnection with nature, which is at the core of the encyclical, at CIDSE we have called for a genuine transformation at the individual and collective levels to adopt more sustainable ways of living. We launched our three-year campaign "Change for the planet – Care for the people" which links our work for social justice with the promotion of sustainable lifestyles and people-led alternatives. It recognises that we can make a change if we start adapting at the individual level, while re-thinking the way we organise and work collectively to ensure more just and sustainable systems. My dream is that all people of faith and none embrace the encyclical's core message of a genuine ecological conversion. One that questions our current actions – the way we consume, produce and interact with one another – and one that allows a transition towards ways of living that are both environmentally and socially conscious, grounded in solidarity and the respect for nature at the local, national and international levels.
In this respect, the case of conflict minerals exemplifies the connection between environmental degradation, human rights violations, and the lifestyles we lead. When we buy a new smartphone or an electronic product, we seldom think of the story behind its production. It often begins in the remote mines of the Democratic Republic of Congo, Colombia, and Myanmar, in very difficult conditions, where people are subject to violence and exclusion, while causing irreparable damage to local ecosystems. Guided by the principles of Laudato Si', we have advocated for a fair and binding EU conflict minerals regulation along the entire supply chain in order to prevent deadly exploitation of people and natural resources in EU trade practices. Like the Pope expressed in the encyclical, there are other models we can pursue that go beyond seeing nature and the extraction of its resources as a source of profit and gain.
One year on after the encyclical was first published, we are already able to grasp its transformative potential. We now have the opportunity to change course, to collectively imagine new narratives of development and well-being that can lead us to a more equitable future for all. Imagine what society could accomplish if we took those words to heart and decided to take action by working together.
Bernd Nilles is Secretary General of CIDSE, an international alliance of Catholic development agencies.
*This op-ed was first published in Christian Today.