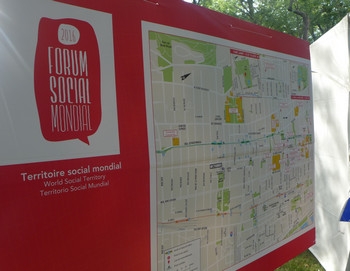 Updates and reflections from CIDSE staff writing from Montreal where many ideas and inspirations for a better world are being generated and discussed at the World Social Forum.
Part II of CIDSE WSF2016 Diaries available here.
Monday 8 August: The arrival
We arrived in Montreal on Monday evening and were welcomed by Development & Peace, our Canadian member organisation. We were happy to meet some locals straight away! At the welcome reception we all shared excitement about the forum about to start. More gatherings with Development & Peace will follow during the week on the occasion of their 50th anniversary. We look forward to celebrating their achievements and long history with them!
Tuesday 9 August: The opening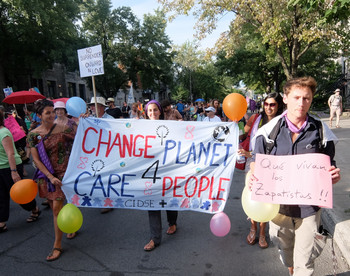 Tuesday started with an informal meeting with our partners and members. These informal meetings have become a CIDSE tradition down the years. Thanks to these gatherings that bring together people who are very different yet share common causes, these meetings have the power to generate innovative ideas and spark constructive feedback about our work as well as providing us with the opportunity to connect with people on the ground, in a moment of solidarity as they bear witness to their struggles. And this time our expectations were not deceived! Suggestions were brought forward about the challenges of measuring impacts, with partners even wondering whether real impact is actually measurable. Systemic change, as was highlighted in the conversation, should be at the core of the change we want to see, we shouldn't therefore limit ourselves to the impacts we can see at the local level, but always look at the broader picture. The need to tell the " the other story" and the role we should take on in countering the dominant narrative present in media in relation to agriculture, climate change, extractivism, for instance was also raised, as a key factor for real change.
In the afternoon we marched in the streets of Montreal along with representatives from various organisations, grassroots movements and many locals to officially open the World Social Forum. We especially appreciated the time spent with the Development & Peace youth delegation, with whom we walked together for a long stretch of the march and sang for justice and solidarity. Many people who attended previous editions of the World Social Forum deemed this march to be less crowded and less loud than usual. Yet we felt motivated by being part of the crowd and ready to plunge in the many workshops starting the day after.
Wednesday 10 August: Sharing and learning
On Wednesday most of the activities started, and we all took advantage of the intense programme as much as possible, co-organising a workshop on Laudato Si' but also attending other workshops dedicated to extractivism, climate change and the future of the World Social Forum.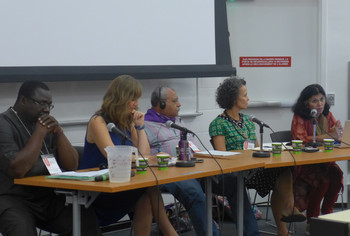 Laudato Si'
The event "Laudato Si', a Call for Change", co organised by Development & Peace, CIDSE and Franciscans International, demonstrated the power of the World Social Forum as a space to bring together the wisdom, learning and teachings of different struggles. These struggles come together in a vision of human life as part of the earth. This is also the vision of Laudato Si'. Thanks to Laudato Si' this vision has come to be recognised widely. With our lifestyles based on a capitalist, extractivist system, our perception of those who do not share our lifestyles living on the margins of our economic model as being "alternative" is mistaken. We must recognise that we are the ones who need to change- to rediscover our place on the earth. We need to learn to "listen to the rice grow" as they say in Laos. It requires cherishing and reinforcing feminine traits of listening, learning, being part of something as it happens rather than making things happens. It requires a counter-logic to that which has prevailed throughout the history of colonialism, evangelisation and civilisation. (Recording available here.)
Climate Change
The workshop "climate change: crisis or collapse?" was organised by the climate space, a section of the WSF traditionally dedicated to issues related to climate. The panelists were all aligned on one dramatic fact: there is no doubt about it, we can identify enough symptoms indicating that we are facing a climate collapse. Becoming aware of this implies a radical shift in the timeframe we are using: a crisis (a word that was more commonly associated to climate) could last 250 years and still be "manageable" (and some panelists and participants were referring to capitalism as an example of such long lasting crisis). But collapse means we might just have 10, 15 or 20 years at best in front of us. And that's a real game changer: strategies, targets, space that we invest, recommendations that we make … changing just a word would radically change our perspectives and the way we see difficult questions: can we imagine that in the next 10 or 15 years, a UN document or governments will manage to prevent collapse? Can we as civil society organisations and social movements prevent collapse or will we only be able to influence the ways in which collapse will be "taken care of" or managed by our societies?

Extractivism
The extractive space at the WSF "People and Planet before profit: Moving away from free trade and extractivism to dismantle corporate power" is supported by CIDSE among a variety of organisations. The space is addressing the three interlinked issues of extractivism, free trade agreements and the power of transnational corporations. The complexity of the issue is recognised by also addressing the interlinked issues of gender equality, militarisation, democracy, consent of communities and production-consumptions patterns. A particularly moving intervention was made by the daughter of the murdered indigenous activist, Berta Caceres. She highlighted the constant pressure under which Human Rights defenders work. But even when confronting multinational corporations, communities still have the ability to live according to their traditional way of life, inventing new alternatives for a better life for all. All participants in the room agreed that these kinds of positive alternatives need to be better showcased and interlinked.
In the workshop "Our rivers and mountains are not for sale: communities struggle for ecological justice" it was highlighted that the Western way of life has accrued a large ecological debt which must be recognised. Colonisation is still ongoing through illegitimate appropriation of territories. REDD+ schemes is the latest example of the ongoing commodification of nature. As observed by Isaac Asume from Social Action Nigeria "The scandalous carbon trading schemes tries to put the responsibility of western way of life emissions on remote communities that haven't participated in global warming".
It was stressed that extractivism is a dead end and we need to refocus on alternative positive responses. Circular economy could be only one of the many ways forward. While we need to give up a lot of material things in our life, we should regain in other areas, such as our spiritual life. These issues reinforce the need to advocate lifestyle change, the theme of CIDSE's campaign on lifestyles (Change for the planet, Care for the people) which advocates for lifestyles changes through concrete actions, related to energy and food consumption or transportation.
In the workshop "Systemic alternatives on post extractivist societies" dedicated to alternatives to extractivism, discussion revolved around one key issue: economic development needs growth and for growth we need extractivism. Regardless of the ideology, the state's drive to maintain power –even if it does this through popular policies such as financing health and education programmes- is sustained by extractivism. This is despite the evidence (demonstrated by the current crises that resource-exporting countries are in) that the extractivist model is unsustainable. Fighting extractivism is complex. It is about addressing power. Beyond building a strong robust state that serves people, defending and realising their rights, democratisation is equally critical. It was conveyed that it is essential to build strong, independent social movements as a counter-power to the state, strong enough to make alternatives prevail.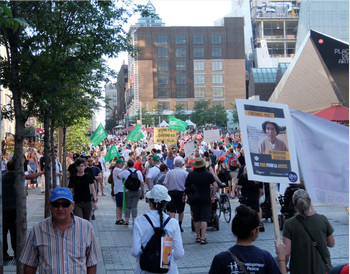 Future of the World Social Forum
Discussions developed around the fact that this is the first World Social Forum ever to be hosted by a country from the global North and organised by a Canadian hosting committee composed mainly of young people. Some believed that this change underlines the responsibility that citizens in Northern countries have to take on: a responsibility to speed up, leave the comfort zone, make a shift in our consumption behaviours and take stronger political stands, also learning from activists in Africa, Asia or Latin America at the front lines everyday to fight against a system we are all part of.
Activists from different countries recognise the importance to protect spaces where civil society could strategise, exchange and look for synergies while all over the world, and in particular in Latin America and Asia, civil society spaces are shrinking and human rights' activists are persecuted. Many believe therefore that the forum should remain a "square without owners", a festival of initiatives but that should also be relevant to the outside world and contribute to make people-led initiatives flourish and be strengthened. Among the key elements highlighted for the future of the forum were the engagement of youth in leading roles, a committed effort to build national and regional spaces that could feed into the global forum creating a climate of collaboration, to include and make sure new movements have the space to be protagonist and bring their contributions, to reinforce the role of the forum to be relevant for the political context. The founders of the forum in Porto Alegre called us today to defend a space where we should put cooperation at the centre instead of competition and to be aware that there is no organisation or movement that alone can have "the" strategy to fight such a big and strong enemy: the system we are living in.

Wednesday was a good entry point to the World Social Forum: exchanging, sharing, brainstorming and learning from each other about strategies, relationships and activities that could contribute in building and transitioning towards another world – which is both necessary and possible as the slogan of the World Social Forum claims. Just about identifying, selecting, nurturing seeds of change that each of us will have to bring back in our own organisations while making sure that those seeds don't rot somewhere forgotten in a cupboard but that they feed into our daily reflection activities and strategies and keep challenging us.