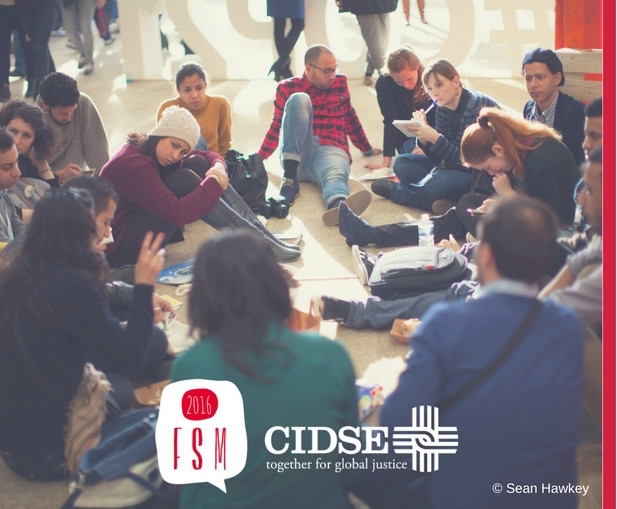 Invitation to CIDSE World Social Forum Webinar, Friday 12 August 2016
When?
8-9 am EDT (Montreal) – 2-4 pm CET (Brussels)
What?
CIDSE will hold a webinar on Friday 12th August 2016 from Montreal. Great speakers including CIDSE staff, members and partners will share reflections on their experience at the World Social Forum. They will report on new ideas to face today's global challenges as discussed within the workshops, touching upon the topics of Laudato Si', extractives models, climate justice and sustainable food from different geographical and social perspectives; the challenges of the organization of the Forum from the point of view of Development & Peace, being in the host country; the excitement of taking part in the forum as a volunteer, how the space of the Forum has changed over the years and what was special about this first edition in the "North".
A recording of the webinar will also be made available.
Speakers:
– Francois Delvaux, Policy Officer, CIDSE
– Jean-Baptiste Dutoya, Secretaire National, CCFD-Terre Solidaire
– Sandra Ratjen, International Advocacy Director, Franciscans International
– Elana Wright, Advocacy and Research Program Officer, Development & Peace
In attachment, see also the list of CIDSE activities at the World Social Forum 2016.

To join the meeting:
To join the meeting, there are a few steps to follow in advance. If you do not have Skype for Business on your computer, click on "Join Skype Meeting" below, and check the box « Install Skype for Business Web App plug-in».
Enter your name and click Join the meeting. Then follow the instructions of your browser to install the plug-in, which is required for screen sharing, audio and video.
……………………………..
-> Join Skype Meeting
This is an online meeting for Skype for Business, the professional meetings and communications app formerly known as Lync.
Or join by phone:
Toll-free number in Canada: +1 (888) 858-6021
Find a local number for your country.
Conference ID: 4935649063
Help |Legal
Any questions? please contact Valentina Pavarotti, CIDSE Media and Communications Officer: pavarotti(at)cidse.org