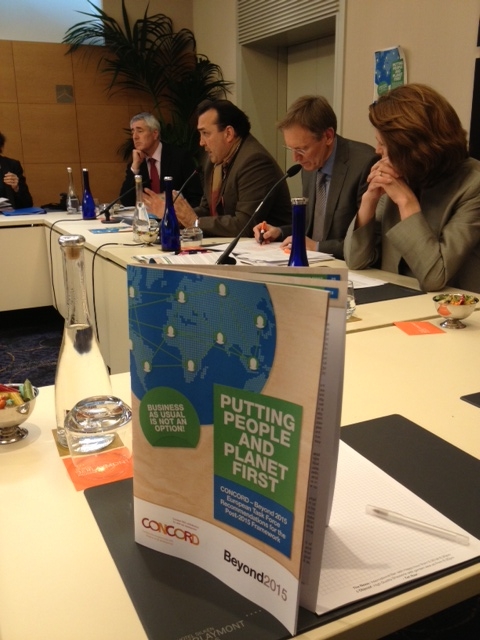 Tanya Cox from Plan International is interviewed about the work of the Beyond 2015 European taskforce and CIDSE's engagement in it

This interview is part of the project "CIDSE's journey in the Post-2015 process"
-What were the main goals of the Beyond 2015 European taskforce?
The main goals of the European taskforce were finding a common position for the civil society and influencing the EU in their position to truly take into consideration the three dimensions of sustainable development. We also wanted to add a fourth one, the governance aspect, and make sure that they would take their messages to the UN fora promoting human rights within planetary boundaries.
We were two co-chairs in the taskforce, one more development-oriented (myself) and one more environment-oriented (Sally from WWF). Coming to a position that would reflect the European civil society was a considerable amount of work!
-What was CIDSE's main contribution to the taskforce?
CIDSE was very complementary in the taskforce because of their focus on finance, economic and trade side while fully understanding the human rights and environmental aspects. CIDSE was crucial in the early brainstorming. Also, CIDSE was working at the UN level so they were able to give some interesting points of views on how international institutions needed to reform themselves.
Collaborating very closely with CIDSE we managed to set up a system where we would meet with the Commissioner before a high-level panel session and afterwards, and every time we came with a key message that we wanted Commissioner Piebalgs to take. One example is the participation of people, the crucial importance of consulting with people- instituting people's consultation in decision making. Together with Jean from CIDSE I wrote a paper for Piebalgs to explain to him how this could really happen and how it was fundamental for human rights.
-What were the main achievements of the taskforce?
The taskforce was increasingly successful over the course of the years. The first two years were spent developing the common position paper, then we started translating this into key messages, which the national platforms would bring to their governments. We were consistent, had very clear messages, and overall we really contributed to the EU position, for example through the adoption of the policy coherence for sustainable development and also from the insistence on governance; it was already important for the EU, but our clear and vocal support for governance encouraged the EU to take this forward much more strongly at the UN level. The European taskforce linked up with the global campaign and together we really did make a difference in the overall 2030 agenda that came out!
Share this content on social media