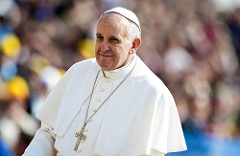 Pope Francis is currently visiting Myanmar, bringing words of respect and inter-religious peaceful dialogue in a country that has become the subject of international scrutiny for its human rights situation. Several tensions indeed exist in Myanmar, especially related to the plight of the Muslim community in Rakhine state, who self-identify as Rohingya.

The visit by Pope Francis brings a spotlight on the rapid changes experienced in Myanmar in last years in the context of the country's democratic transition, and the challenges to secure a lasting peace. As the country has opened up, investors have begun to rush in. Land grabbing and natural resource exploitation are endemic in many parts of the country, feeding the ethnic conflicts. Hundreds of thousands have been displaced in Kachin and Shan states.
When it comes to Myanmar's natural resources – minerals, gems, timber, gas –, there are many unresolved issues. CIDSE's local partner organisations are working on complex land problems: ethnic areas are faced with overlapping administrations and large numbers of internally displaced people facing situations of grave food and land insecurity. Achieving a lasting peace means moving towards a more federal system and the introduction of many new policies and laws, especially concerning land rights.
Myanmar faces great challenges to build solid frameworks for the ownership and revenue sharing of natural resources in various ethnic areas, and for the protection of human and labor rights and the environment.
In September, CIDSE together with a number of organizations based in Europe and Myanmar released the report "Myths and risks of the EU-Myanmar Investment Protection Agreement." The agreement, which has been negotiated largely behind closed doors, could deprive the country of the necessary policy space to harness investment to serve sustainable development and peace. It would allow European investors in Myanmar to sue the government at an international tribunal if new regulations that aim to favor people or the environment, such as land reforms, affect their profits. "The EU can best support the peace process by ensuring that Myanmar maintains full regulatory autonomy for reforms, rather than causing the lock-in of current policies," said Denise Auclair, senior advisor at CIDSE.
Since September, negotiations on the agreement have been placed on hold due to the human rights situation. The Pope's visit is a chance to prompt a broader reflection on the economic factors underlying the current conflicts in Myanmar, and on the possible impacts and wider implications of the proposed investment protection treaty at this pivotal point in the country's transition.
CIDSE's Press release: EU-Myanmar Investment Protection Agreement: Many risks, few benefits, September 2017