#CIDSEatCOP26
CIDSE was present in Glasgow with a delegation from member organisations and associated partners, including CAFOD/England & Wales, CCFD-Terre Solidaire/France, Cordaid/The Netherlands, Fastenopfer/Switzerland, KOO/Austria, Misereor/Germany, SCIAF/Scotland, Trócaire. CIDSE also worked closely with other partners and allies from the Catholic Church and around the world.
LATEST NEWS!
– COP26 misses the chance to deliver real ambitious action and transformation, CIDSE press release, 13 November ( EN / FR)
– Inside COP26: Interview with Lydia Machaka, CIDSE Climate Justice and Energy Officer
– How are the negotiations on climate ambition going? Interview with Anika Schroeder, Misereor Climate Change Policy Officer
– The unclear definition of nature-based solutions allows promoting false and dangerous solutions, Interview with Myrto Tilianaki, CCFD-Terre Solidaire Food Sovereignty and Climate Officer

OUR ADVOCACY PRIORITIES
Raise the urgency to achieve ambitious emissions reductions to meet the 1.5°C temperature goal guided by science, equity and justice.
Promote a just transition to renewable energy systems and increase energy access as well as promote agroecology as one of the primary pillars of food sovereignty and climate justice to meet the Paris Agreement temperature goal.
Increase the provision and access to finance for climate change mitigation, adaptation and resilience, as well as Loss and Damage in developing countries by holding developed countries accountable for their climate finance promises.

ACTIVITIES
WED 3 November
– Side event: "Rivers of Peace: the rights of nature, biodiversity conservation and peacebuilding in Chocó, Colombia". Co-sponsors: University of Glasgow, SCIAF and ABColombia. Hunter Halls, Main building, University of Glasgow, Glasgow G12 8QQ, 5:30-7:30 PM GMT. Watch the side event live on YouTube!!!

THU 4 November
– Side event: "Transforming climate finance to radically transform societies: the case of Green Climate Fund funding". Co-sponsors: CIDSE, Misereor, CAWG, CECOEDECON, Ecojesuit, KOO, Maryknoll Sisters, Vermont University. Scottish Event Campus (SEC), Blue Zone, Multimedia Studio 2, 1:15-2:30 PM GMT. !!! Watch the side event live on YouTube !!!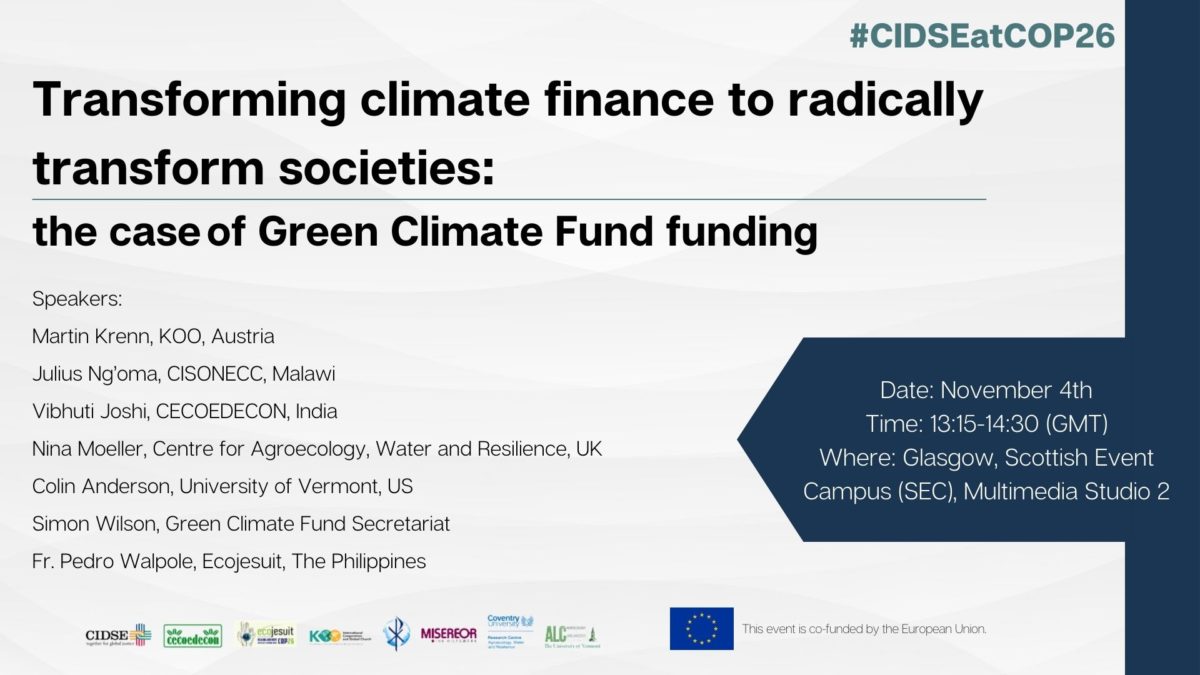 – Side event: "Indigenous peoples of the Amazon and climate change: threats and new energy solutions in indigenous territories". Co-sponsored by Fastenopfer. Green Zone. 4PM-5:30 PM GMT / 5 PM-6:30 PM CET. Watch the side event live on YouTube !!!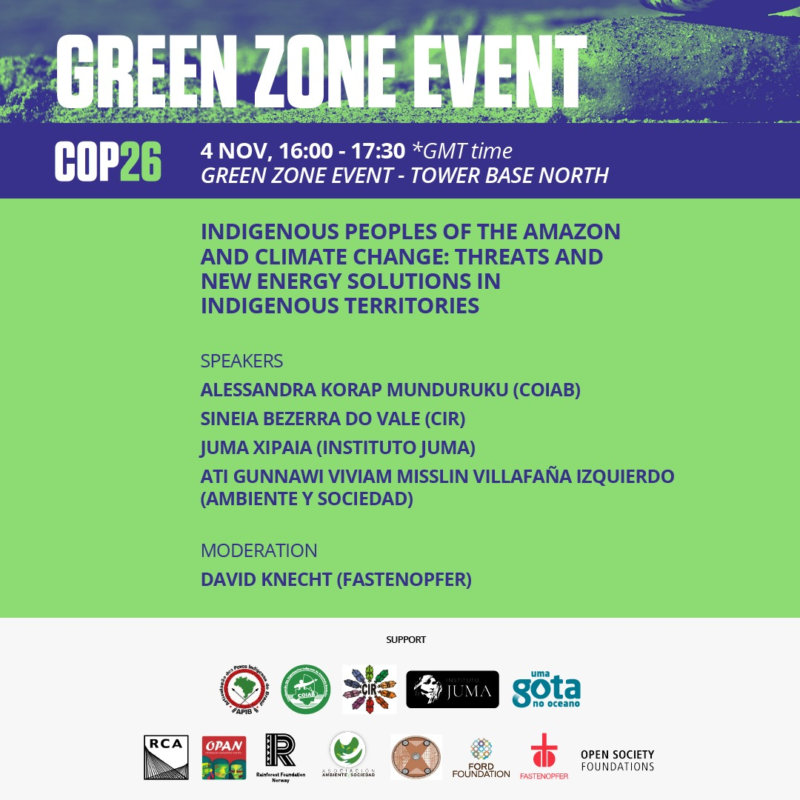 – Side event: "Just transition in food and farming: from local to global". Co-sponsors: SCIAF and Nourish. Scotland's Climate Ambition Zone (outside COP), Orangebox Gallery, 6:00-7:30 PM GMT. (upon invitation only)

SAT 6 November
– March: Global day of action for climate. Assemble: Kelvingrove Park, Stewart Memorial Fountain, Glasgow G3 6BY, 11:30 AM GMT followed by rally at 3PM GMT
– Launch of CIDSE Change for the Planet, Care for the People documentary "The future lies with youth", 6.30 PM GMT /7.30p PM CET. Click on this link to join us. PRESS RELEASE.