CIDSE is pleased to publish its new Strategic Framework 'Thriving in our common home', which outlines the network's strategic direction and priorities from 2023 to 2028. The document was officially endorsed by the CIDSE directors at their annual meeting, on January 25-27 in Leuven (Belgium).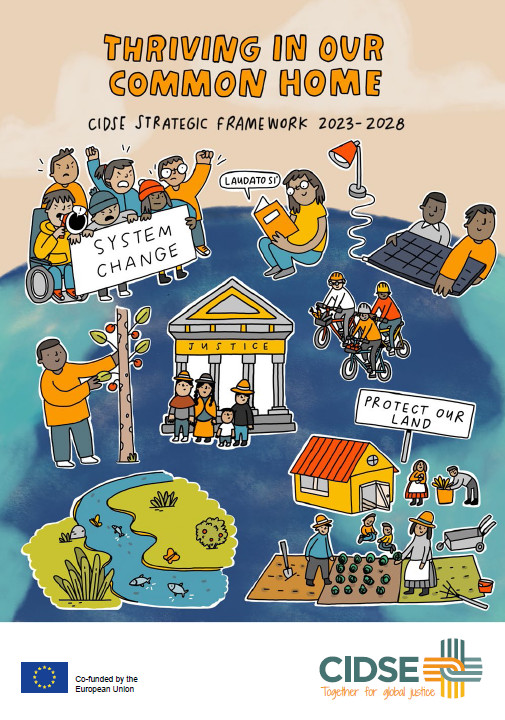 This new framework was built on the positive experience and learnings from the previous Strategic Framework 2016-2021, "Acting for transformation for a just and sustainable world", which accompanied CIDSE and its 18 member organisations for the past 6 years.

The strategic planning process was a participatory one which spanned over 18 months, engaging the network of members, outreach to partners and allies in other parts of the world. With all those actors we organised an in-depth reflection which took place at the second CIDSE Systemic Change Forum in 2021.
This plan outlines the path we set out on, with our moral compass well-tuned to focus on justice for people and the planet, but in a spirit of learning and challenging as we acknowledge the many variables that will influence our journey.
Lieve Herijgers, Director of Broederlijk Delen, CIDSE outgoing President
In the next 5 years, CIDSE will defend and engage in multilateral spaces of governance, upholding and strengthening its human rights-based approach, promoting access and participation by communities and by excluded voices to decision-making spaces of power. What we will promote are sustainable, practical, realistic alternatives to growth and overconsumption, capable of letting us live on this planet in dignity, solidarity, and in peace. In order to accomplish this, CIDSE has revisited its mission and general description:

Who we are: In this new Strategic Framework, CIDSE defines itself as an international family of Catholic social justice organisations working with global partners and allies to promote justice, harnessing the power of global solidarity to achieve transformational change for people and the planet.

Our mission: CIDSE challenges systemic injustice and its destructive impact through connecting, mobilising, influencing and telling stories of change. We promote environmentally and socially just alternatives that will allow us to thrive together in our common home. CIDSE's work is guided by Catholic Social Teaching and Gospel values.

Our work: CIDSE's collective work focuses on three thematic areas: it promotes food sovereignty and land justice, addresses impunity and corporate power and explores the relationship between energy and extractivism, all the while striving for a model of sufficiency. Human rights, decolonisation, feminism, climate, and biodiversity justice, and economic and political systems are used as systemic lenses across all our thematic work.


The document is divided in three sections. The first part refers to "Where we are" and highlights CIDSE's starting point, including "Who is CIDSE", "What CIDSE does" and our value. Meanwhile, the second part focuses on "Where we want to go" and outlines the new CIDSE strategy. The ultimate and long-term outcomes as well as the CIDSE systemic change approach are fully explained in this section. Finally, the third refers to "How we want to get there" and more specifically to the transformation of our ways of working and our organisational coherence.
We are living in difficult times, where the most marginalised and vulnerable people on our planet are finding their right to live in peace and dignity under constant attack. CIDSE offers thought leadership and a moral compass to leaders and citizens alike and provides practical ways to channel the outrage that ordinary people feel about the deepening inequity in this world. CIDSE's work to challenge systemic injustice, defend human rights and halt the destruction of the environment has never been more important. Together with our members, partners and allies, who are present in 120 countries and territories globally, we recommit ourselves to this incredibly important work.
Caoimhe de Barra, CEO, Trócaire, new CIDSE President
This document equips CIDSE and its members with the right tools to advocate for a systemic change away from the dominant values and frameworks that structure and influence our current way of life, towards values and frameworks that recognizes human dignity, equity, social justice and the respect of nature as the moral and spiritual foundations of our society. It is currently only available in English. French, German and Spanish versions will follow soon.

Contact: Giorgio Gotra, Communications Manager, gotra(at)cidse.org

---


Cover image: Civil society demonstration at COP27, 2022. Credit: CIDSE