5th European Laudato Si' Reflection Day
!!! NEW !!!
"An intergenerational encounter: a big-bang of ideas and projects for our Common Home", Vatican News article
Online event via Zoom – REGISTER HERE
Language: English
When: 9:30 to 12:30 – 14:00 to 18:00 CEST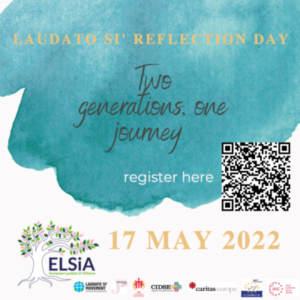 The theme of this year's gathering is "Two Generations, One Journey".
The event will be an occasion to have an intergenerational dialogue around environmental movements of yesterday and today and to comment on some critical passages from Laudato Si'.
Furthermore, participants will also explore issues of sustainable food production vs fast food, sustainable fashion vs fast fashion, and protection of Creation and biodiversity, while listening and interacting with experts and young people leading the change.
Finally, participants will explore if and how anyone can make bold choices to protect Creation and contribute to create sustainable living conditions for future generations.
During the event, part of the documentary "The future lies with youth" by the Change for the planet – Care for the people initiative (CIDSE) will be screened. Adrian and Sara, two protagonists of the documentary will be at the session and answer some questions. 
Confirmed speakers:
H. Em. Cardinal Jean-Claude Hollerich SJ, President of COMECE and Honorary President of ELSiA;
Monika Skadborg, European Climate Pact Ambassador in Denmark;
Prof. Dr Ernst Ulrich von Weizsäcker, former Chairman of the Bundestag and Honorary President of the Club of Rome;
Anne Tran, Parliamentary intern of the CBCEW;
Marta Messa, Director of Slow Food Europe;
Pascalis Loucaides, UK manager of Too Good to Go;
Angelo Salsi, Head of Unit CINEA.D.D2 LIFE Environment (Nature & Circular Economy);
Amy Woolam Echeverria, International Coordinator for Justice, Peace, and Integrity of Creation and Co-Coordinator Ecology Taskforce, Vatican Covid-19 Commission;
Ciaran Foulds, theologian and activist.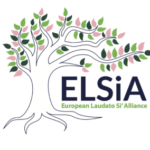 ELSiA is a network of Catholic organizations committed to joining forces to adapt the comprehensive approach of Pope Francis' Encyclical Letter Laudato Si' and related Church teachings to a European context with a special focus on the institutions of the European Union. The alliance is composed by COMECE, CIDSE, Don Bosco International, JESC, Justice and Peace Europe, Caritas Europa, and the Laudato Si' Movement.