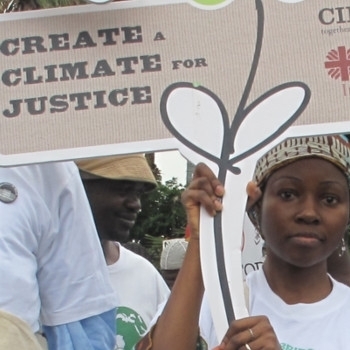 November 11-22 2013 the nineteenth session of the Conference of the Parties (COP 19) was held in Warsaw, Poland.
COP19 took place at a critical time for humankind, and especially for the world's poorest. Just a few weeks earlier, the IPCC launched its latest report on alarming climate science. It was also a chance for the international community to make progress on the global climate agreement, to be sealed in 2015, that must be ambitious and fair if we are to protect the most vulnerable communities. CIDSE, as a network of Catholic development agencies, brought together the forces of its network, partners and allies, to advocate for this, however, the opportunity, was largely left unused. Finance was to be critical at this COP, as developed countries have committed to mobilise new and additional funds to increase overall climate financing to US$100 billion per year by 2020. In the end, little of this urgently needed financing materialized.
CIDSE, together with other organisations, arranged a series of events in Warsaw at COP19.
On Sunday November 17 a Mass with Ecumenical music was held at St. John's Archcathedral, images of which can be found here.
On Monday and Tuesday November 18-19, CIDSE, together with Caritas Poland and Cardinal Stefan Wyszynski University, arranged an International conference on climate change: Faith actors working towards climate justice. The conference focused on how local communities cope with climate change, how churches respond to it and on a discussion on what role faith actors and international organizations around the world play in shaping climate and energy policies that serve the most vulnerable. The conference included high-level speakers: European Commissioner for Climate Action Connie Hedegaard, IPCC-Vice-Chair Prof. Jean-Pascal van Ypersele and Scottish Minister for Environment and Climate Change Paul Wheelhouse, as well as prominent speakers from the CIDSE delegation, such as Auxiliary Bishop of the Archdiocese of Dhaka (Bangladesh) Theotonius Gomes and Executive Director of Caritas India Father Dr. Frederick D'Souza. The Conference was opened by the Director of Caritas Poland, Father Marian Subocz and addressed by Head of Holy See Delegation and Nuncio to Poland Archbishop Celestino Migliore.
As part of the COP19 programme, CIDSE and the World Council of Churches (WCC), organised a Side Event on Thursday November 21, at 16:45, titled Ethical and religious imperatives for a just climate deal, at the UNFCCC Center.
CIDSE Policy and Advocacy Officer for Climate Justice Emilie Johann wrote this text in Warsaw.
CIDSE Press Release: COP19 climate negotiations must stop super-typhoons from becoming permanent threat
CIDSE Press Release on International conference on climate change: Holy See representative reminds COP19 climate negotiators that human survival is at stake, Commissioner Hedegaard warns of "business as usual"
Running up to COP20 in Lima, several organisations have agreed to fast one day each month throughout the year. CIDSE has joined this initiative.

CIDSE Press Release at the end of the COP19: Difficult road to Climate Justice after Warsaw climate summit